Marjorie Taylor Greene Calls Herself Congress's 'It Girl' On SNL Weekend Update
Saturday Night Live's Cecily Strong reprised her role as Rep. Marjorie Taylor Greene to discuss the congresswoman's latest controversy.
The Georgia Republican, who was stripped of her committee assignments earlier this month, sparked outrage this week after hanging a sign outside her office that said "there are TWO genders" and "Trust The Science!"
Greene's office is opposite Rep. Marie Newman's. Newman, a Democrat who has a transgender daughter, spoke in Congress in support of the Equality Act, a bill that would ban discrimination against people based on their sexual orientation and gender identity. She also placed a transgender pride flag outside her office.
Strong's Greeene addressed the feud with Newman in SNL's Weekend Update segment last night.
She described herself as "Congress's new It girl," before explaining that she means "It, the evil clown that preys on children."
Asked by Colin Jost to explain why she put up the science, Strong's Greene said it was because we have to "trust the science" before revealing she was wearing a shirt with the misspelled motto on it.
She continued: "You know me, I'm a science person. I love science. I'm always talking science, OK? Unless that science is about climate change, coronavirus, space lasers, evolution, the metric system, the rhythm method, breastfeeding, living on Mars, Jesus' skin color or Santa's skin color, by the way, which is white."
Strong's Greene went on to explain that "we're all endowed with traditional gender roles."
"I'm a woman so it's my job to bully, threaten and fight my female colleagues. Scientists call these cat fights and it's what girls do," she added.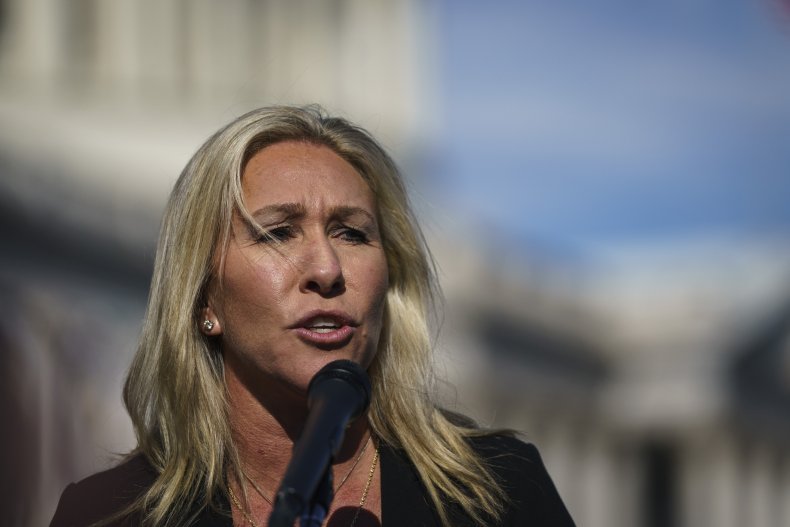 As Jost remained unconvinced, Strong's Greene continued: "I can't help it, I'm a fighter, OK? I have a boombastic personality. I fight the Democrats, I fight the socialists, I fight traumatized teenagers walking on the street alone. I fight my own hair every morning with a flat iron and bottle of Aqua Net. I mean hell, I fight my own party. Those Republicans in Congress scissored me!"
"I think you mean censured," Jost interjected.
"No, that's lesbian stuff," Strong's Greene responded.
When Jost said perhaps she should focus on things like the COVID relief bill rather than picking fights with her colleagues, Strong's Greene instead referenced Hasbro's change of the Mr. Potato Head brand name and logo.
"Did you hear they are trying to cancel Mr. Potato Head? Yeah, the woke radical liberals just won't let him be proud of his big old God-given potato penis," she said.
"Is that really a priority for a Congresswoman?" Jost asked.
"All I'm saying is that if Mr. Potato Head is allowed to marry another Mr. Potato Head, I'll kill myself," Strong's Greene replied.