'So Rude': Woman Praised For Calling Bride 'Inconsiderate' After Slight
Commenters praised a woman for calling out an "inconsiderate" bride after she changed her mind about her bachelorette party after months of planning.
The anonymous woman, known as u/missdeb99912, posted about the situation in Reddit's popular "Am I The A**hole" forum where it received nearly 9,000 upvotes and 800 comments. The post can be found here.
According to a survey by wedding planning site The Knot, about 78 percent of couples planned bachelor and bachelorette parties, with the average number of attendants being 10 people.
While they are quite common, bachelorette parties tend to come at a price, with The Knot reporting that the average cost for a three-day bachelorette party is $450.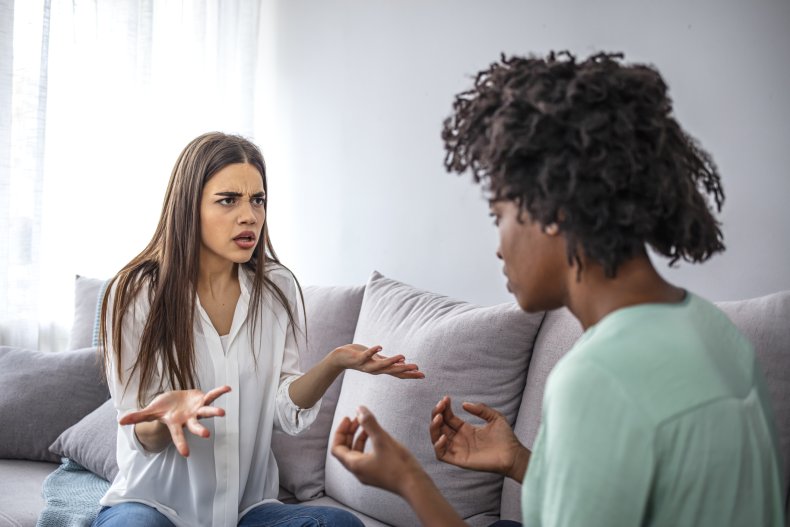 For nearly 40 percent of guests flying from out of town, that number increases to around $1,000.
In the post titled "AITA for telling the bride her choice was inconsiderate," the woman, 35, explained that her brother, 27, is getting married in September.
The woman was asked to host and plan the bachelorette party for his fiancée, 27, alongside another relative, 38-year-old Becky. The four-day party was scheduled for August and she said they were asked to take over planning after her cousin "dropped the ball."
"I was also asked to host the party at my house–which is out of state for everyone," the post read. "My house and my vehicles will be used. There will be a total of six of us at the party."
The woman said she and Becky spent three months planning the event and already bought the gifts, party favors, and collected money from all the attendees. She also said they made reservations and created itineraries for the four-day trip.
"We have spent a lot of time, energy, and funds prepping," the post read. "There have been a few times I've turned down plans or friends visiting the weekend of the party because this is on the calendar."
But the bride called her and Becky to let them know her grandmother's beach house–where she wanted to go originally–became available for that weekend and that she wants the party there instead. She also said the house is closer for four of the six guests.
The bride also told them that the cousin who originally canceled was going to take over planning again and that she's been thinking about this for a month but didn't want to tell them until she officially decided.
"When she shared this, I was a bit frustrated," the post read. "I told her canceling something like this for a different location was basically pulling the rug out from our feet and being inconsiderate to the fact that Becky and I a) were asked to take over planning, b) already had everything lined up, c) have spent time and energy coordinating with all guests, etc."
She said the bride replied that it is her decision to make and that she "shouldn't be made to feel guilty."
"To this, I feel as though she should feel guilty," the post read. "I do see her side, but her decision to completely change things that have already been in the works for a few months to make a very special 4-day trip ... seems crappy. Thoughts?"
Nearly 800 users commented on the post, many criticizing the bride's behavior and some calling her "rude" for changing the plans last minute.
"I hope you kept receipts," one user commented. "Return what you can, pack up the rest and make that her gift for the party. Then find something else to do that weekend. You know, because you didn't want to say anything until you officially decided."
"Bride was incredibly rude and inconsiderate. Seems like she didn't even acknowledge your hard work!" another user commented. "And maybe I'm just getting old, but is a 4-day Bachelorette party the normal thing to do??...this seems so over the top!"
Other users agreed that a four-day bachelorette party was "over the top."
"The fact that this event is FOUR DAYS is by itself indicative of how crazy wedding culture has gotten," one user commented.
But according to a 2021 study conducted by the wedding planning site WeddingWire, spending several days for bachelorette festivities is the norm, with 75 percent of them lasting two or more days and the average festivities lasting three.
Newsweek reached out to u/missdeb99912 for comment.
Earlier this month, a woman went viral after she asked to have a private room during a bachelorette party due to her anxiety. Another woman was criticized online after she pulled out of a more than $400 bachelorette party because she claimed it was too expensive.
In another viral Reddit post, users debated whether strippers at bachelor and bachelorette parties are appropriate or count as cheating.