Photo of SoFi Stadium Captured From a Plane During Super Bowl Goes Viral
An aerial photo of the SoFi Stadium taken from an airplane during the epic Super Bowl LVI is going viral online.
The stadium was lit up like July 4 to see the Los Angeles Rams storm to victory against the Cincinnati Bengals, 23 to 20, with the win only clinched in the last few nail-biting minutes.
The Rams lifted the Vince Lombardi Trophy in their home stadium on Sunday night, an accolade first achieved by the Tampa Bay Buccaneers in 2021.
As well as memorable commercials and sensational plays, notably from Cooper Kupp and Odell Beckham Jr, fans were treated to what's been touted as one of the best halftime shows, with an all-star line-up featuring Eminem, 50 Cent, Snoop Dogg, Dr. Dre, Mary J. Blige and Kendrick Lamar.
The stars performed a medley of hits, most of which were released in the 90s and 00s, with the performance widely seen as catering for millennials as it dripped with nostalgia.
Some 70,000 fans packed into the arena, while millions more watched at home, seeing a cacophony wash over Inglewood.
Along with the noise, floodlights, fireworks, and photography flashes turned the stadium into a glowing beacon, all the more apparent when seen from the air.
An airplane passenger, Alexandra Peterson, managed to capture an unprecedented view of the SoFi stadium as they flew over it, landing at the nearby LAX airport.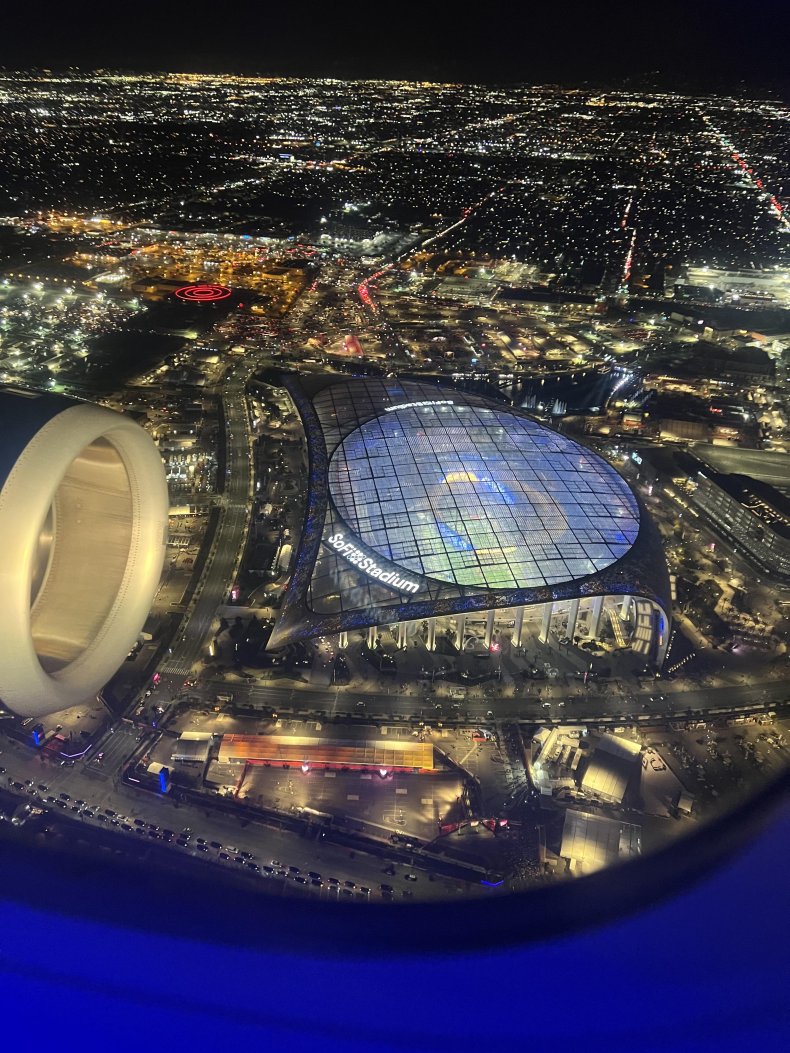 Peterson, who was flying from San Francisco Airport, told Newsweek: "We flew over the stadium during the last few minutes of the game.
"The new stadium looked incredible (and massive) from the air, I like to think that the pilot had some part in the awesome view. The only negative was seeing all the traffic build-up.
"One passenger that I met said she lived downtown and was not looking forward to her drive home after seeing endless red lights!
"LAX was a zoo and littered with exhausted-looking Bengals fans (they must've been staying in the area)."
Peterson, from California, explained there were TVs on the planes, and practically all the passengers were watching the game.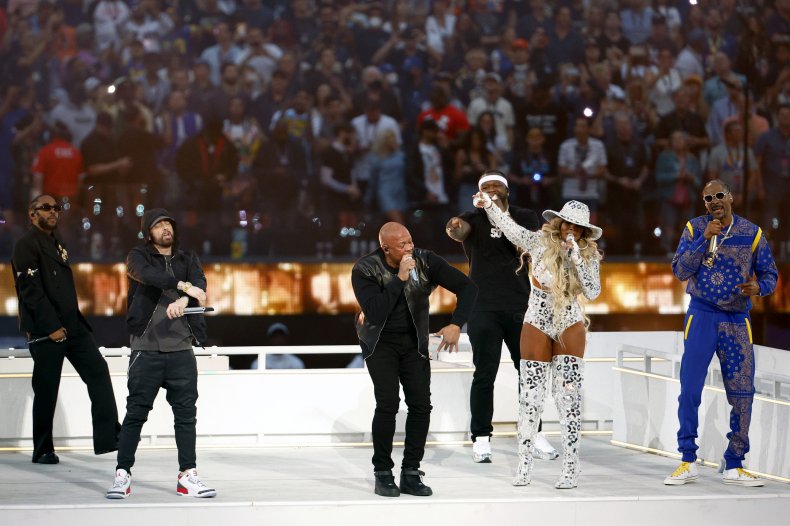 "There was DirectTV on the flight so almost every passenger had the game on. I think it was an even split between 49ers and Rams fans, which was fun!" she added.
The snap was shared to Reddit's Mildly Interesting Forum by Peterson's boyfriend, Devinmeff, in the early hours of Monday morning, where it's already amassed more than 12,000 upvotes.
"My girlfriend flew over SoFi Stadium while the Super Bowl was winding down," he captioned the image, which can be seen here.
Numerous people commented on the snap, as Jankenpoo wrote: "Tell her she's got perfect timing! It's a great shot!"
MrWhiteVincent joked: "Better view and cheaper."
BeginningSpiritual81 claimed: "I'm a drone pilot and the FAA [Federal Aviation Administration] was clear to all drone pilots that the Super Bowl was a NO GO airspace, repeatedly. Glad you got a shot."
CaptainWellingtonIII simply said: "What a view."
Destination_Centauri remarked: "Wow... The more our cities evolve...The more and more it looks like we're living in the early 1980's Blade Runner vision of the future!"
ThaneOfCawdorrr pointed out: "Great picture!! But all I can think of is OMG the traffic she must have had to deal with getting home."
As well as contending with thousands of cars on the roads as spectators returned home, downtown L.A. saw traffic at a standstill in places as fans took over the streets.
Chaotic scenes on social media captured pockets of violence erupting, as fans spray-painted buses, stood on vehicles and let off fireworks.
Police issued numerous dispersal orders for the area around 11th Street and Hope, as throngs swarmed downtown.
LAPD HQ tweeted: "We are seeing violent and destructive behavior by large crowds in the heart of the Downtown LA area. We have issued several dispersal orders and have a large police presence. Everyone that is part of those crowds, obey all dispersal orders and clear the streets immediately."
They later added: "We continue to see large, violent and destructive crowds, in the Downtown LA core area. Those involved in criminal activity, and those failing to obey dispersal orders, are subject to arrest."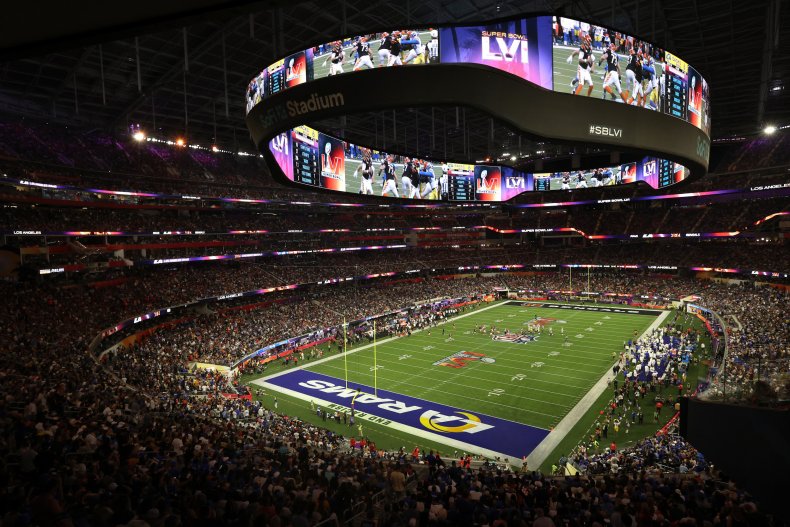 Update 2/15/22, 3:51 a.m. ET: This article was updated with comment and photos from Peterson.