Some Democratic Officials Stressing Over John Fetterman's Health: Report
Some Pennsylvania Democrats are reportedly concerned about Democratic U.S. Senate candidate John Fetterman's health amid Republican scrutiny about his well-being and fitness.
Five officials with the state Democratic Party interviewed over the past two weeks all spoke on condition of anonymity of their worries regarding Fetterman's health, Reuters reported Monday. Fetterman announced in May that he had had a stroke but stressed that he was "going to be ready for the hard fight ahead." While Fetterman's campaign has worked to dispel concerns on whether the Democrat is healthy enough for a Senate position, the Pennsylvania Democratic Party officials also reportedly expressed concerns to Reuters on whether GOP attacks in regard to his health could impact support from voters.
Fetterman will face off against Republican candidate and celebrity surgeon Dr. Mehmet Oz in the November midterm elections, concluding the race for outgoing Republican Senator Pat Toomey's seat. While Oz continues to trail Fetterman in recent polls—FiveThirtyEight's current polling average has the Democrat leading with 48.5 percent of support compared to his opponent's 40.4 percent—the Republican and his campaign have ramped up attacks in recent weeks over Fetterman previously not taking part in a debate, including by speculating that it was because of his health.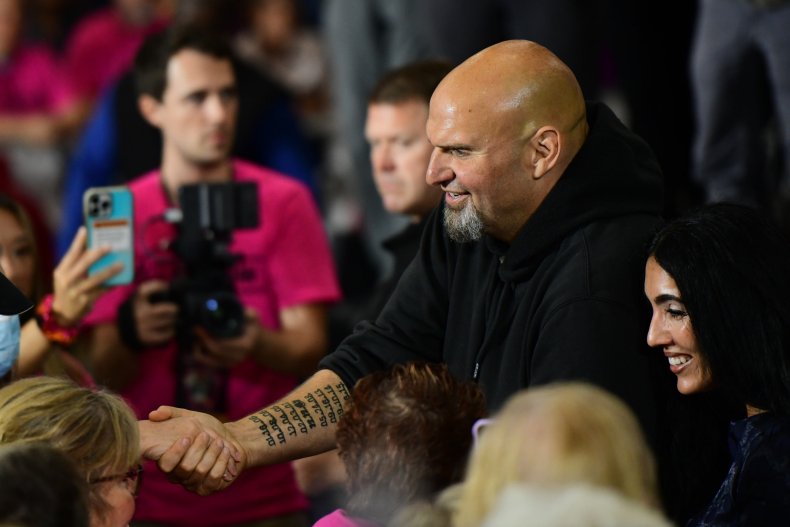 "John Fetterman is either healthy, and he's dodging the debates because he does not want to answer for his radical left positions, or he's too sick to participate in a debate," Oz said at a joint press conference with Toomey.
Fetterman, Pennsylvania's current lieutenant governor, said in a statement Wednesday that he would debate Oz and stressed that he always intended to do so.
"It has simply only ever been about addressing some of the lingering issues of my stroke, the auditory processing, and we're going to be able to work that out," Fetterman said in a statement, saying that the debate would occur in the middle or end of October but the details were still being finalized.
"There is literally zero precedent in modern times for having U.S. Senate debates in Pennsylvania in early September. That was never going to happen. All of these debates have always occurred in the middle to late October," he continued. "But let's be clear: This has never really been about debates for Dr. Oz. This whole thing has been about Dr. Oz and his team mocking me for having a stroke because they've got nothing else."
Fetterman held his first public campaign event following the stroke in August, and has since followed with other appearances that included walking in Pittsburgh's Labor Day parade. A rally he held on Sunday in suburban Philadelphia drew more than 3,000 people, according to news reports and his campaign.
When asked about the anonymously expressed concerns of the state Democratic Party officials, Fetterman campaign spokesman Joe Cavello noted the candidate's recent appearances at the public events.
"Last week John marched for over two hours in the rain in Pittsburgh's Labor Day parade, and spoke at two other events afterwards," he said in a statement to Newsweek. "Just yesterday, John held a rally with over 3,000 people, that's what real excitement and grassroots energy looks like. Anyone who's seen John speak knows that while he's still recovering, he's more capable of fighting for PA than Dr. Oz will ever be."
Also contacted for comment, Jack Doyle, senior communications adviser for the Pennsylvania Democratic Party, shared the following statement with Newsweek: "John Fetterman is running a winning campaign that is generating unprecedented enthusiasm across the commonwealth. He is the only candidate in this race qualified to represent Pennsylvania and we are thrilled for him to be our next Senator."