Some Republicans Say Protesters Weren't Teargassed as They Defend Trump's Photo Op at D.C. Church
Republican senators pushed back against reports of President Donald Trump's photo op in front of a church Monday night, some going so far as to argue that teargassing to disperse the crowd of protesters either did not occur or the demonstrations were comprised of "professional agitators" who sought to "trigger police action."
Their comments came Tuesday, despite video evidence and first-hand accounts showing a non-hostile crowd that was dispersed by riot shields, rubber bullets, police horses and what appeared to be tear gas so the president could walk across the street to pose for a photo with a Bible in his hand.
The U.S. Park Police did not originally respond to Newsweek's inquiry on Tuesday but later said in a statement that "no tear gas was used" by them or assisting law enforcement agencies. Rather, authorities used "smoke canisters and pepper balls," which can have similar irritation effects to the eyes, throat, nose and chest.
"I don't think they did use tear gas. Do you have information I don't have?" Sen. James Inhofe (R-Okla.) told Newsweek.
"I haven't seen it," said Sen. Ron Johnson (R-Wis.), while Sen. Marco Rubio (R-Fla.) said the irritant was justified because it occurred about 30 minutes before a citywide curfew began in the nation's capital.
"There had to be action taken," the Sunshine State lawmaker said. "These folks are professionals at what they're doing, these protesters."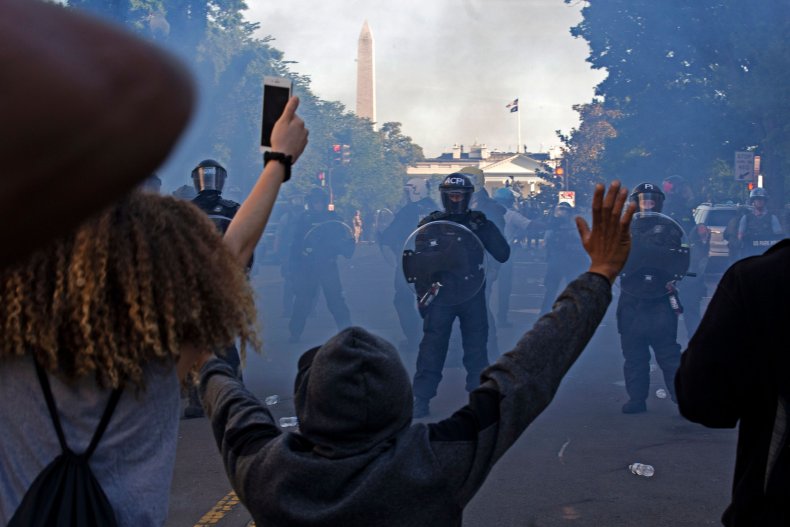 As President Donald Trump made his first national address since the May 25 killing of a black man, George Floyd, by a Minneapolis white police officer that has sparked protests—some violent—to erupt across the country, federal law enforcement agencies began forcibly dispersing demonstrators gathered in Lafayette Square across from the North Lawn of the White House. Trump threatened to take unprecedented action and deploy military troops on U.S. soil to cities across the nation that cannot stem the violent unrest.
Meanwhile, the gas canisters and pepper balls were lobbed. Rubber bullets were shot. American citizens, including members of the media, were hit and shoved by authorities ahead of the curfew. Minutes later, the president walked through Lafayette Square to reportedly show a sign of force and stand before the St. John's Episcopal Church that was set on fire by looters Sunday night. A top bishop rebuked him for not offering a prayer there as he posed for a picture while clenching a Bible.
But while Trump drew some bipartisan scorn, most Republicans chose to side the president and remain mum.
"I'm not gonna critique other peoples' performances," Senate Majority Leader Mitch McConnell (R-Ky.) said when prompted about the use of smoke irritant. "I'm relieved that apparently there were few-to-no injuries last night, apparently little-to-no looting. Hopefully, tonight will be more peaceful even than that."
Senator Josh Hawley (R-Mo.) denied the notion from Democrats and critics that the tactics were an "abuse of power."
"I think the president getting out and the president seeing the damage caused by the rioting was a good thing," he said.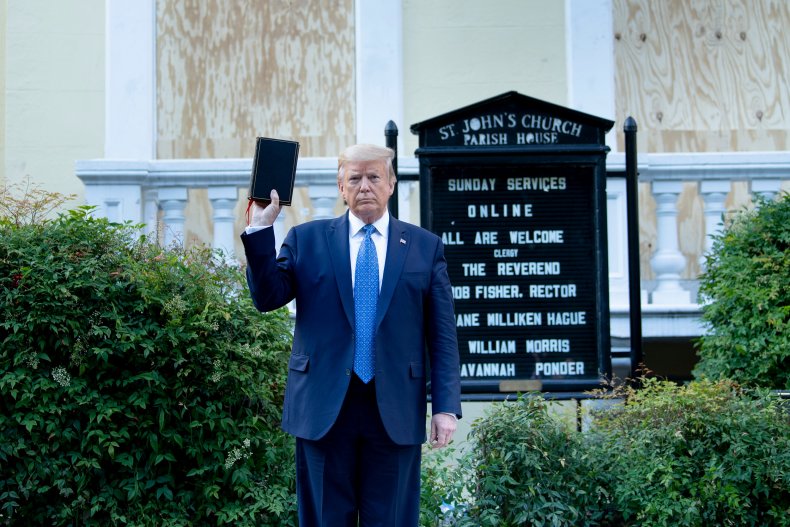 Hawley, like Inhofe, said he doubted tear gas was ever used. A local WTOP reporter earlier in the day cited an anonymous USPP source that denied their agents ever deployed the irritant. The USPP did not respond to Newsweek's inquiry. However, other law enforcement departments, including the FBI, Military Police, Secret Service and local police, were present, and numerous videos and accounts showed what was believed to be tear gas being utilized based on its effects.
"I've heard conflicting reports myself about was it tear gas, just smoke that was deployed, who was responsible for it, did [they] know the president was going to come through?" Hawley added.
Senator John Cornyn (R-Texas), a leadership member, cited the same report. "It pains me to say this, but it seems like all the information we seem to get these days is filtered through either people's adoration for President Trump or their hatred for President Trump," he said, according to the congressional pool report.
Despite the various defenses that Republicans had for Trump, some chose to buck the commander-in-chief for the photo op and use of irritant smoke against the non-combative crowd.
"It was painful to watch peaceful protesters to be subjected to tear gas in order for the president to go across the street to a church that I believe he's attended only once," Sen. Susan Collins (R-Maine) said. "I thought that the president came across as unsympathetic and as insensitive to the rights of people to peacefully protest."
Sen. Tim Scott (R-S.C.), the lone black Republican in the Senate, said during an event hosted by Politico that the president's actions were inappropriate.
"There is a fundamental—a constitutional—right to protest," Sen. Ben Sasse (R-Neb.) said in a statement. "I'm against clearing out a peaceful protest for a photo op that treats the word of God as a political prop."
Even one of Trump's strongest allies in the chamber questioned the president's motive for taking the brief field trip in which he was accompanied by top administration officials and advisers, including the Secretary of Defense Mark Esper. But he did not go so far as to outright condemn the use of what was thought to be tear gas.
"I don't know what the purpose of the trip was," Sen. Lindsey Graham (R-S.C.) told Newsweek. "I mean, to show appreciation for the church? I don't know. You'll have to ask him what he was trying to accomplish."
Democrats were quick to lambast Trump for taking action they characterized as "authoritarian," "insensitive" and "non-empathetic," as House Majority Leader Steny Hoyer (D-Md.) put it on a call with reporters.
In an effort led by Senate Minority Leader Chuck Schumer (D-N.Y.), Democratic senators attempted to formally condemn the president with a resolution. However, McConnell blocked the measure.
"Those are the two issues Americans want addressed: racial justice and ending riots," McConnell said on the floor. "Unfortunately, this resolution...does not address either one of them. Instead, it just indulges in the myopic obsession with President Trump that has come to define the Democratic side of the aisle."
This story was updated with information from the U.S. Park Police that what was believed to be tear gas deployed on protesters Monday night was actually smoke canisters and pepper balls.