British Countess Meets Syrian Refugees in First-ever Royal Family Trip to Lebanon
Countess Sophie of Wessex met female refugees in Lebanon Wednesday during the first official trip to the country by a member of the British royal family.
The royal met Syrian women and their families at an "informal settlement" in the Bekaa Valley in eastern Lebanon. The agricultural region is home to numerous makeshift camps thought to house some 350,000 refugees, according to the European Commission.
Roughly a million refugees from Syria's brutal civil war were registered in Lebanon as of 2018—a small country home to about four and a half million people at the outbreak of the war in 2011. But around 500,000 more refugees are thought to be living in the country unregistered, according to government estimates reported by Human Rights Watch last year.
The country is also home to hundreds of thousands of Palestinian refugees—nearly 450,000 were registered with UNWRA in 2014.
British Ambassador to Lebanon, Chris Rampling, praised Sophie's arrival on Twitter Wednesday. He wrote "Very honored today to welcome HRH The Countess of Wessex on the first official [royal visit]...A busy few days ahead showcasing the work UK is doing with women in #Lebanon, and our strong bilateral relationship."
The Countess's visit was not announced in advance for security reasons, according to The Daily Mail. The royal will also meet with charities working to prevent sexual and gender-based violence in the region, the newspaper reported.
Sophie was joined on the trip by Lord Ahmad of Wimbledon, a Conservative life member of the U.K.'s House of Lords: the unelected upper house of parliament. The peer also serves as the Prime Minister's special representative on preventing sexual violence in conflict, according to his government bio.
Lord Ahmad said on Twitter the "historic" visit "reflects the importance of the UK's partnership with Lebanon, as well as recognising Lebanon's role in hosting the very significant number of Syrian refugees displaced to Lebanon."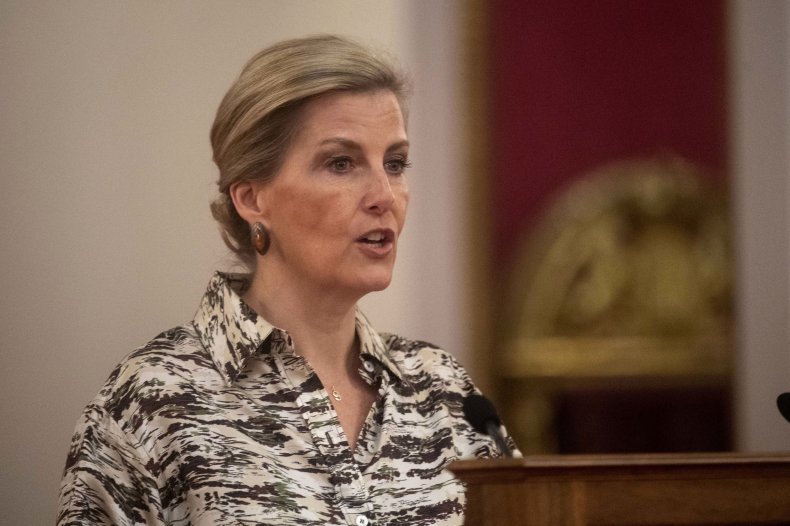 Countess Sophie is known for promoting humanitarian causes. She has championed Angelina Jolie's Preventing Sexual Violence in Conflict Initiative since March, according to The Telegraph.
The Countess wrote an article for the newspaper to mark 2019 International Women's Day, in which she praised the U.K. for "putting more women and girls at the centre of conflict resolution."
"Research shows that peace agreements are 35 percent more likely to last at least 15 years if women are involved in negotiations," she continued. "But UN Women and the Council on Foreign Relations analysis shows that, between 1990 and 2017, women made up only 2 percent of mediators, 8 percent of peace negotiators and 5 percent of witnesses and signatories in all major peace processes. This has to change."
Sophie, a former public relations professional, is Queen Elizabeth II's daughter-in-law. She married the sovereign's youngest son, Prince Edward, in 1999. The couple have two children, Lady Louise Windsor, born in 2003, and James, Viscount Severn, born in 2007.