'The Staircase': Who Is Sophie Brunet? All You Need To Know
In Episode 5 of The Staircase on HBO Max and Sky Atlantic, audiences get to know a little more about Sophie Brunet, played by Oscar-winning French actress, Juliette Binoche.
At first, it seems as if Michael Peterson and Brunet are only exchanging letters and books as Peterson serves his life sentence at Nash Correctional Institution.
Peterson was convicted of killing his wife Kathleen Peterson after a lengthy trial in 2003. Kathleen Peterson had been found dead at the bottom of the staircase in their shared home in 2001, with severe injuries to the head.
Even within the confinements or prison, Peterson forms a close bond with Sophie Brunet, a woman he had not yet met when they began their correspondence.
So, who is Sophie Brunet, and what is her relationship with Michael Peterson? Newsweek has everything you need to know.
Who Is Sophie Brunet?
Sophie Brunet is a real person and just like The Staircase, she really did serve as an editor on the original documentary about Michael Peterson, also titled The Staircase.
Jean-Xavier de Lestrade's 13-part documentary series was filmed over the course of a decade and is available to stream on Netflix now.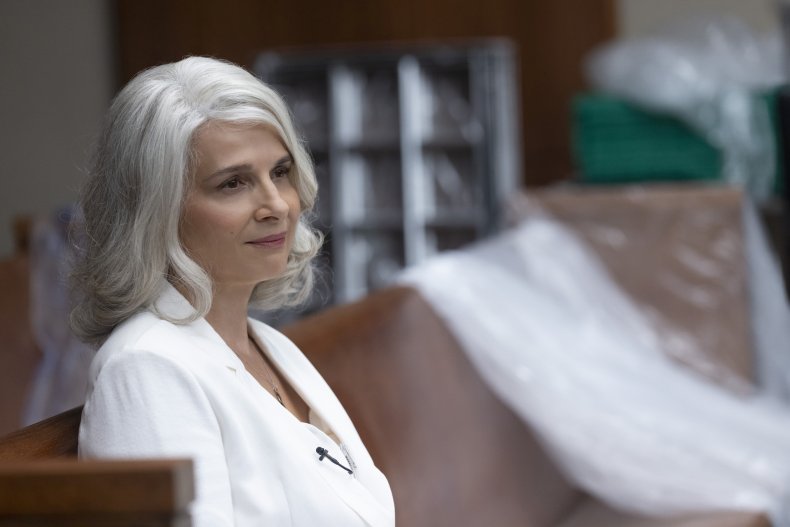 Brunet was involved in the story from the beginning, as editor on the 2004 project. De Lestrade would go on to film a two-hour special in 2012-2013 and three additional episodes released in 2018.
Within that time, she struck up a friendship with Peterson through letters, having never met him. Their relationship would eventually turn romantic.
On December 16, 2011, Peterson was released from prison on $300,000 bail and placed under house arrest with a tracker attached to his ankle ahead of a retrial.
In February 2017, Peterson submitted an Alford plea to the reduced charge of voluntary manslaughter. An Alford Plea is a plea where the defendant admits that the evidence against them would likely lead to a finding of guilty beyond a reasonable doubt, but the defendant does not always admit to the crime.
Peterson continues to maintain his innocence.
Peterson was sentenced to time already served, meaning he was allowed to leave prison for good.
Brunet and Peterson are believed to have continued dating following his release, according to de Lestrade, roughly staying together for 12 years.
In Episode 10 of The Staircase documentary, filmed in 2011, Brunet can be seen sitting with Peterson's family in the courtroom and at a family gathering celebrating the night he was released.
Speaking to the French publication L'Express, de Lestrade shared that the couple dated until May 2017. He also insisted her personal relationship never influenced her editing.
He said: "This is one of the incredible things that happened during those 15 years. Life is really full of surprises. They had a real story, which lasted until May 2017. But she never let her own feelings affect the course of editing."
Speaking to The News & Observer, Michael Peterson, 78, shared their relationship came to an end because he did not want to live in Paris.
He said: "We made plans to live in Paris. Then I went and realized, no, I can't. I can't live in Paris. I don't speak French. I'm too old. I couldn't afford to live in Paris and my children, and grandchildren were in America.
"It was a great blow to both of us, for which I feel not guilt, but sorrow. I could not give her what she really needed and deserved, and that would be a full-time partner living with her in Paris. And she said to me, 'So you're going to be content just being an old grandfather?' But I didn't say to her, 'You know, yeah, that works fine for me.'"
Peterson also shared in the same interview that Brunet believed him to be innocent, which is the attitude Brunet in HBO's The Staircase appears to be taking. However, the real Brunet has never commented on the case publicly herself.
De Lestrade and Brunet have taken issue with how their relationship with Peterson has been portrayed in Episode 5 of The Staircase. In the episode, Brunet and de Lestrade are seen arguing with their producer about whether to include the evidence Kathleen Peterson may have been strangled that was presented at Peterson's 2003 trial or not.
In HBO's The Staircase, Brunet and de Lestrade are opposed to including the courtroom footage regarding possible strangulation attempts, much to their producer's dissatisfaction.
Speaking to Vanity Fair, de Lestrade said: "We gave [Campos] all the access he wanted, and I really trusted the man. So that's why today I'm very uncomfortable because I feel that I've been betrayed in a way."
Brunet also stressed in the same article that her relationship with Peterson began later than depicted in the series and that her editorial decisions were not affected.
Since The Staircase, Brunet's career in film and television has continued to flourish. According to her IMDb page, she has worked on the hugely popular French television series Call My Agent! and Jeux d'influence.
Her other editing credits include Blue Is The Warmest Color, Dark Secrets of Trillion Dollar Island: Garenne and Laetitia.
The Staircase airs on Thursdays on HBO Max and Hulu.