Late Soul Train creator Don Cornelius has been accused of locking up and sexually assaulting two Playboy bunnies decades ago in a new docuseries.
Erstwhile "bunny mother" P.J. Masten was seen making the allegations against Cornelius—who died in 2012—during Monday's episode of A&E series Secrets of Playboy, which looks at the less savory side of Hugh Hefner's empire.
Discussing Cornelius' alleged violent attack, Masten said, per People. "It was probably the most horrific story I've ever heard at Playboy. This is the story of a massive cleanup that never hit the press."
According to Masten, Cornelius was well known to the Playboy women due to his status as a Playboy VIP. On a night out in Hollywood, she said that two sisters who were new to the company's fold caught his eye, and he invited them to the VIP area.
He then allegedly invited them to a party at his house.
"These two young girls got in his Rolls-Royce, went up to his house and we didn't hear from them for three days," Masten alleged. "We couldn't figure out where they were."
After three days, it is alleged that one of the women called a bunny mother at the Playboy Mansion to say that she and her sister had escaped Cornelius' house after being held there against their will.
Masten stated in the documentary that when Playboy's head of security went to pick up the women—who were not named—he found them "bloodied, battered [and] drugged."
The sisters said that they had been locked in separate rooms at the TV producer's house, according to Masten, who went on: "They were tied up and bound. There were wooden objects that they were sodomized with and [one sister] could hear [the] other sister being brutalized. It was horrible."
According to Masten, the sister who made the initial call about the alleged incident followed Playboy policy by not calling the police, with the matter being handled by the company's security team and the women being told not to speak to the press.
"The thing that was so outrageous to me, that made me so angry, was that no charges were filed and Don Cornelius' privileges as a number one VIP were never suspended," Masten said. "He was back in the club the following week."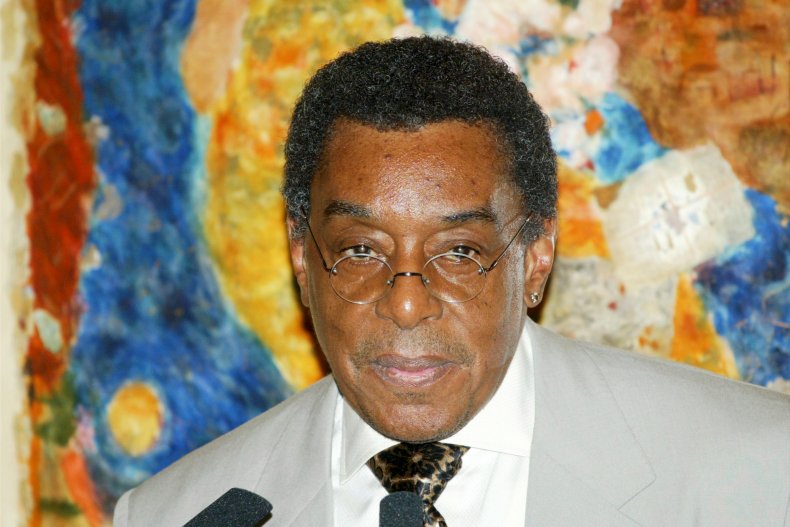 "I blame myself a lot," Matsen added. "I have such guilt about not coming forward, but I knew that the establishment wouldn't allow me to come forward. And who's going to believe me? Nobody's going to believe me."
Following the Monday broadcast, a disclaimer stated that the "the vast majority of the allegations" made in Secrets of Playboy "have not been the subject of criminal investigations or charges, and they do not constitute proof of guilt."
Responding to the allegations, Cornelius' son, TV producer Tony Cornelius, told People that Masten's account was an "unbelievable story without real proof."
While Don Cornelius was never investigated for sexual assault against the models, he was arrested on unrelated domestic violence charges against his then-wife in 2008.
According to The New York Times, in 2009 Don Cornelius pleaded no contest to one count of domestic violence and was placed on a 36-month probation.
Cornelius, who hosted ground-breaking music show Soul Train from 1971 to 1993, died from a self-inflicted gunshot wound on February 1, 2012. He was 75. Former Soul Train host Shemar Moore said that he was believed to have been in ill health at the time.
The PLBY Group, which owns Playboy, addressed Secrets of Playboy in an open letter, stating that those at the company "we trust and validate women and their stories, and we strongly support the individuals who have come forward to share their experiences.
"As a brand with sex positivity at its core, we believe safety, security and accountability are paramount, and anything less is inexcusable."
"It is critically important that we listen as these women share their stories," the statement went on, "and that we continue to fight harassment and discrimination in all its forms, support healing and education, redefine tired and sexist definitions of beauty and advocate for inclusivity across gender, sexuality, race, age, ability and zip codes."
The Playboy brand is no longer associated with the family of Hefner, who died in 2017.