South Africa Left in Limbo by Landmark Election Results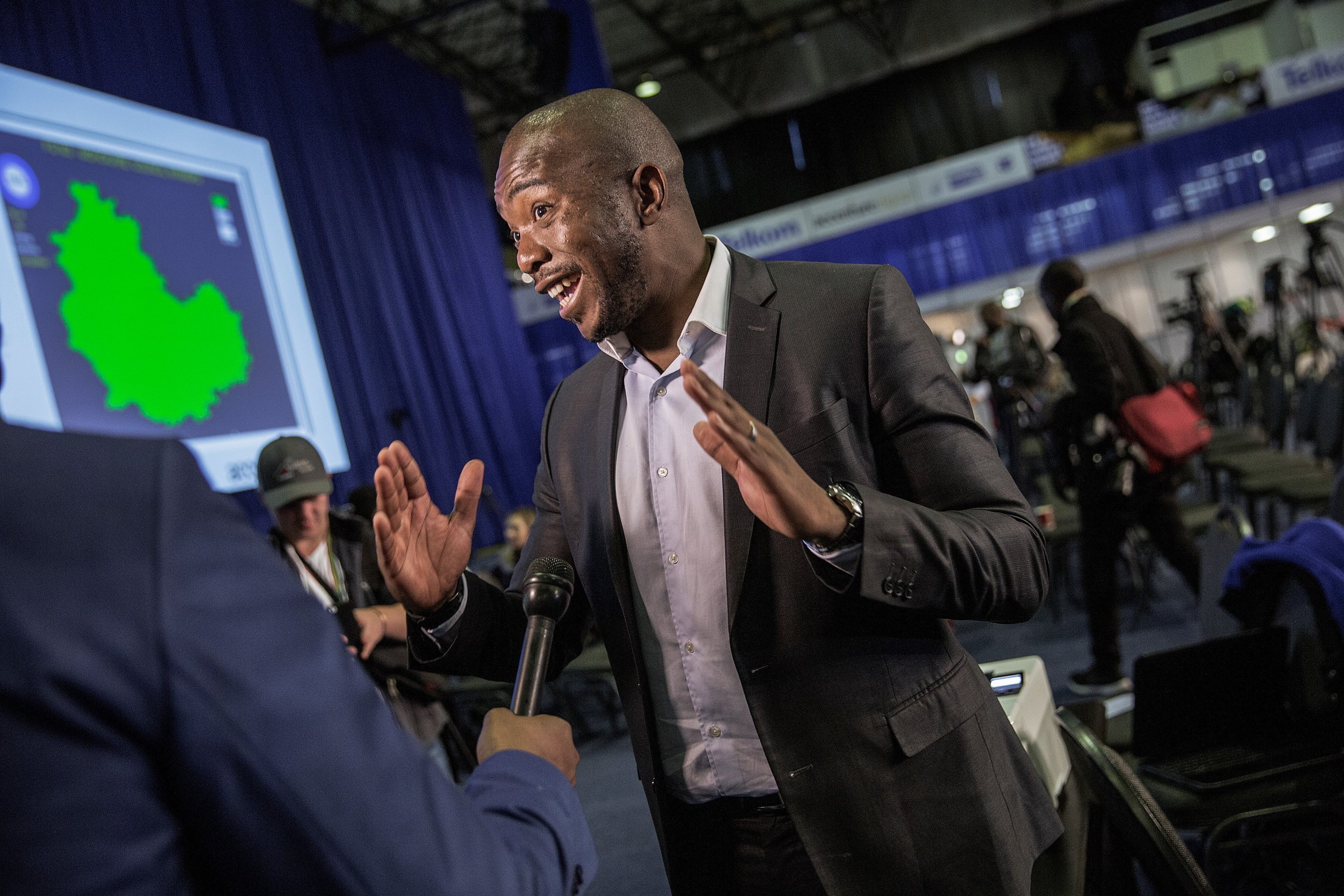 South Africa's local election results have humiliated President Jacob Zuma—and for the first time since coming to power more than 20 years ago, the African National Congress (ANC) looks vulnerable. But rather than a new dawn for South Africa, the elections look like the start of a new era of coalition government, policy compromise, party factionalism, and weak leadership that will stifle hopes of economic advancement ahead of the next national elections in 2019.
President Zuma has been chastened by the August 3 local elections. For the first time since the end of apartheid in 1994, support for the ANC has fallen below 60 percent, with the party gaining just 53.9 percent of the aggregate national vote (down from 61 percent in 2011). The results demonstrate anger in Zuma's leadership—which has been plagued by allegations of corruption—dissatisfaction in poor public service delivery, and poor governance and mismanagement at a municipal level. But the nation's problems run deeper than its leader, and the political battles that will play out in the run-up to the 2019 elections will distract from the pressing public policy challenges of confronting the gross inequality, unemployment, and poverty which are endemic to South Africa.
The country now requires coalitions in local government in its commercial and political hubs, but there are few natural alliances between parties. Out of the country's eight largest metropolitan municipalities, there are four where no party has a functional majority—Johannesburg, Ekurhuleni, Tshwane, and Nelson Mandela Bay. Coalitions will need to be formed in order for speakers and mayors to be elected, budgets to be passed, and council objectives delivered. But ideological and personal differences will make these highly fragile and will likely require repeated re-negotiation.
There may also be regional inconsistencies. Athol Trollip, the head of the main opposition and centrist Democratic Alliance (DA) in Nelson Mandela Bay—where the party is four seats short of a majority—has said that he will not go into coalition with the radical Economic Freedom Fighters (EFF); however, in Tshwane, where the capital Pretoria is located, that coalition may occur.
The two main opposition parties could each benefit from tactical alliances. The EFF can leverage its small share of the vote and play a kingmaker role to access power, and by association the DA could strengthen its image in townships where it is perceived as a white party. But agreements and compromises on policy will be difficult to negotiate.
Despite their differences, both the DA and EFF share support based on their anti-Zuma stance of tackling corruption and offering better governance that will release money to be spent on social services. Polling conducted for the 2014 national elections showed that 38 percent of EFF voters would consider voting DA. If the EFF renege on this promise by partnering with the ANC in the metros of Johannesburg and neighbouring Ekurhuleni, it would guarantee future electoral punishment.
In Johannesburg, the country's economic capital, the ANC would need to work with at least seven of the eight other parties with seats on council just in order to create a majority over the DA and EFF combined. It will be extremely difficult for the ANC to deliver a coherent policy agenda for the city in the face of such stiff competition.
Inter-party coalition building will force compromise in the big cities, but at a national level introversion and factionalism inside the ANC will hamper decision making. Zuma may try to allocate blame for the poor results in Johannesburg and Pretoria to the Gauteng ANC, who have long been at odds with their national leader. But a lower vote percentage across the country for the ANC, bar Zuma's home province of KwaZulu-Natal, indicates that the fault does not lie at the provincial level.
Zuma's speech at the IEC results ceremony on Saturday 6 August was overshadowed by protesters hijacking the event holding placards referring to rape allegations against him, increasing the embarrassment for the leader. (A court dismissed allegations of rape against Zuma in 2006, claiming that the act in question was consensual.) These election results have severely dented Zuma's credibility and his position within the party will weaken. It is less likely that he will be able to promote supporters aligned with his policy objectives—including controversial stances on nuclear energy and reform of state-owned enterprises—in an expected cabinet reshuffle. It will bolster the position of internationally respected Finance Minister Pravin Gordhan, who has been under political attack, and it will also lessen the president's ability to promote his chosen successor.
Zuma's internal support, however, is partly drawn from a "tenderpreneur" faction within the party, for whom political office is a route to self-enrichment. These vested interests will be hard to overcome. Such high stakes and divisions within the party have led to increasing political violence—including assassinations—and there is a real worry that this may increase in the run up to the 2017 ANC elective conference, although the municipal elections were surprisingly peaceful. The ANC's response to its poor performance in these local elections will determine if it can reverse its fortunes ahead of national elections in 2019.
These local election results are a significant step towards the consolidation of democracy in South Africa, but will do little to advance economic reform and progress. Opposition parties are the apparent winners but it could be a challenge in disguise. The DA has the opportunity to demonstrate that it can govern beyond its core support base in the Western Cape, but promises of change will be difficult to deliver in weak coalitions. The EFF can get access to local government, but will have to avoid being branded sellouts by ideological supporters. The ANC will become embroiled in a leadership race that will consume the party. While these political battles play out, the country will continue on a trajectory of policy paralysis with few solutions offered to tackle the ingrained structural problems that South Africa faces.
Christopher Vandome is a research assistant on the Africa program at Chatham House, an international affairs think tank based in the U.K.