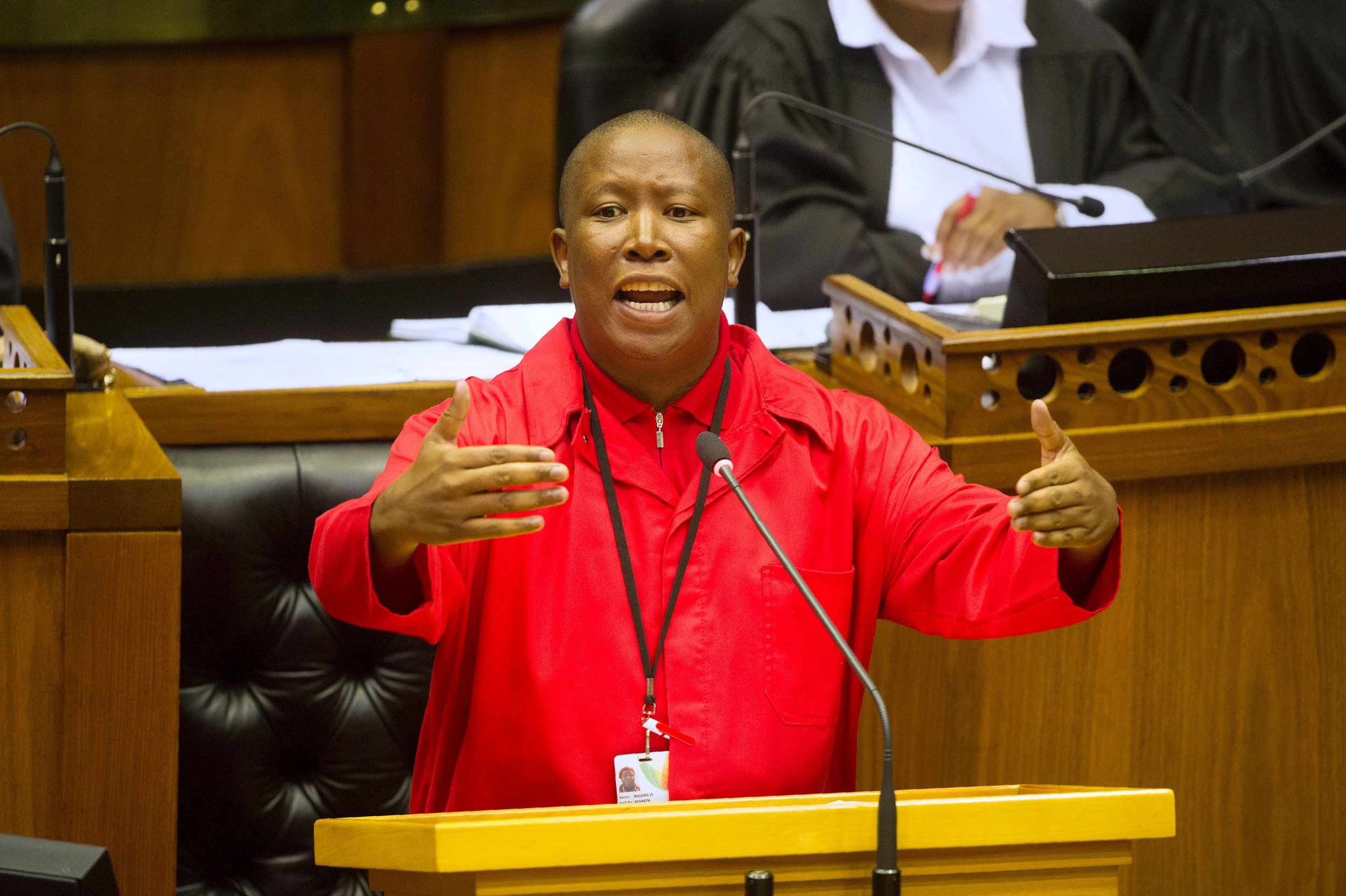 It appears Julius Malema may have finally overstepped the mark.
The outspoken leader of South Africa's third-biggest political party, the Economic Freedom Fighters (EFF), has never been one to shy away from controversy or harsh words. After being thrown out of the African National Congress (ANC) Youth League in 2013, Malema said he had been treated like toilet paper or a used condom, and in 2015 he and his cohort brawled with security forces as they were forcibly removed from the State of the Nation address.
But now Malema may have talked himself into real trouble. In a recent interview with Al Jazeera, he claimed that his party would have no issue with taking up arms and removing the ruling ANC "through the barrel of a gun" if President Jacob Zuma's party attempted to rig elections and use force to stay in power. In a press statement, the ANC said it is taking the comments as a "call to violence," adding that they displayed a "shocking lack of judgment on the part of the leadership of the EFF." South Africa's Police Minister Nathi Nhleko confirmed on Tuesday that a case had been lodged against Malema and that the country's elite Hawks police unit will investigate whether the EFF leader's comments constitute treason or crimes against the state.
The latest row shows just how far Malema has strayed since leaving the ruling party in 2013. Born in 1981 in Seshego township in the impoverished Limpopo province, Malema joined the ANC's youth group when he was 9 years old and reportedly received training in armed resistance, including how to make petrol bombs. Before and after he became the ANC's Youth League leader in 2008, Malema was a staunch ally of Zuma's, declaring that he would "kill for Zuma," a comment that provoked criticism from former Cape Town archbishop Desmond Tutu. Malema was also convicted of hate speech in 2010, ordered to make a public apology and give money to a center for abused women, after he said that a woman who accused Zuma of rape—for which the president was acquitted—must have had a "nice time."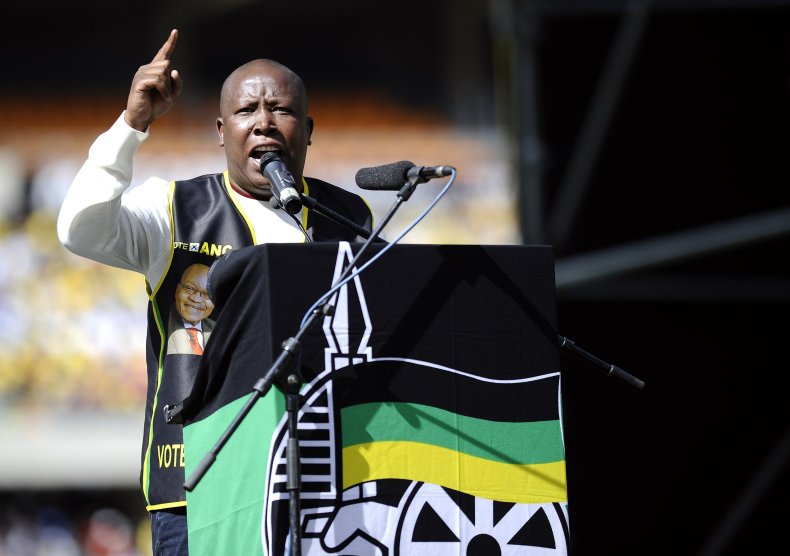 But in the years following Zuma's election to president in 2009, the relationship began to sour, with Malema accusing the president of ignoring the poor. After his departure from the ANC, Malema founded the EFF to realize his vision for empowering impoverished, black South Africans. With its members clad in red overalls and employing military titles—Malema is known as the Commander-in-Chief—the EFF describes itself as "a radical and militant economic emancipation movement." Its policies include expropriating white-owned land in South Africa without compensation, nationalizing the country's crucial mining sector (again, without compensation), and providing free education.
A November 2013 poll by IPSOS South Africa found that 99 percent of typical EFF supporters are black, even more than the 96 percent of typical ANC supporters. A year after its formation, the EFF became the third-biggest party in South Africa at the 2014 general election, winning 6 percent of the vote and gaining 25 seats in the 400-member National Assembly.
Since becoming a member of the National Assembly, Malema has been a constant thorn in Zuma's side. He consistently demanded the president be held to account over the Nkandla scandal, a persistence that was eventually justified: In March, South Africa's top court ruled that Zuma had failed to uphold the constitution when he ignored a 2014 Public Protector's report that said he should repay some of the 246 million rand ($23 million at the time) of state funds spent on upgrading his homestead at Nkandla, in KwaZulu-Natal province.
In February, Malema disrupted Zuma's State of the Nation speech for the second year running, eventually being ejected after chanting, "Zupta must fall!" He was referencing the alleged close ties between Zuma and the Guptas, a wealthy Indian business family that has employed several members of the president's immediate family. Again, Malema's comments proved prescient to a degree—South Africa's deputy finance minister Mcebisi Jonas alleged in March that the Guptas had offered him the role of finance minister before the then-incumbent Nhlanhla Nene was sacked in December 2015, a decision which sparked widespread criticism in the country. The Guptas have subsequently denied Jonas's claims.
Yet despite casting himself as a man of the people, Malema has himself come under scrutiny for his personal wealth. The EFF leader faced charges of fraud and racketeering for allegedly receiving $400,000 from involvement in corrupt road construction projects before the case was thrown out in August 2015 after a series of delays. Malema also sold off a mansion in the wealthy Johannesburg suburb of Sandton in 2013 for 5.9 million rand ($650,000 at the time), reportedly in order to help pay off huge tax debts that he owed to the South African Revenue Service.
With the EFF releasing its manifesto on Saturday ahead of local government elections in August, it seems that one of South Africa's most controversial politicians is unlikely to step out of the limelight any time soon.