South Africa: Malema Threatens to Remove ANC 'Through Barrel of Gun'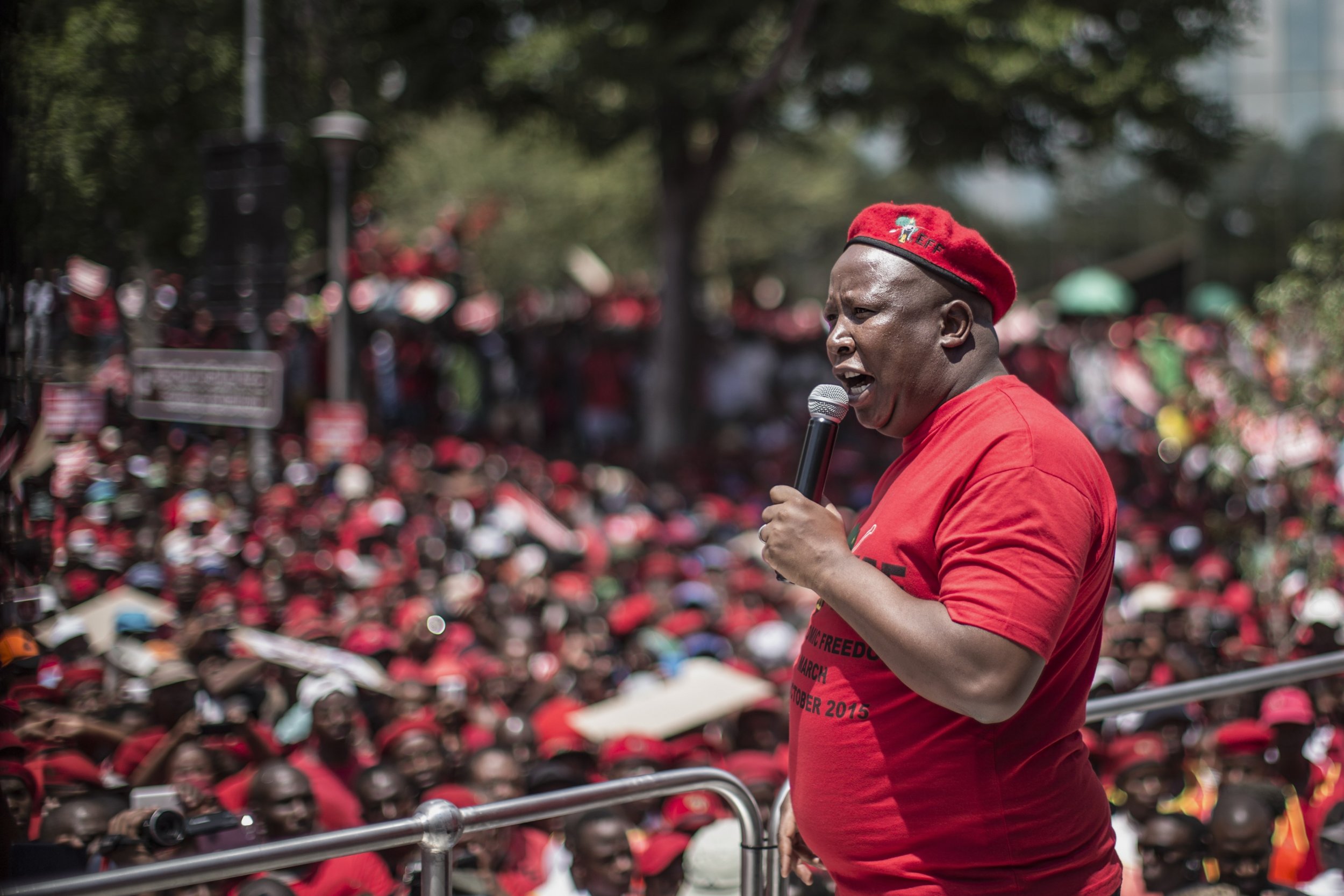 South Africa's left-wing opposition leader Julius Malema has threatened to remove the African National Congress "through the barrel of a gun" if the ruling party attempts to rig elections.
Speaking during an interview with Al Jazeera to be broadcast on Sunday, the Economic Freedom Fighters (EFF) leader Malema said his party will have no qualms with taking up arms against the government if they responded violently to demonstrations.
He cited protests that took place in the Alexandra township of Johannesburg in May 2014, where the army was deployed and police used rubber bullets and stun grenades against people demonstrating following the ANC's victory in the general election.
Malema—a former leader of the ANC's youth wing before he was expelled from the party in 2012—has been a vocal critic of current South African President Jacob Zuma. Along with the main opposition Democratic Alliance, Malema's EFF led an unsuccessful bid to have Zuma impeached following a ruling by the country's Constitutional Court, which found that the president had failed to uphold the constitution by ignoring a 2014 report that ordered Zuma to repay the costs of state-funded upgrades to his residence at Nkandla, in the coastal KwaZulu-Natal province.
Malema and his party have several times disrupted Zuma from speaking in parliament and he was recently surrounded by armed police in what he says was an act of intimidation. South Africa's National Police Commissioner Khomotso Phahlane has said the incident is being investigated.
Asked by the Al Jazeera reporter about how far the EFF was willing to go in opposing the ANC, Malema said the movement would be prepared to turn violent if its demands were not met peacefully. "If they [the ANC] are going to respond violently... [like they did in Alexandra]... we are not going to stand back. Zuma is not going to use the army to intimidate us. We are not scared of the army. We are not scared to fight. We will fight," said Malema, according to News24.
South Africa is due to hold local government elections in August. Zuma's position as leader of the ANC has come under scrutiny in the wake of the Nkandla scandal and allegations that the Guptas—a wealthy business family with close links to Zuma's family—have offered political appointments to candidates of their choosing. But the ANC has so far thrown its weight behind the 74-year-old president, with one senior party official even suggesting the ANC would help Zuma to repay the costs of the Nkandla upgrades.