South Africa: Julius Malema 'Surrounded' by Armed Police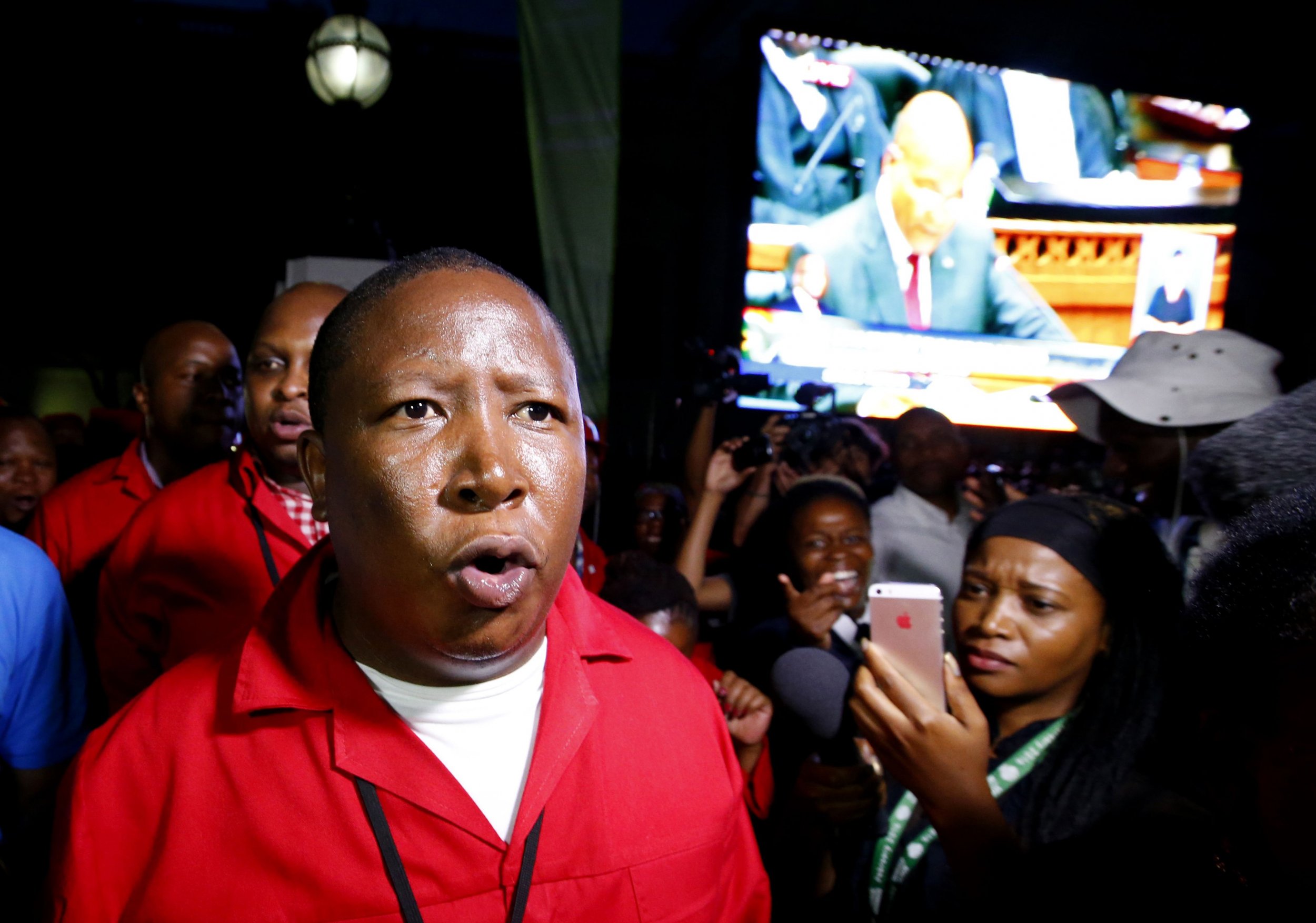 South Africa's leftwing opposition leader Julius Malema says he was surrounded by armed police in what his party has called an act of intimidation.
Malema's party, the Economic Freedom Fighters (EFF)—the third-biggest party in South Africa's parliament—tweeted late on Sunday that some 10 police cars surrounded the firebrand politician in Sandton, an affluent suburb of Johannesburg, forcing him to exit his vehicle.
In a statement issued on Sunday, EFF national spokesperson Mbuyiseni Quintin Ndlozi said that the incident was "a clear act of intimidation" aimed at subduing the party's activities. Malema and the EFF are vocal critics of the government of President Jacob Zuma—Malema, along with the main opposition Democratic Alliance party , spearheaded a campaign for Zuma to be brought before South Africa's highest court, the Constitutional Court, regarding the Nkandla scandal . The Court found on Thursday that Zuma had failed to uphold the constitution by ignoring a 2014 report by Public Protector Thuli Madonsela, which found that Zuma had "benefited unduly" from state-funded upgrades to his homestead in Nkandla, KwaZulu-Natal province, which cost 246 million rand ($23 million at the time) and included a swimming pool and amphitheater.
The EFF also disrupted Zuma's State of the Nation address to the South African parliament in February with chants of "Zupta must fall"—a reference to the close links between Zuma and the Guptas , a wealthy business family accused of wielding undue political influence in South Africa. South Africa's Deputy Finance Minister Mcebisi Jonas recently stated that the Guptas had offered him the post of finance minister in 2015, when ex-finance minister Nhlanhla Nene was still in post. Nene was fired in December 2015 and replaced with a little-known MP, David van Rooyen, only for the latter to be replaced less than a week into the job . The Guptas have denied Jonas' allegation.
"If the enemy thinks harassing our CIC [Commander-in-Chief] Julius Malema will subdue him or the EFF they are lying. We want to send a strong message to them that we are unshaken and declare that their days in government are numbered," the EFF statement said.
Colonel Andre de Klerk, acting spokesperson at Sandton Police Station, told Newsweek that the police were "busy investigating" the reported incident. "At this stage I can't confirm it or deny it," says de Klerk. He adds that Sandton police do not use any unmarked vehicles like the white unmarked van reported to have stopped Malema by the EFF and says that he has received no reports from Sandton police officers about being involved in the incident.