Could Mmusi Maimane Be South Africa's Next President?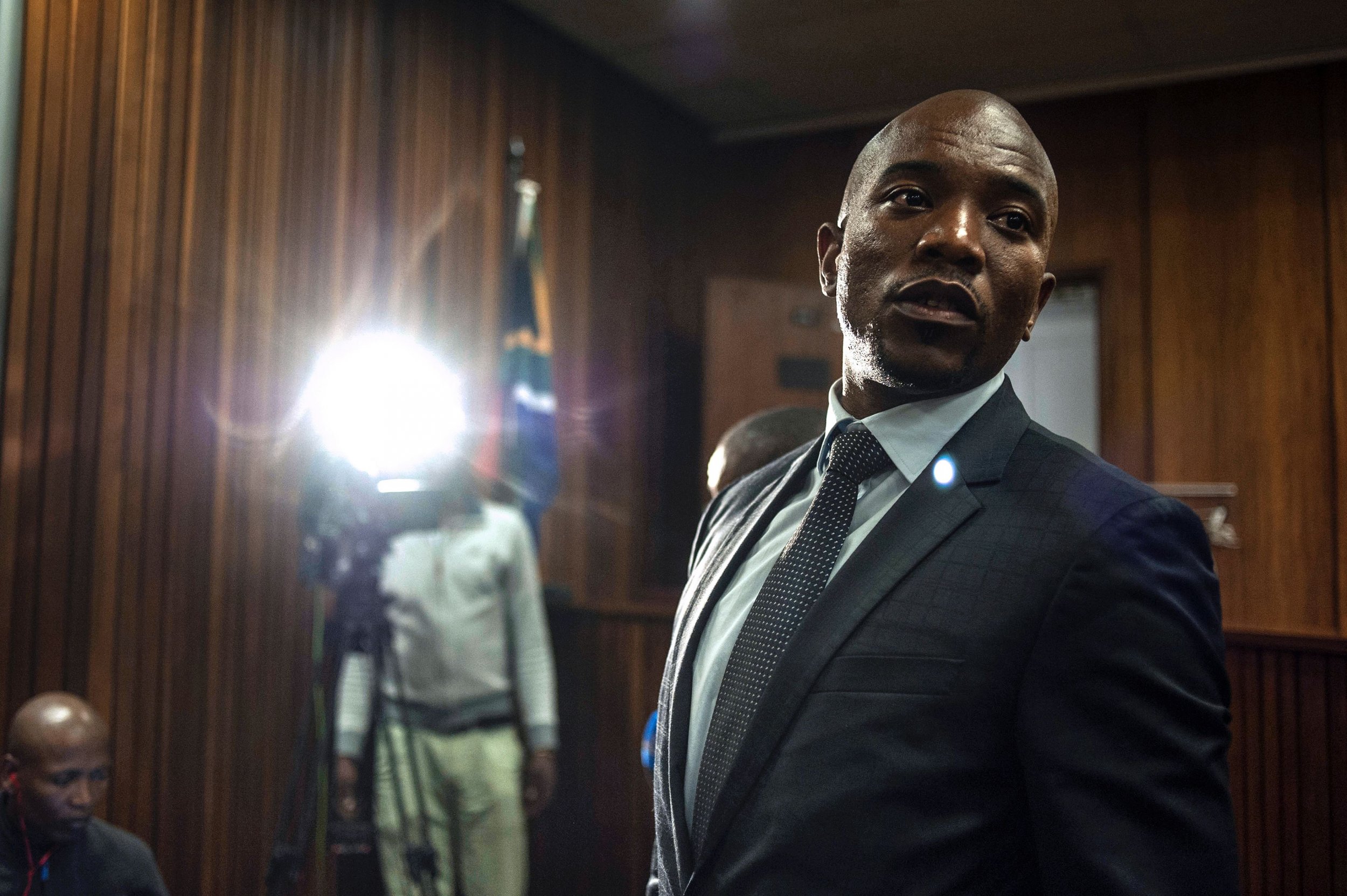 "An ignoble, parasitic organization."
That is how Mmusi Maimane, leader of South Africa's main opposition party, describes the governing African National Congress (ANC), albeit citing a 2005 speech by former South African president and ANC leader Thabo Mbeki, in which Mbeki described the two paths the party could take.
Maimane, who became the Democratic Alliance's (DA) first black leader in May 2015, is preparing to lead his party into local government elections in August. The polls will provide a barometer as to how much the ANC's reputation has been damaged among the population as a result of multiple recent scandals surrounding President Jacob Zuma and could also provide indicators of the country's mood ahead of the next general election in 2019.
The charismatic DA leader, dubbed the Obama of Soweto in reference to the Johannesburg township where he grew up, insists that—despite the ANC's role as the historic liberator from apartheid and its enduring popularity among black South Africans, particularly in rural parts of the country—he can foresee a change in government in two years' time.
"We want to be part of a form of national government, a government that sees change. It's a project that I will give my life to, because I think it's absolutely critical for South Africa," Maimane, 36, tells Newsweek during a visit to London. "We're on a race against time, and if the DA does not win that battle [against the ANC] sooner, later may not in fact come around. So we have to, with every resolute effort, ensure that there's a change sooner in South Africa."
Maimane has already made several attempts to have Zuma, if not the ANC, removed from power. The DA leader tabled a no-confidence vote against the president—which Zuma survived in March—after the president sent shockwaves through South Africa by firing and hiring three finance ministers in a week in December 2015. The turmoil cause South African markets and the value of the currency to temporarily plummet and sparked widespread confusion, even within the ANC.
The DA, along with the left-wing opposition Economic Freedom Fighters (EFF), also led a legal campaign that resulted in South Africa's highest court ruling in March that the president had "failed to uphold the constitution" over what is known as the Nkandla scandal. The issue centers around Zuma's country homestead in Nkandla, in the coastal KwaZulu-Natal province. In March 2014, a report by South Africa's public protector, Thuli Madonsela, found that Zuma had used an estimated 246 million rand (worth $23 million at the time) in state funds to add what were ostensibly security features, but included a swimming pool and cattle enclosure. (South Africa's treasury said Monday that Zuma must pay back 7.8 million rand—$500,000—for the upgrades.) Following the ruling, Maimane led a parliamentary campaign to have the president impeached that ultimately failed due to the ANC's massive majority—the governing party holds 249 out of 400 seats, and two-thirds are required to pass a motion.
Ahead of August's elections, Maimane is confident that the DA can build on the progress in recent years of what was historically viewed as a party concerned with white interests. Since the end of apartheid in 1994, the DA has increased its vote share and number of seats at each general election, registering 22 percent at the last vote in 2014 (which equated to 89 parliamentary seats). The party currently governs in one of the country's nine provinces and holds the mayoralty in Cape Town, South Africa's second economic hub behind Johannesburg. The party is targeting at least three more of South Africa's eight metropolitan municipalities—major urban hubs of population and economy—in the forthcoming elections.
"South Africans voted for the DA in Western Cape, they voted for the DA in Cape Town. Already in the city of Cape Town, unemployment is on the decline whereas in the rest of the country it's on the rise," says Maimane. "It's clear that the ANC, since 1994, progressively they started to see a rise but those numbers are starting to decline. I don't necessarily foresee anything radical coming out of the ANC to arrest that decline… so I really do believe in my lifetime that we'll be able to see a change in government."
Born in Soweto, an impoverished township that was the site of a deadly youth uprising in 1976 that was a key moment in the anti-apartheid struggle, Maimane's oratorical skills and his promise to offer a positive political alternative have seen him compared to the United States' first black president. But Maimane says he draws his inspiration from closer to home, citing ex-ANC leader and anti-apartheid hero Nelson Mandela as his main political inspiration. The fact that Mandela's party now, as he puts it, uses racial rhetoric shows how the ANC has betrayed the legacy of its most famous son. "It's quite clear that the ANC of Mandela no longer is," says Maimane. "They argue that it can't be that if you are black, you can't end up in that party or you can lead another party. So they use language that is racial, that breaks the constitution."
Along with himself and Zuma, a third colorful figure in South African politics has attracted significant column inches in recent months, ahead of the elections. The firebrand leader of the EFF, Julius Malema, was a former Zuma ally and leader of the ANC's Youth League, but left the party in 2012 after falling out with the president and allegedly sowing division in the party. Malema has made controversial stances and statements his forté—his party advocates the reappropriation of white-owned land for blacks without compensation and Malema recently threatened to remove the ANC "through the barrel of a gun" if the governing party attempted to rig elections.
Maimane says he sees the EFF's rhetoric as part of a wider, global populist backlash that includes U.K. Independence Party (UKIP) in Britain and Donald Trump in the U.S. "It's the idea that says, 'The fundamentals don't matter anymore.' What's difficult about that is that often it grabs headlines when people say the most absurd things," says Maimane. "It's all these outlandish extremes… To me, the danger is that if those populist ideals actually get through, they spell a disaster for South Africa."
South Africa's ancient history of racial tension has threatened to boil over in 2016 several times via the modern medium of social media. In January, former DA member Penny Sparrow referred to black people as "monkeys" in a Facebook comment, leading Maimane to suspend her party membership and initiate criminal proceedings against her. Other controversial instances have included Oxford student Ntokozo Qwabe sharing a post in which he said he and a companion told a white waitress she would receive her tip "when you return the land" and High Court judge Mabel Jansen suggesting that rape was part of the culture of black men.
Maimane says that much of the racial tension in South Africa is stoked by economic reasons. Finance Minister Pravin Gordhan admitted in his February budget speech that the country was "in crisis," cutting forecast growth for 2016 down to 0.9 percent from 1.7 percent, while unemployment remains stubbornly high at around 25 percent. Black South Africans suffer most as a result, with 2012 census data showing that they earned an average of 60,613 rand ($3,911) per year compared to 365,134 rand ($23,557) among their white counterparts. But he insists that racism is not the norm among South Africans.
"South Africans don't allow those individuals—whether it be Penny Sparrow, regardless of color—to represent all of South Africans," he says. "As those explosions have taken place on social media. People like to presume that must be the view of all South Africans. It's not true. [But] there are some political parties who wish to exploit this in the context of an election year."