China Pushes Ahead With New South China Sea Base Despite Trump Administration's Accusations of 'Illegal Island-Building'
China plans to push forward with the development of a new "island city" in the disputed waters of the South China Sea, despite growing international concern and harsh criticism from the Trump administration last week.
The city of Sansha, which China claims as its southernmost territory in the disputed waterway, has announced plans to transform Woody Island (Yongxing in Chinese) and two smaller islets—Tree and Drummond (Zhaoshu and Jinqing)—into a "national key strategic service and logistics base," the South China Morning Post reported Monday.
"We need to carefully plan the overall development of the islands and reefs based on their different functions, taking into account their complementary relationship," Zhang Jun, the Communist Party secretary of Sansha, said in a statement, according to the Hong Kong–based newspaper. He said that the development would follow through on a directive from President Xi Jinping and that local officials would "take active steps and demonstrate their initiatives" to provide a "satisfactory report card."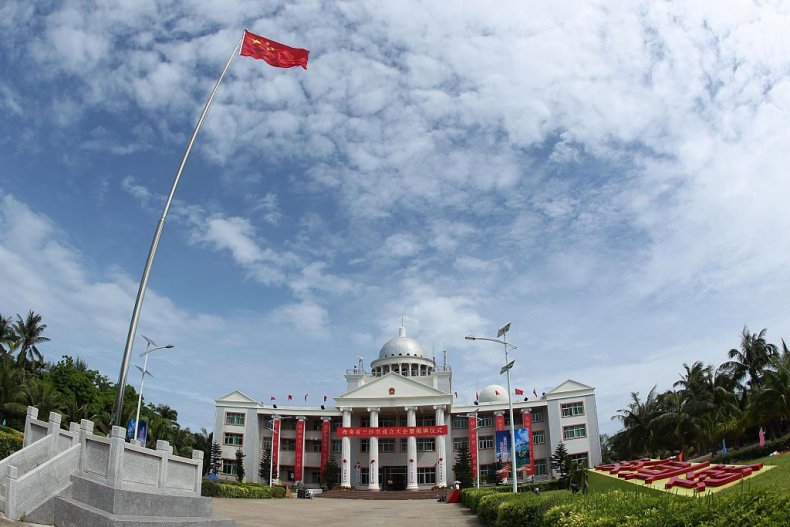 Commenting on the announcement, Jeffrey Engstrom, a senior policy analyst with the Rand Corp. specializing in Asia-Pacific security issues and foreign policy, told Newsweek that the project has the potential to raise tensions with the U.S.
"It seems that the proposed infrastructure on and near Woody Island is still in early stages of planning," Engstrom said. "However, if built, additional basing infrastructure and logistics nodes allow China's PLA [People's Liberation Army] Navy, coast guard and the maritime militia to further expand presence and operational tempo in the South China Sea [SCS]."
"This has the ability to raise tensions by placing even more pressure than we have witnessed so far on the other SCS claimants and routine U.S. military activity in the region," he said.
Tensions have increased in recent years as Beijing has expanded its reach into the South China Sea, despite international criticism. China views the waterway as part of its historic territory, but this claim is disputed under international law. The U.S. has routinely pushed back against China's claims, sending so-called freedom of navigation missions of ships and aircraft to monitor the disputed territory.
Last week, the U.S. sent two B-52H Stratofortress bombers on a "routine training" mission into the vicinity of the sea. "U.S. aircraft regularly operate in the South China Sea in support of allies, partners and a free and open Indo-Pacific," a spokesman for the Pacific Air Force said last Thursday.
The preceding week saw a similar report about a pair of the bombers flying over Chinese-claimed islands in the disputed region. And Secretary of State Mike Pompeo lashed out at Beijing last week for what he referred to as "illegal island-building in international waterways."
In November, Vice President Mike Pence spoke at the Association of Southeast Asian Nations summit in Singapore, reaffirming the American position against China's territorial claim. "The South China Sea doesn't belong to any one nation, and the United States will continue to sail and fly wherever international law allows and our national interests demand," he said, according to The Week.
China's claim to the vast waterway has frustrated regional nations in addition to Washington. Under international law, stretches of the sea are claimed by Malaysia, Taiwan, Vietnam, Brunei, Indonesia and the Philippines. The South China Sea ranks among the busiest maritime traffic routes in the world, meaning companies and countries that trade through its waters have a vested interest in the waterway remaining stable and open to their ships.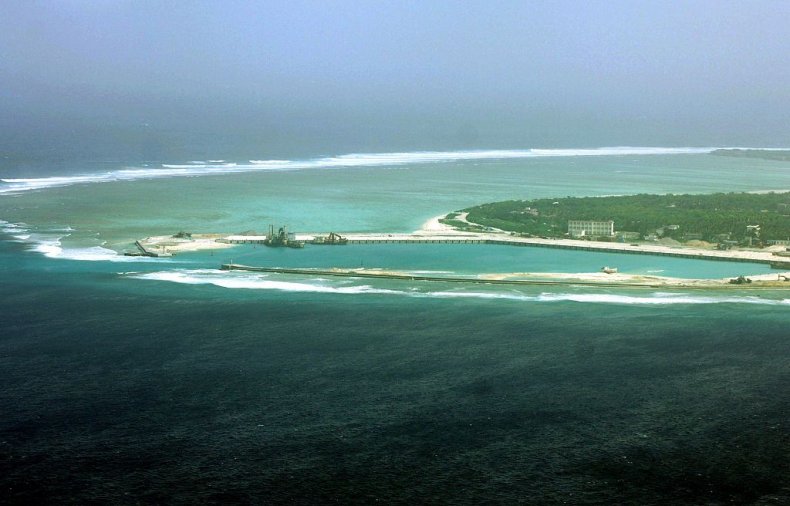 A prominent Chinese military leader, Senior Colonel Dai Xu, said in December that his country should use force against U.S. ships encroaching on areas of the sea claimed by Beijing. "If the U.S. warships break into Chinese waters again, I suggest that two warships should be sent: one to stop it and another one to ram it," Dai said, according to the Global Times. "In our territorial waters, we won't allow U.S. warships to create disturbance."
Shi Yinhong, a professor specializing in U.S.-China relations at Renmin University of China, told the South China Morning Post that rapid expansion by Sansha could incur a dramatic response from Washington.
"If this is going to be on a large scale and carried out quickly, which I doubt, then the strategic response from the U.S. will be somewhat dramatic and the rivalry between Beijing and Washington will escalate," Shi said. "That would jeopardize Beijing's key priorities, both domestic and international," he added, citing China's ongoing efforts to strike a trade deal with the Trump administration.