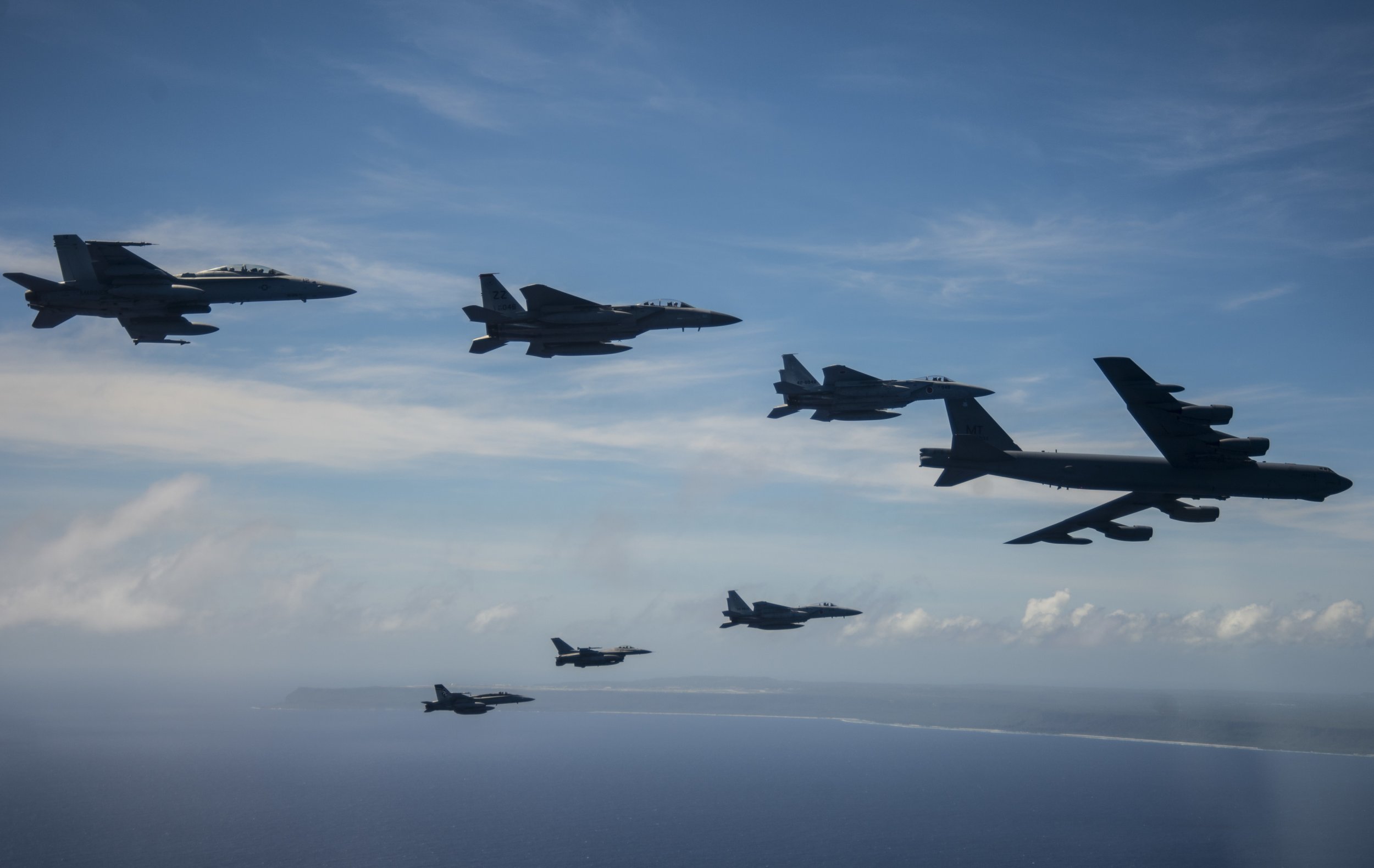 The U.S. military has sent a nuclear-capable mainstay of its aerial might over the disputed South China Sea, where China has laid claim to trillions of dollars worth of oil and gas reserves.
A Pacific Air Force spokesperson said Thursday in a statement sent to reporters that "Two B-52H Stratofortress bombers took off from Andersen Air Force Base, Guam, and conducted routine training in the vicinity of the South China Sea on March 13 [Hawaii Standard Time], before returning to base," as cited by the Hong Kong-based South China Morning Post. The statement maintained that "U.S. aircraft regularly operate in the South China Sea in support of allies, partners and a free and open Indo-Pacific."
The move followed reports last week of another pair of B-52s flying over China-claimed islands in the South China Sea as the U.S. participated in the COPE North 2019 exercise alongside regional allies Australia and Japan. It also came just a day after Secretary of State Mike Pompeo accused Beijing of "illegal island-building in international waterways" in order to block other claimants to the South China Sea "from accessing more than $2.5 trillion in recoverable energy reserves."
In response, Chinese Foreign Ministry spokesperson Lu Kang contended Wednesday that "it serves the interests of regional countries that those countries can manage and handle differences in their own way, and jointly uphold regional peace, stability, development and prosperity." He added: "Meanwhile, some nonregional country has repeatedly stirred up troubles in an attempt to ruin the harmony. Such attempts are irresponsible to regional countries."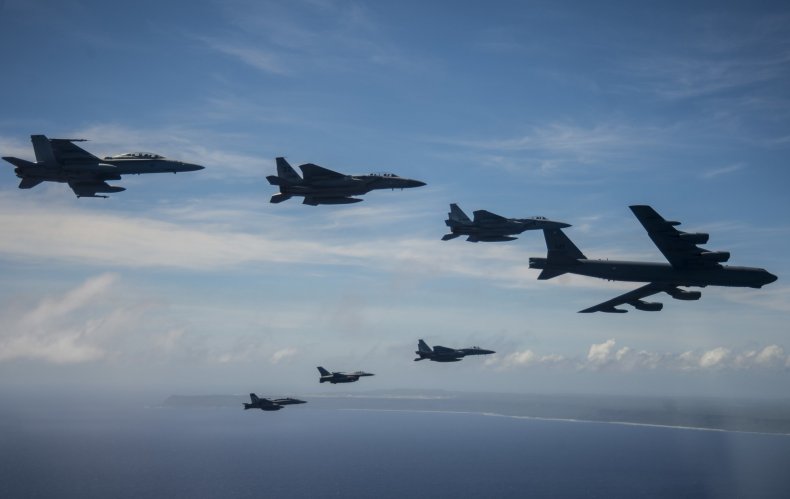 The South China Sea is one of the world's busiest maritime traffic routes, but various overlapping stretches are claimed by Brunei, China, Malaysia, Indonesia, the Philippines, Taiwan and Vietnam. Beijing's vast claims have irked regional competitors, as has its expanding military presence to enforce its policy there.
The Pentagon—which already hosts an estimated, unparalleled 279 bases in the Asia-Pacific region—has also bolstered its posture in the region, sending vessels and aircraft in defiance of Chinese warnings. As the B-52s flew Wednesday over the South China Sea, the Seventh Fleet flagship USS Blue Ridge amphibious command ship sailed through the region's contested waters to anchor in the Philippines.
Asked if his forces were met with a Chinese response, the ship's commander, Navy Captain Eric Anduze, told reporters that "all of our interactions were safe and professional," but emphasized that the U.S. would "sail, fly and operate wherever the law allows us to," The Associated Press reported. The Pentagon has deemed such moves "freedom of navigation" operations, which were outlined in the 1982 United Nations Convention on the Law that the U.S. has yet to sign or ratify, as China has done.
Previous encounters have produced tense situations between the two powers at sea. In January, the Chinese armed forces sent air and naval assets to intercept Arleigh Burke-class guided-missile destroyer USS McCampbell after it sailed near the Paracel Islands, one of many disputed formations that Beijing has been accused of quietly militarizing.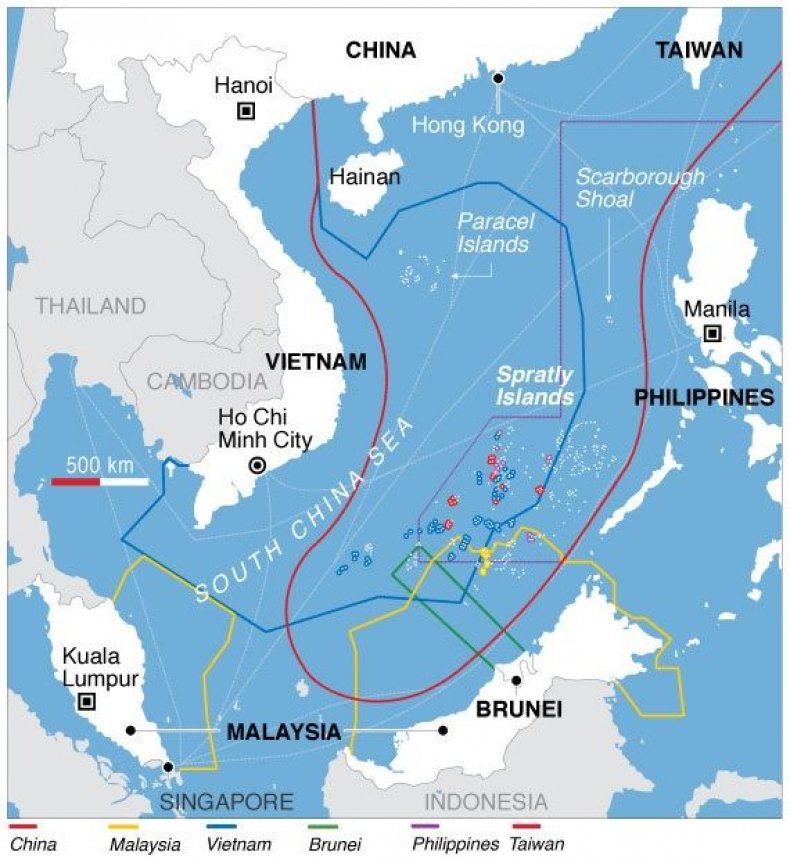 As Pompeo alluded to Tuesday, the territorial feud in the South China Sea runs deeper than the surface. The Environmental Information Agency estimated in a February 2013 report that "the South China Sea contains approximately 11 billion barrels of oil and 190 trillion cubic feet of natural gas in proved and probable reserves," while the official Chinese National Offshore Oil Company "estimated the area holds around 125 billion barrels of oil and 500 trillion cubic feet of natural gas in undiscovered resources," according to the same report.
Two years later, the state-administered China Institute of International Studies cited a Ministry of Land and Resources geological survey as determining "that petroleum geological resources falling under China's jurisdiction in the South China Sea equal roughly 23-30 billion tons and natural gas geological resources total 16 trillion cubic meters, making up one-third of China's total oil and gas resources, and equaling 12 percent of the world total."
The U.S. and China have already established themselves as the world's top two economies and disagreements over trade have driven frictions between the administrations of President Donald Trump and Chinese President Xi Jinping, who has sought to expand his country's financial footprint across the globe, raising anxieties among officials in Washington and the Pentagon.
U.S. Pacific Fleet commander Admiral John C. Aquilino assured area command leaders Wednesday in San Diego that the Navy was prepared to wage "lethal combat" with any major adversary, emphasizing that he was "confident that we will win any fight" and that "each one of our sailors should know they are part of the best damn navy in the world."