South Dakota Gov. Kristi Noem Defends Sturgis Rally, Fires Back at Fauci
Republican South Dakota Governor Kristi Noem on Friday defended the state's massive Sturgis Motorcycle Rally, and pushed back against criticism from Dr. Anthony Fauci and other public health officials who feared the event could lead to a surge in COVID-19 infections.
Speaking on Fox News' The Ingraham Angle, Noem accused Fauci of harboring political bias against the rally, which attracts roughly 700,000 people for a two-week event to South Dakota's Black Hills each year.
"What Dr. Fauci is doing by constantly targeting the Sturgis bike rally, by constantly focusing on South Dakota and ignoring liberals who gather every single day – their hypocrisy is just wrong," she said Friday.
"I think it's unfortunate he's building a distrust into his profession. We need our public health officials, we need to be able to trust them and he's just gotten political and picked winners and losers based on who he likes and who he doesn't," Noem added.
Noem's comments came after Fauci recently said that he's "very concerned" the event could lead to a rise in coronavirus infections, particularly as the highly infectious Delta variant soars across the country.
"It's understandable that people want to do the kinds of things they want to do, they want the freedom to do that. But there comes a time when you're dealing with a public health crisis that could involve you, your family, and everybody else—that something supersedes that need to do exactly what you want to do," Fauci said on NBC's Meet the Press.
A team of researchers from the Centers for Disease Control and Prevention (CDC) said last year's Sturgis rally resulted in a "super spreader event" after more than 460 attendees became infected with COVID-19.
Just days before this year's rally kicked off on August 6, South Dakota reported a 68 percent rise in COVID cases, largely due to the Delta variant. Furthermore, only about 48 percent of adults who live in the county that hosts the Sturgis rally are fully vaccinated, according to the CDC.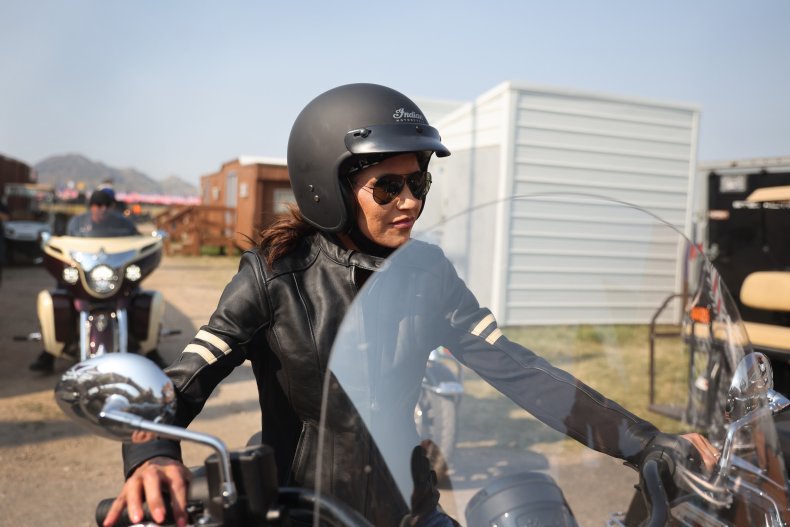 Nonetheless, Noem expressed pride in the rally, and said that hosting the event allows people to make "personal choices" regarding the pandemic.
"We're just allowing people to make personal choices and have personal responsibility over when they want to assemble, when they want to gather and spend time outdoors and enjoy their way of life," Noem said during her Fox News interview.
Additionally, in an op-ed by the Republican governor Friday that was published on the Fox News website, Noem added that the event marks "one of the most iconic celebrations of freedom in the country."
"Many of the visitors to whom I've spoken say they're coming to South Dakota specifically because it reminds them of the America they grew up in. Free. Independent. Unburdened by the constraints and headaches that big cities and liberal ideology forced upon them," Noem wrote.
In the first few days of the rally, local law enforcement officials said the event has been the busiest they've seen in decades. According to the Rapid City Journal, this year's event has attracted a much younger crowd.
There are no vaccine or mask requirements to attend the rally, but officials stated the event offered access to coronavirus tests, face masks and hand sanitizer stations, in addition to doses of the Johnson & Johnson COVID-19 vaccine. The city has also allowed attendees to drink on public property, in the hopes of preventing indoor crowding.
Newsweek contacted Noem for additional comment, but did not hear back in time for publication.