'Are You Bonkers Or Just Cruel?' Anger at South Dakota Governor Over Social Distancing Hunting Video
South Dakota Governor Kristi Noem has clashed with animal rights group PETA after posting a video showing her shooting a bird.
"Less Covid, more hunting, that's the plan for the future," Noem said in the video, which was captioned: "This is how we do social distancing in South Dakota."
The Republican governor has been reluctant to introduce strict measures aimed at tackling the coronavirus pandemic, declaring earlier this year that there would be no social distancing at a July 3 celebration attended by President Donald Trump at Mount Rushmore. She is also a vocal advocate for hunting.
In Wednesday's short video, which has been viewed more than two million times on Twitter, Noem says "this is how we do social distancing in our state" before turning from the camera and taking three shots. The bird then falls from the sky.
The clip provoked a strong reaction from Twitter users, with some responding with graphs showing coronavirus cases rising in the state.
Animal rights campaign group PETA responded: "Are you bonkers or just cruel? Do you call it social distancing because with such needless violence no one will want to visit your state?"
Noem replied: "Many on the Left simply don't understand our South Dakota way of life. We hunt. We fish. We pray. And we love America."
In June, Noem sparked controversy after she told thousands of people planning to take part in an Independence Day event at Mount Rushmore, which the president also attended, that they would not be required to practice social distancing, despite surging case numbers across the country.
"We told those folks that have concerns that they can stay home," she said during an interview with Fox News at the time. "But those who want to come and join us, we'll be giving out free face masks, if they choose to wear one. But we won't be social distancing."
And earlier this month her state hosted a motorcycle rally that was later feared to be a coronavirus "superspreader" event after it was linked to dozens of new cases.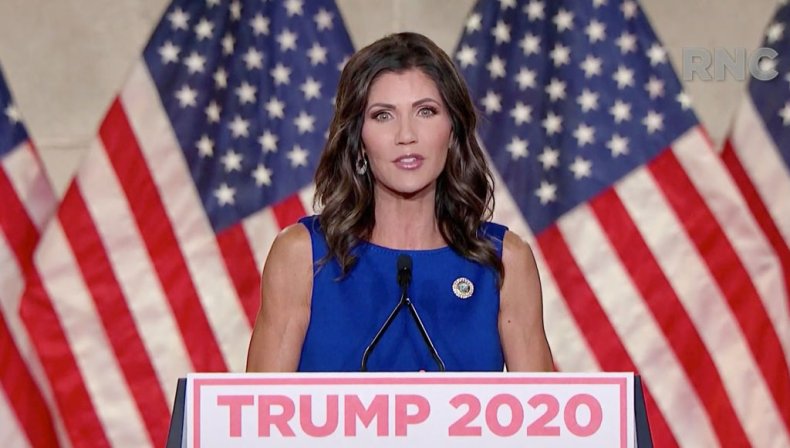 Despite that, Noem has continued to actively encourage visitors to the state, tweeting on Tuesday that South Dakota was "open for business."
She wrote: "Have you had to cancel or postpone your group meeting or function? If so, how about making South Dakota the destination for your event this year. We're open for business, and we'd love to have you."
South Dakota recorded 445 new Covid cases on Wednesday, according to data from John Hopkins University. The state, which has a population of approximately 900,000 people, has recorded nearly 20,000 cases and more than 200 deaths since the start of the pandemic.