South Dakota Governor Touts COVID-19 Response Despite State Having Sixth-Worst Death Rate
South Dakota Governor Kristi Noem touted her state's approach to the COVID-19 pandemic on Tuesday night, suggesting that her refusal to impose a lockdown has been uniquely successful.
Noem, a Republican, told Fox News' Laura Ingraham that her approach was correct, despite the fact that South Dakota has the sixth-highest death rate of any state in the U.S.
Ingraham claimed that "the pandemic is basically over in South Dakota" and said: "Look how far down the cases have dropped since the peak in November, and the death rate remains below [Governor Andrew] Cuomo without any lockdown settled."
Ingraham told Noem that the media were "so annoyed by you," asking: "Why is that, and why do you have a target on your back when it comes to the American media?"
"You know, I think it is about control," Noem said. "They have used for the last year fear to control people.
"In South Dakota, we just took a very different path. We knew the science told us we couldn't stop the virus. We could slow it down and protect people who might be vulnerable and make sure we have enough hospital capacity to take care of those who need it, but that we would do it together and allow people to be flexible to take care of their families and put food on the table.
"That was a unique approach that, for our people, worked really well," she said.
However, despite Noem's assessment of her own policy, South Dakota has the sixth-worst death rate per capita in the nation. According to The New York Times, the state recorded 1,779 deaths up to February 2.
When compared to the state's 2019 estimated population of 884,659, this means that 1 in every 500 residents of South Dakota has died of the virus since the pandemic began.
The graph below, provided by Statista, shows the 10 U.S. states with the highest COVID-19 death rates.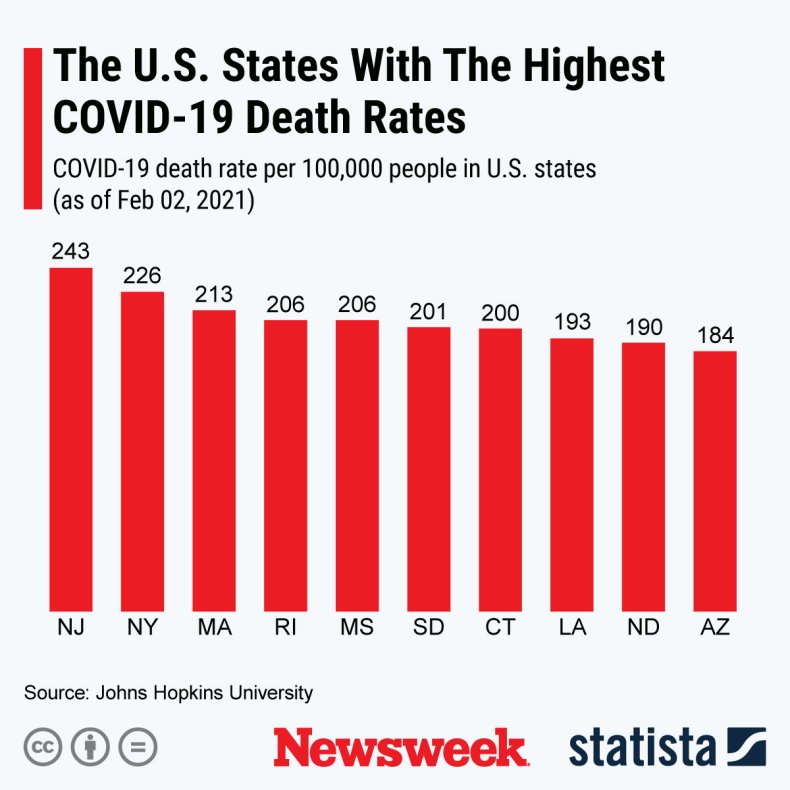 This also represents a death rate of 201 per 100,000 in South Dakota. Only New Jersey, New York, Massachusetts, Rhode Island and Mississippi have worse death rates. There have also been 108,431 reported cases, or slightly less than one-eighth of the state's population.
In terms of infections, South Dakota currently has a 20 percent positive rate according to the Johns Hopkins Coronavirus Resource Center. This rate is worse than all other states with the exception of Alabama, Pennsylvania, Idaho, Iowa, Kansas and Mississippi.
Though New York has struggled with the virus, the state's infection rate is currently 5.1 percent.
Noem is considered a rising star in the Republican Party and has won praise from former President Donald Trump and other members of the GOP opposed to COVID-19 lockdowns.
This article has been updated to include an updated graph.