S.D. Gov. Kristi Noem Defends COVID-19 Response, Keeps Traveling as Virus Spreads
South Dakota's Republican governor, Kristi Noem, has come under fire in recent months for her hands-off approach to preventing the spread of COVID-19, even though her state is seeing one of the worst coronavirus outbreaks per capita in the country.
An outspoken critic of lockdowns and mask mandates, Noem wrote an op-ed that ran Monday in The Wall Street Journal, defending her decision to not implement any restrictions throughout the state. Meanwhile, as the virus continues to surge in South Dakota and across the country, Noem has been traveling out of state for political appearances.
In the piece, Noem said her decision to avoid shutting down businesses and forcing citizens to wear facial coverings is a balance of "public-health concerns with people's mental and emotional needs, their economic livelihoods and social connections, and liberty."
"Rather than following the pack and mandating harsh rules, South Dakota provides our residents with information about what is happening on the ground in our state—the science, facts and data," Noem wrote.
"Many in the media have criticized this approach, labeling me ill-informed, reckless and even a 'denier.' Some have asserted that South Dakota is 'as bad as it gets anywhere in the world' when it comes to Covid-19—a demonstrably false statement," she wrote. States that have implemented harsh restrictions aren't doing any better, she added.
"As we continue to see spikes move throughout the country, the course of the virus doesn't seem to be quantifiably different in the states that, according to the media, did everything 'right,'" she said.
Noem went on to cite Illinois, New Jersey and California as three states that have implemented stay-at-home orders and mask mandates but are still seeing a rise in virus cases and hospitalizations.
"Until we have an effective and widely available vaccine, the virus will spread—science tells us that," she wrote.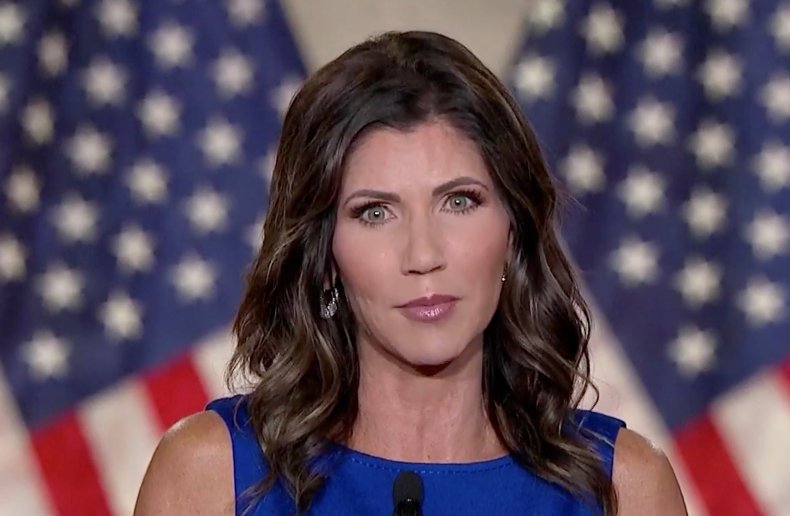 South Dakota is experiencing one of the worst outbreaks in the country to date. In the last week, the state has reported the most per capita deaths in the U.S., according to data from The New York Times.
That same data shows South Dakota as the fourth worst state for new virus cases. According to the Associated Press, one in every 68 people in South Dakota tested positive in the past two weeks, while the state has reported nearly 33 deaths per 100,000 people.
A recent report by the Rapid City Journal found that South Dakota's three main hospitals are struggling to find enough space to treat critically ill patients. In some cases, patients are being sent out of state to receive care.
South Dakota had reported relatively low case numbers throughout the spring and summer, but they exploded after Noem permitted large-scale events to take place, such as the Sturgis motorcycle rally, which brought in over 460,000 people from around the country in August.
Meanwhile, as the virus continues to surge in her home state and public health officials urge Americans to avoid unnecessary travel, Noem has been seen traveling across the country to attend events in Texas and Georgia.
Last Friday, she participated in the Wrangler National Finals Rodeo in Arlington, Texas, carrying the American flag on horseback during the opening ceremony. Two days later, Noem attended a Georgia debate between Republican Senator Kelly Loeffler and Democrat Raphael Warnock.
Despite rising concern about the new numbers, Noem has remained steadfast in her decision to avoid COVID-19 restrictions. She concluded her op-ed by writing that "South Dakota is entering 2021 in one of the strongest financial positions in the country," thanks to her hands-off response.
"I am confident that we have and will continue to come out ahead of many other states in important measures of public health, economic well-being and liberty," she said.
Newsweek reached out to Noem for additional comment but did not receive a response in time for publication.