Turkish Broadcaster Calls Ivanka Trump And Moon Jae-in A 'Killer Couple,' South Korea Demands Apology
South Korea's government has reportedly demanded that a Turkish TV channel apologize for calling its President Moon Jae-in and United States first daughter Ivanka Trump a "killer couple" after they met during her PyeongChang Winter Olympics visit.
Related: Ivanka Trump Briefed South Korea President on North Korea Sanctions Despite Reportedly Lacking Permanent Security Clearance
The South Korean Ministry of Foreign Affairs on Sunday stated its demands were directed at the broadcaster ShowTV, which apparently aired a photo of Trump and Moon last month and also falsely described them as a "millionaire businessman and his wife," The Korea Times reported.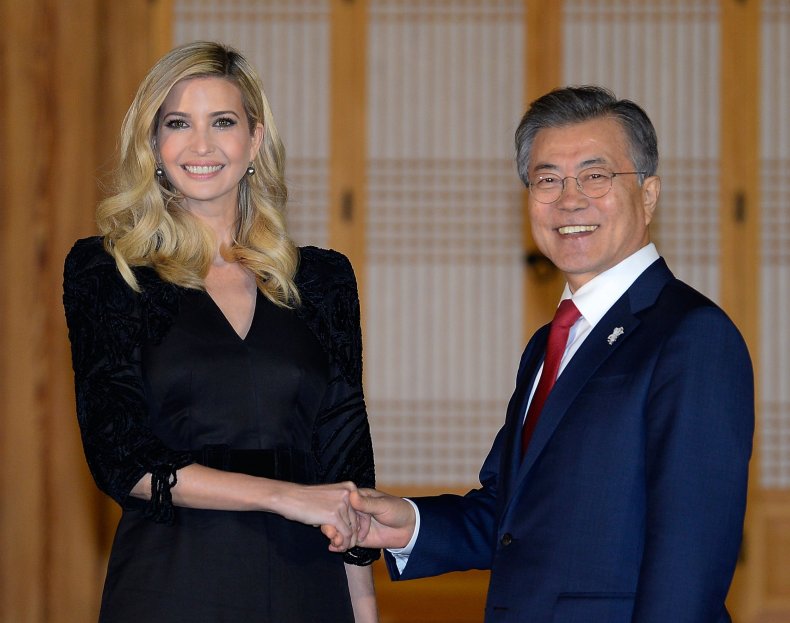 Show TV in a February 25 episode also used a picture of Moon and connected him to a murder suspect who allegedly killed a Filipina maid.
Though Show TV deleted the video online when the South Korean embassy in Ankara raised the issue, the Ministry of Foreign Affairs has repeatedly asked for an apology, and not received it.
"We made multiple complaints to the broadcaster through our embassy there immediately after the program was aired," a ministry official said. "We have also called for assurances to prevent similar accidents from happening."
South Koreans living in Turkey first flagged the video to the ministry.
Contrary to the Show TV report, Moon's wife is Kim Jung-sook and Trump is married to Jared Kushner. Trump, before attending the Olympics closing ceremony, had dinner in the presidential Blue House with Moon and his wife and briefed them on President Donald Trump's new North Korea sanctions.
Trump also reportedly asked the South Korean presidential couple to introduce her to K-pop stars EXO and CL afterward and said she would teach her three children Korean so they could one day sing in front of them.
"Thank you to President Moon, First Lady Kim & the people of South Korea for the warm hospitality you showed me, our Presidential Delegation & #TeamUSA during the #WinterOlympics," Trump tweeted.