South Korea Says Kim Jong Un Did Not Have Heart Surgery, Laid Low Due to Coronavirus
South Korean intelligence officials told lawmakers they believe that North Korean supreme leader Kim Jong Un did not undergo heart surgery as reported by some local and international media outlets but instead avoided the public eye due to concerns about the novel coronavirus pandemic.
Following a briefing by Seoul's National Intelligence Service to the parliamentary intelligence committee, lawmaker Kim Byung-kee told reporters that the NIS assesses that Kim Jong Un "did not undergo any heart-related procedure" and had "conducted state affairs as usual" throughout his recent three-week absence with particular attention placed on preventing the spread of COVID-19, ensuring economic stability and maintaining military readiness.
North Korean authorities have insisted that there have been no recorded instances of the new coronavirus disease that has infected more than 3.5 million people around the world, but Kim Byung-kee said the NIS did not rule out the possibility of an outbreak there.
The NIS took note of the fact that Kim Jong Un has only made 17 public appearances so far, a reduction of 66 percent from this same time last year, something the spy agency attributed to concerns related to "the COVID-19 situation."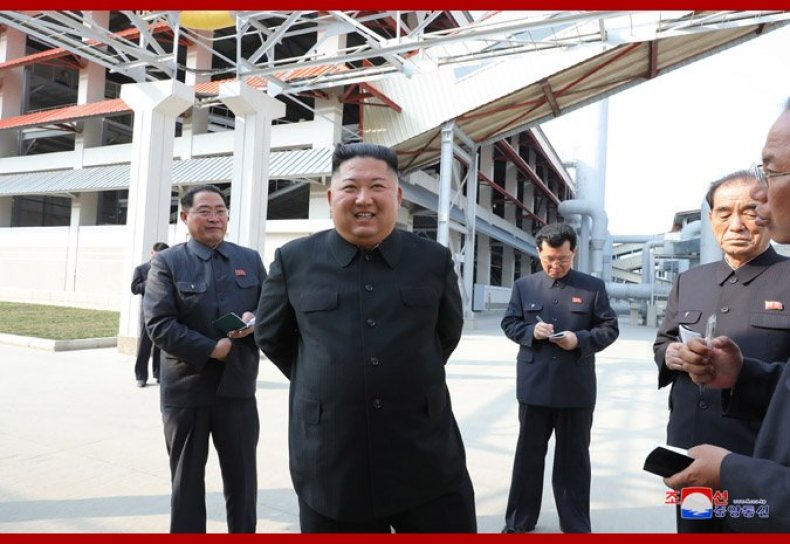 Kim Jong Un's three-week absence first garnered attention when he did not appear at celebrations marking Day of the Sun, a national holiday dedicated to his late ruling grandfather Kim Il Sung, on April 15. The young ruler was last seen the previous weekend presiding over a ruling Korean Workers' Party Central Committee Politburo meeting and attending aerial strike drills, but he also apparently skipped a combined missile exercise on the eve of Day of the Sun.
As speculation mounted, an article by Seoul-based Daily NK, a nonprofit news site funded in part by the U.S.-based National Endowment for Democracy, reported that Kim Jong Un had undergone a heart procedure and was recovering at a mountain villa north of Pyongyang, citing an anonymous source in North Korea. CNN then cited an unnamed U.S. official saying intelligence was monitoring reports that the 36-year-old head of state was in grave danger following an operation. Other media reports also later suggested Kim Jong Un was ill, injured or even dead.
However, U.S. officials had told Newsweek there was no evidence suggesting anything was amiss in North Korea, based on observations of regional military activities.
South Korean officials also expressed skepticism, with Unification Minister Kim Yeon-chul suggesting last week Kim Jong Un was avoiding contracting COVID-19. In conversations with Newsweek, two leading experts backed this assessment.
Three days later, Kim Jong Un reappeared at the opening ceremony of the Sunchon Phosphatic Fertilizer Factory, a site vital to the country's push to expand food production, as Newsweek reported.
President Donald Trump publicly maintained high hopes for Kim Jong Un's recovery, touting the unprecedented close ties between two leaders whose countries technically remain at war since the 1950s inter-Korean conflict. While the two men have met three times in hopes of securing a historic peace-for-denuclearization deal, no agreement has yet been made.
Ties between the two rival Koreas have also chilled, with North Korea reducing its level of communication with its U.S.-backed neighbor. Last weekend, reports emerged of cross-border at the heavily-fortified Demilitarized Zone separating the two countries but U.S. Secretary of State Mike Pompeo characterized the incident as "accidental" in an interview Sunday with ABC News.
Pompeo declined to share details about what the Trump administration knew regarding Kim Jong Un's absence but stated that "our mission is to remain the same: to convince the North Koreans to give up their nuclear weapons, to verify the same, and to then create a brighter future for the North Korean people."