South Korea to Get New U.S. Defenses, North Warns of 'Path to Self-Destruction'
South Korea's armed forces laid out a five-year plan to bolster the country's military posture, including new U.S.-built defenses, as North Korea warned their fragile detente could revert into conflict.
In the wake of the quintet of North Korea short-range ballistic missile launches that occurred in the past month, the South Korean Defense Ministry released a new plan to improve surveillance, guided-missile capabilities, expand defenses and modernize its arsenal, among other goals to be reached between 2020 and 2024. The changes would include increasing spending by an average of 7.1 percent each year for a total of about $240 billion in the next five years.
An accompanying press release noted that, although South Korea's "short-range missiles are superior in quantity and quality when compared to North Korea, they have expanded precision-guided missiles that can be launched from land, ships, submarines and fighter planes." The military vowed to "also develop and deploy" such capabilities and to replace its aging F-4 and F-5 fleet with the U.S.' latest F-35A stealth fighters and to secure additional Aegis-equipped destroyers along some of South Korea's domestically-produced assets.
In addition to acquiring more Aegis and other early warning radar systems, the plan included upgrading anti-missile platforms such as the U.S.-built Patriot and indigenously-developed Cheolmae-II surface-to-air missiles systems. Seoul vowed to "secure sufficient intercept capabilities for new short-range ballistic missiles recently launched by North Korea."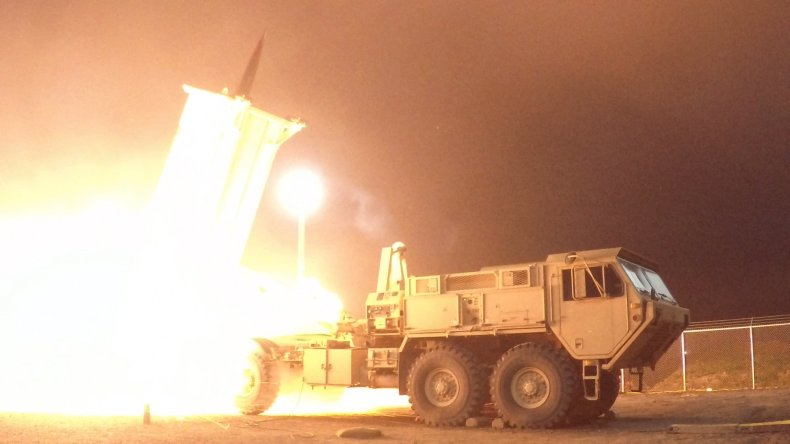 One platform not mentioned in the press release was a U.S. land-based medium- or intermediate-range missile system, a class of weapons long restricted by the 1987 Intermediate-range Nuclear Forces (INF) treaty struck by Washington and Moscow. Having accused Russia of violating the treaty with a new cruise missile, however, the U.S. withdrew earlier this month and a day later Defense Secretary Mark Esper expressed interest in deploying such weapons in Asia in a matter of "months."
Little more has emerged of this plan, but the remarks were picked up Wednesday by North Korea's official Korean Central News Agency, which called such a strategy "a reckless act of escalating regional tension, an act that may spark off a new Cold War and arms race in the Far Eastern region" in a commentary. The state-run outlet also hit out at recent renovations to the U.S.-built Terminal High-Altitude Area Defense (THAAD) anti-missile system site in Seoungju, North Kyongsang Province, saying it "must be withdrawn for sure."
"If the south Korean authorities finish the deployment of THAAD and introduce the medium-range missile in the end, south Korea will be reduced into an advanced base for nuclear strike at the DPRK and other parts of Asia and into a target of direct strikes by neighboring countries determined never to overlook the U.S. military supremacy," KCNA wrote, using an acronym for North Korea's official name, the Democratic People's Republic of Korea.
The outlet emphasized, however, that "the consequences of the deployment of the medium-range missile will be more serious than those of THAAD." It concluded: "The south Korean authorities should keep this in mind how terrible the costs of obliteration and extortion are. Will you become a bullet-shield and walk the path to self-destruction or remove the trouble-makers that only bring disaster?"
A separate yet similar commentary published Wednesday by Rodong Sinmun, the official newspaper of Central Committee of the ruling Korean Workers' Party, called on "people from all walks of life in South Korea take a bold step to fight for their fate" and reject new U.S. weapons. It also argued that recent joint U.S.-South Korea drills, identified by supreme leader Kim Jong Un as the basis for North Korea's latest series of missile tests, "have further fueled tensions on the Korean Peninsula and surrounding areas."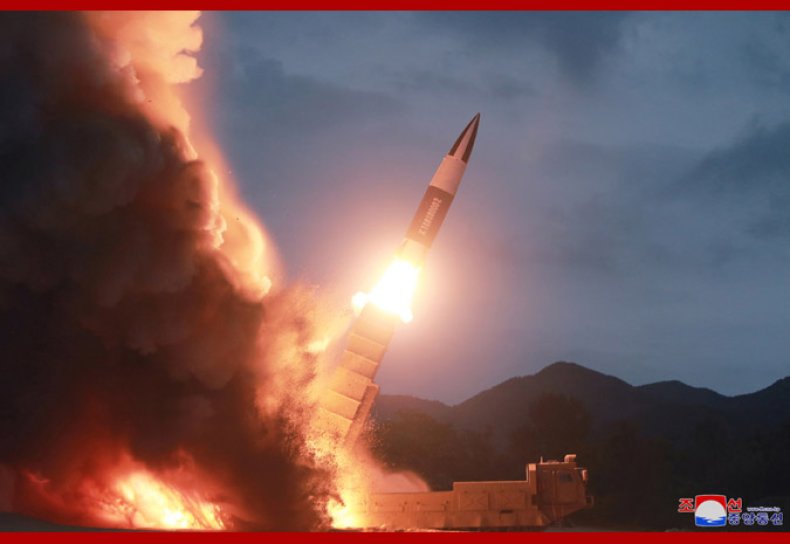 North Korea's recent string of short-range tests, the first of which occurred July 25 and the latest on Saturday, was believed to involve at least three different platforms. These included a partially-censored multiple launch rocket system and two mobile missile platforms—one known as the KN-23 and widely compared to Russia's advanced Iskander system and the latest being an apparently new weapon whose launcher bore similarities to the U.S.' own MGM-140 Army Tactical Missile System (ATACMS).
The tests were North Korea's first such series since May, when the country was also believed have tested the KN-23. These launches broke a 17-month pause that followed Kim's latest and furthest-flying intercontinental ballistic missile test in November 2017.
The following year would see vast changes in Seoul's relationship with Pyongyang and Washington, which backed South Korea against North Korea and a Sino-Soviet alliance in the 1950s conflict that set the stage for today's ongoing hostilities the three were trying to overcome. After three inter-Korean summits and two U.S.-North Korea summits no comprehensive agreement has been reached nor sanctions lifted, but Kim, President Donald Trump and his South Korean counterpart Moon Jae-in have all expressed confidence in an eventual resolution.
In his later letter from the young ruler, Trump said Saturday that Kim "stated, very nicely, that he would like to meet and start negotiations as soon as the joint U.S./South Korea joint exercise are over," calling these drills "ridiculous and expensive." Trump claimed Kim offered "a small apology for testing the short range missiles" and the president said he would "look forward to seeing Kim Jong Un in the not too distant future," declaring that a "nuclear-free North Korea will lead to one of the most successful countries in the world."