How 'South Park' Perfectly Ripped White Supremacists and Tackled Charlottesville in Season 21 Premiere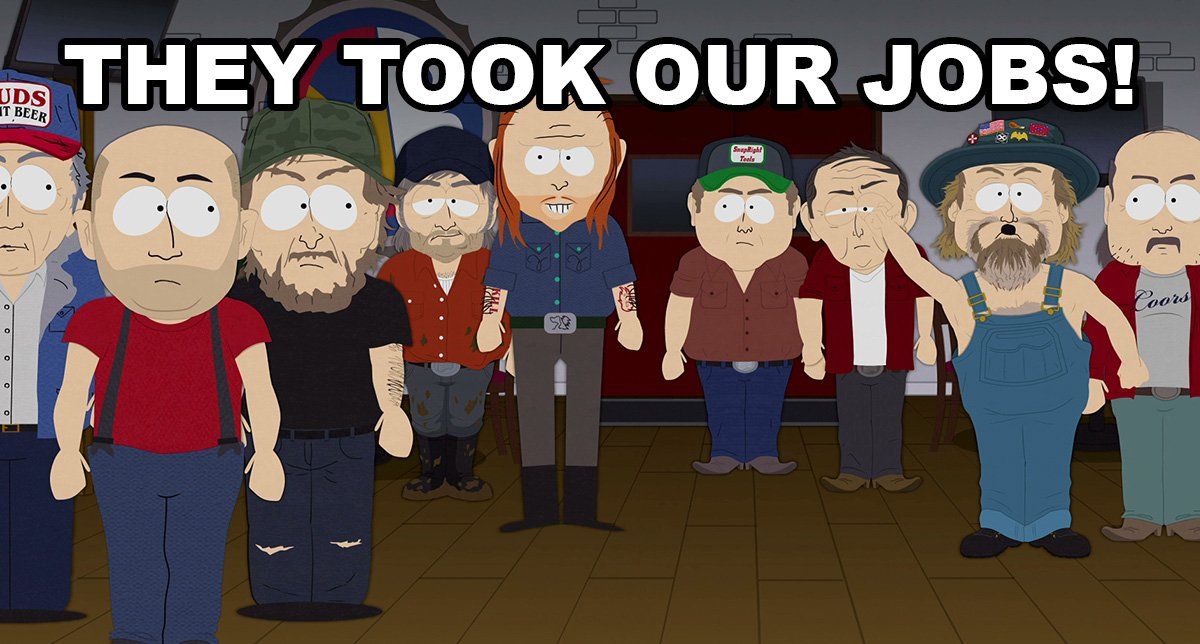 21 years on from its premiere, South Park proved it can still be relevant.
The Comedy Central animation opened its 21st season Wednesday night with a pointed political message that alluded to the rise of the alt-right, white supremacists and the violent protest in Charlottesville, Virginia, in August.
In the episode, "White People Renovating Houses," a blue collar, white nationalist mob march through the streets of South Park angered that "they took our jobs." The "they" in question is not minorities or immigrants, but technology, like the Google Home or Amazon Echo, making manual labor jobs redundant.
Familiar rhetoric plays out in these protest scenes: Confederate flags are waved and some of the mob chants, "They will not replace us," which was heard during the unrest in Charlotteville.
The protest collides with Randy Marsh's attempt to get a new home makeover show, White People Renovating Houses, off the ground. When the mob disrupts production, he takes them to court for damages, fearing the association with the white nationalists could harm his show.
"Don't you know when you wave Confederate flags around, you make us look stupid?" Randy tells the mob.
The sharp commentary continues when Randy comes up with a solution: To replace all of the virtual home assistants in town with real people looking for work. Echoing President Trump's divisive comments following Charlottesville, he tries to mitigate the turmoil by suggesting "there's been a lot of hurt here, hurt from both sides."
But not all the white nationalists embrace his idea. Daryl says he wants a "dignified job," to which Randy makes the episode's most caustic and evocative remarks: "Sorry you didn't go to college so you have to take the jobs you can get. Coal mining and truck driving are not exactly jobs of the future. You're stuck in another time, afraid to change."
In the end, there's harmony to the end of the episode, when Randy offers to renovate Daryl's home, but the acerbic tone from creators Matt Stone and Trey Parker struck a chord across America, which is still reeling from the white supremacists' march in Charlottesville.
On Twitter, the episode was warmly received: