Jimmy Fallon Finally Speaks Out Against Trump After 'Shameful' Response to Charlottesville, but Is It Too Late?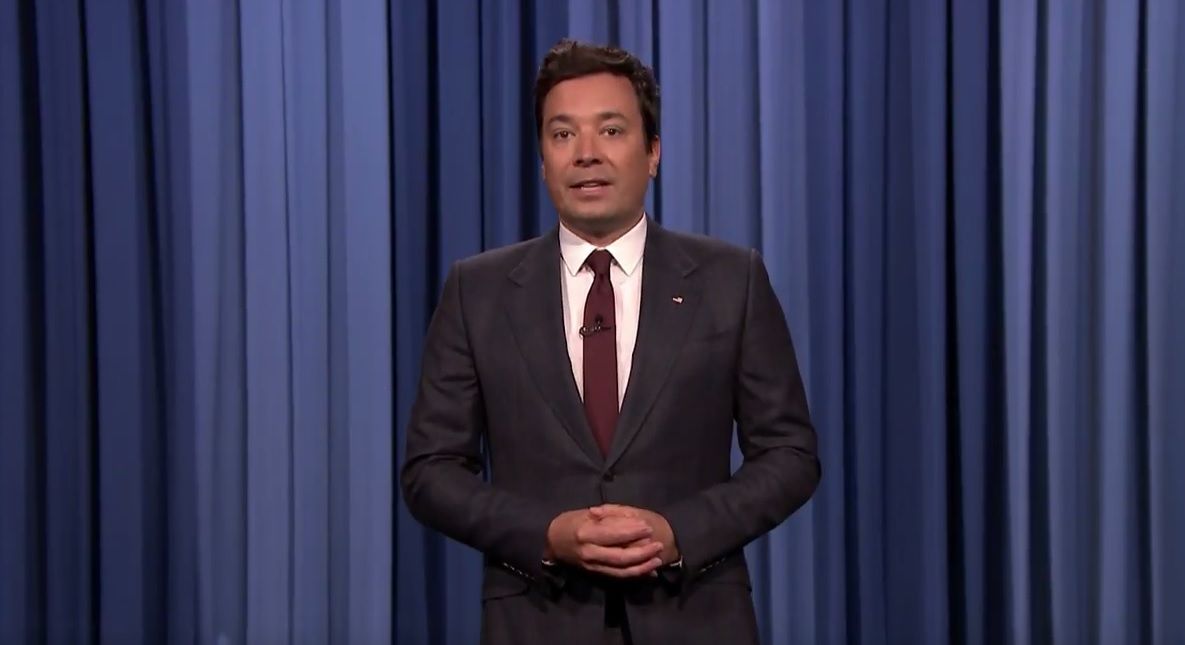 It took President Donald Trump two days to decisively condemn white supremacists following violent protests on Saturday in Charlottesville, Virginia. And it took Jimmy Fallon eight months into Trump's presidency to engage politically on The Tonight Show and condemn Trump. In both cases, the reactions came too late.
On Monday's episode of his NBC late-night talker, Fallon broke from his usual apolitical shtick to speak up about the events in Charlottesville. "It's my responsibility to stand up against intolerance and extremism," he said, straight-faced and somber.
"What happened in Charlottesville was just disgusting," Fallon continued. He said he was "sick to my stomach" seeing Nazi flag-waving white supremacists on the news and feared what kind of impression the images would leave on his two young daughters.
The comedian went on to criticize Trump's delayed response to the hate-fueled protests, which resulted in one woman's death when a man drove a car into a large group of counterprotesters Saturday.
Related: Watch Anthony Scaramucci's full interview with Stephen Colbert on Monday's Late Show
"The fact that it took the president two days to come out and clearly denounce racists and white supremacists is shameful," Fallon said. "I think he finally spoke out because people everywhere stood up and said something."
Fallon appeared sincere Monday night, but it seemed a late reaction to a man who even as a presidential candidate provoked outrage among many of the late-night hosts.
Fallon has maintained that his show isn't "a political show," as he reiterated Monday, and has had a fairly muted response to the political headlines that have rocked—and exhausted—America in the last eight months. His down-the-middle neutrality has been criticized by viewers and critics; in May, Newsweek's Alexander Nazaryan dubbed him "late-night's least woke comedian." Fallon said in a May interview with The New York Times he intends to remain neutral because "people that voted for Trump watch my show as well."
Fallon's mix of jovial celebrity interviews (including a softball interview with then-presidential candidate Trump last September), sketches and singalongs feels dated in the current landscape of the country and late-night television. 1950s America, this is not.
Comparatively, the comic's late-night rivals Stephen Colbert, Seth Meyers and Trevor Noah have all taken a more partisan approach on their shows. Their monologues impart upon viewers some understanding of the latest White House drama through comedy and hold the administration accountable on a national platform.
Colbert has particularly struck rich from his more politicized version of The Late Show. The comedian's talker had trailed behind the stalwart Tonight Show in the ratings for decades. But Colbert's nightly takedowns of Trump have increased viewership during the 2016-17 television season and gave The Late Show its first victory in the late-night ratings since the 1994-95 season. Colbert's show averaged 3.26 million viewers compared with Fallon's 3.18 million in the prime months of September through May. Trump himself acknowledged Colbert's ratings increase, took credit for it and, incidentally, boosted the show further.
Fallon isn't going anywhere, though. Tonight's ratings have taken a hit, but the legacy show still tops the advertiser-desired 18-49 viewer demographic that pulls in big bucks for NBC. Fallon's relevance, however, continues to decline, like Trump's approval ratings.