Southern California Morgues Fill to Capacity as State Extends Regional Stay-at-Home Order
At least one hospital morgue in San Diego County exceeded its capacity over the weekend and several others were approaching that same mark as state health officials extended regional stay-at-home orders into the new year on Tuesday.
The interim medical examiner in San Diego County, Dr. Steven Campman, told The San Diego Union-Tribune the county stepped in on Sunday to relieve a hospital morgue of some deceased patients for the first time during the state's recent COVID-19 surge. Officials said five bodies were removed from Sharp Grossmont Hospital, located in La Mesa.
Campman said four hospitals contacted the county in recent weeks with concerns about the space left in their morgues, but said those hospitals were previously able to solve spacing issues by collaborating with local morgues.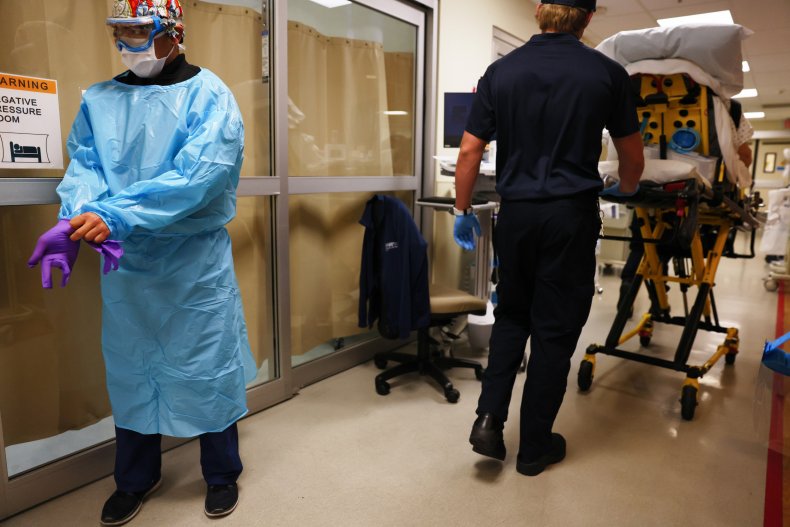 Newsweek reached out to the San Diego County Medical Examiner's Office for comment on the current morgue capacities of the other three hospitals.
California became the first U.S. state last week to report more than 2 million total COVID-19 infections since the start of the pandemic. The state's governor, Gavin Newsom, announced regional stay-at-home orders in early December, which kicked in for each of the state's five regions once that area reported less than 15 percent ICU availability. Though Newsom said the orders would tentatively last three weeks, he said state health officials could extend the orders if ICU units remained under strain.
California Health and Human Services Agency Secretary Mark Ghaly announced an extension of the stay-at-home orders for the San Joaquin Valley and Southern California regions during a Tuesday news conference. The stay-at-home orders will remain in effect until the regions' four-week projections show ICU capacities rising above 15 percent, he said.
The San Joaquin Valley and Southern California regions' ICU capacities were at 0 percent on Tuesday, Ghaly said.
Health experts anticipated the COVID-19 surge that began this fall would worsen following the Thanksgiving holiday. In anticipation of rising virus-related death counts, Newsom said the state purchased 5,000 extra body bags earlier this month to distribute to Southern California counties in need, including San Diego and Los Angeles. An official with the Governor's Office for Emergency Services told Newsweek at the time that the purchase was notable because local coroners usually purchase their own body bags, but were expected to need extra supplies amid the latest virus surge.
As hospital morgues were filling in San Diego County, hospitals further north in Los Angeles County were reportedly turning ambulance transfers away due to limited capacities. Officials in Orange County also began using mobile field hospitals to take some of the strain off their local health care system, according to The Los Angeles Times.
By Monday, December 28, health officials reported more than 24,500 virus-related deaths throughout California since the start of the pandemic, at least 1,400 of which were reported in San Diego County, according to state data.