Southwest Employee Hospitalized After Being Punched by Passenger
A Southwest Airlines employee was hospitalized after being punched by a passenger during the boarding process for a flight at Dallas airport, the airline said.
Arielle Jean Jackson, 32, was arrested after the incident at Dallas Love Field Airport on Saturday. Jackson "verbally and physically" assaulted a female operations agent shortly after boarding Flight 4976 to New York City's LaGuardia Airport, a Southwest spokesperson told Newsweek.
Jackson boarded the flight at around 12.40 p.m. and argued with an airline employee at the back of the plane, a Dallas Police spokeswomen told Newsweek.
After she was asked to get off the plane, Jackson then argued with another Southwest employee at the front of the plane. She struck that employee "with a closed fist to the head," the police spokeswoman said. Jackson was arrested and is facing a count of aggravated assault.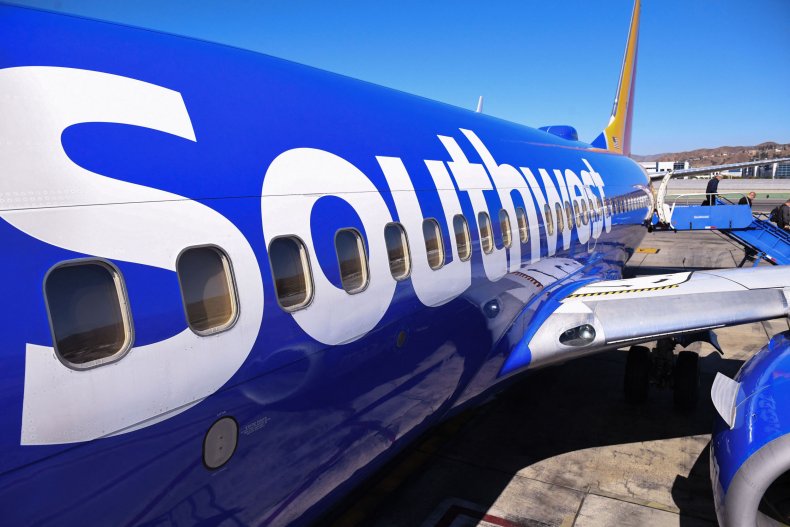 A spokesperson for the airline on Sunday told Newsweek that the employee was transported to hospital, where she remains in a stable condition. "The passenger was taken into custody by local law enforcement officers, and our Employee was transported to a local hospital, where she remains with multiple injuries in stable condition," the spokesperson said.
"Our entire Southwest Family is wishing her a speedy and full recovery as we send our thoughts, prayers, and love to her. Southwest Airlines maintains a zero-tolerance policy regarding any type of harassment or assault and fully support our Employee as we cooperate with local authorities regarding this unacceptable incident."
The spokesperson declined to comment further about what prompted the argument.
It comes after an off-duty Southwest Airlines pilot was accused of assaulting a flight attendant in a California bar during a confrontation over masks.
Police said the pilot was cited for alleged assault and battery. The airline told Newsweek at the time that the pilot has been placed on leave while an internal investigation is underway and pending the results of charges filed with local authorities.
Southwest later sent an internal memo to employees reminding them to comply with company guidelines about their conduct.
Earlier this month, a California woman said a Southwest flight attendant called police on her while she was flying with her biracial daughter after suspecting her of human trafficking.
And late last month, the airline came under fire after one of its pilots reportedly said "Let's go Brandon'' over a plane's public address system on a flight from Houston to Albuquerque. The phrase has become a code for saying "F*** Joe Biden."