Southwest Pilots Describe Moment Plane's Engine Exploded, Shattered Window and Killed Passenger
The pilots of the Southwest Airlines jet involved in a mid-air engine explosion last month have spoken of how they dealt with the dramatic incident.
When the Dallas-bound plane from New York's La Guardia airport was over Philadelphia, an explosion sent parts of the engine into a window, shattering it. One passenger who was partially sucked out of the plane later died.
Co-pilot Darren Ellisor told ABC News that, while traveling at 32,000 feet on April 17, they heard a large bang and felt a rapid decompression.
"The aircraft yawed and banked to the left a little over 40 degrees and we had a very severe vibration from the number one engine. There was shaking, everything. And that all kinda happened all at once."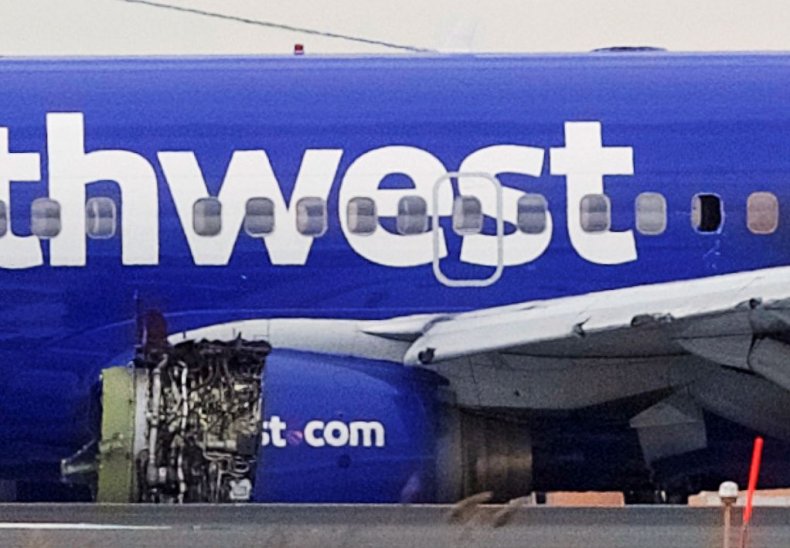 Tammie Jo Shults, 56, who flew fighter jets in the U.S. Navy, calmly guided Flight 1380 into land at Philadelphia, but she had to think quickly.
"My first thoughts were actually, 'oh, here we go.' Because it felt like a flashback to some of the Navy flying we had done," she said in the 20/20 program, which will be aired on Friday.
"We had to use hand signals because it was loud and it was just hard to communicate for a lot of different reasons."
In audio that later emerged, Shults, who has been hailed as a hero, is heard telling air traffic control that there were "injured passengers." The response from air traffic control was "Is your plane physically on fire?"
The pilot responded: "Not fire, not fire but part of its missing. They said there's a hole and uh… someone went out."
Other passengers tried to hold back passenger Jennifer Riordan, 43, from Texas, when debris from the engine shattered a window and partially sucked her out.
Peggy Phillips, a retired school nurse on board, tried to save her and with another passenger, performed CPR.
She said: "If you can possibly imagine going through the window of an airplane at about 600 miles an hour and hitting either the fuselage or the wing with your body—with your face—then I think I can probably tell you there was significant trauma," she told reporters shortly after it happened.
Riordan later died from her injuries in the first death on board a U.S. passenger plane since 2009.
Southwest reviewed all fan blades in the wake of the disaster and said that of 25,000 tested, only one other had signs of cracking.