Trump Invites Crew on Southwest Failed Engine Flight to White House
President Donald Trump has invited the crew of Southwest Airlines flight 1380 to the White House, according to the air carrier. The crew made an emergency landing on April 17 after one of its engines failed mid-flight; one person was killed in the accident.
Southwest Airlines confirmed the invitation but did not provide Newsweek with further details. The White House declined to comment on the invitation or proposed meeting, though The Hill has reported that the meeting is set to take place Tuesday.
The plane took off from New York City and was bound for Dallas Love Field airport when it was forced to land in Philadelphia. One of the fans from the jet engine separated from its hub causing the failure, according to the National Transportation Safety Board, which is currently investigating the flight. The Board cited metal fatigue as a contributing factor in the engine failure.
Debris from the engine also cracked a window on the plane and one passenger, Jennifer Riordan, 43, was sucked partially out of the plane. Flight attendants on the plane attempted to save Riordan's life but she died during the incident, according to witnesses.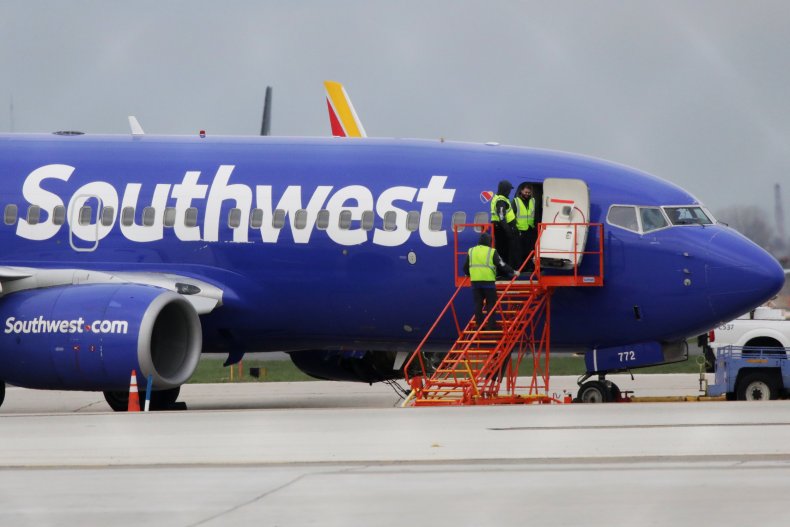 The plane was captained by Tammie Jo Shults, who was one of the U.S. Navy's first female fighter pilots and has been commended for her calm during the emergency landing. The flight's first officer was U.S. Air Force veteran Darren Ellisor, first identified by Newsweek. Other members of the crew have not been identified.
The accident prompted an accelerated inspection schedule by Southwest Airlines of all engines similar to the one involved in the failure.