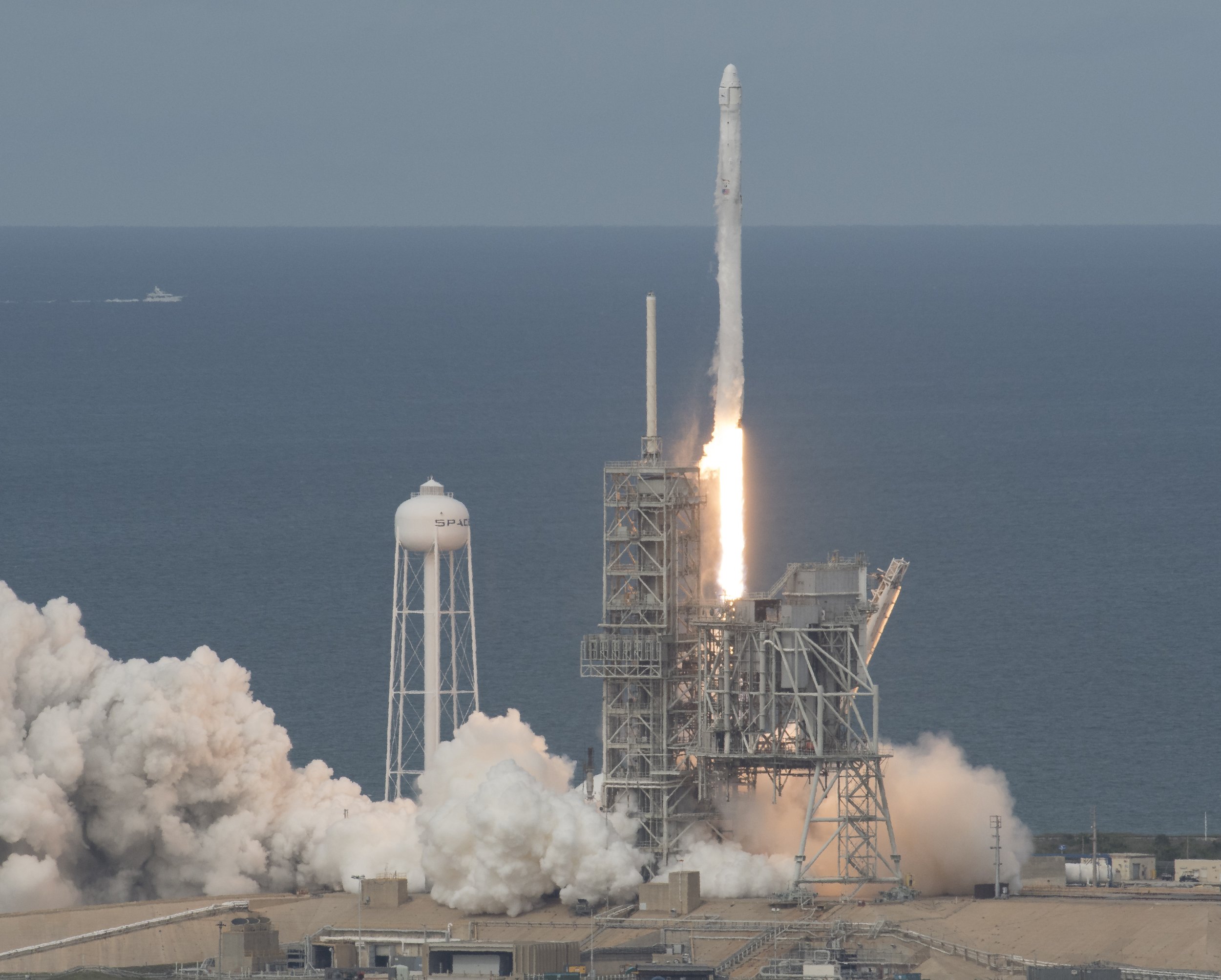 SpaceX, the American space technology manufacturer headed by billionaire Elon Musk successfully launched and landed the Falcon 9 rocket Friday morning. The rocked lifted off at 10 a.m. ET, boosting the company's robotic Dragon capsule on a resupply run to the International Space Station. The launch marks the first successful launch at the SpaceX launch pad in Cape Canaveral Air Force Station in Florida since one of the company's rockets exploded during refueling last year.
Today's launch is also the first time that SpaceX has flown a used rocket for a NASA resupply mission, The Verge reported. SpaceX only began to reuse rockets earlier this year, and many companies have been hesitant about using these used rockets to send their satellites into space. NASA's use of a used space rocket is monumental, as it can prompt other big companies and space organizations to also use the company's used rockets.
The rocket launched a capsule carrying almost 4,800 pounds of cargo into space for pickup by the International Space Station (ISS). This is the second time this particular rocket has been used, as it was previously launched in June.
The last time that a SpaceX rocket launch took place at the company's launch pad at Cape Canaveral, an explosion occurred during refueling, The Verge reported. No one was injured during the accident, but the explosion destroyed the rocket and the satellite it was meant to carry into space for Eutelsat Communications, an Israeli company, CNN reported. It took months of rebuilding and $50 million in repairs to get the site ready again for another rocket launch.
Today's rocket launch was originally scheduled to go off December 8 and was then delayed three times. According to The Verge, SpaceX claimed that they had found particles in the rocket's fuel system which they needed to investigate, and this was among the causes for the delays.
SpaceX is not new to resupply missions for the ISS, with today's launch marking the company's 13th supply trip mission to the orbital station since 2012. During these resupply missions the Falcon 9 rocket launches a space capsule into low-Earth orbit filled with supplies for the astronauts. Once the capsule is collected by the station and released, the rocket returns to Earth. These capsules contain not just food and nutrients, but also equipment to keep the station maintained and new high-tech add-ons for the ship. In addition, this year's capsule may also be packed with a few holiday presents for the crew.
"I cannot confirm nor deny the presence of Christmas presents," Kirk Shireman, NASA's ISS program manager said, Space.com reported. "There are crew care packages, and as program manager I don't have to go inspect all those. So it wouldn't surprise me, but I can't say for certain."