SpaceX Falcon Heavy: See 'World's Most Powerful Rocket' That Will Travel to Mars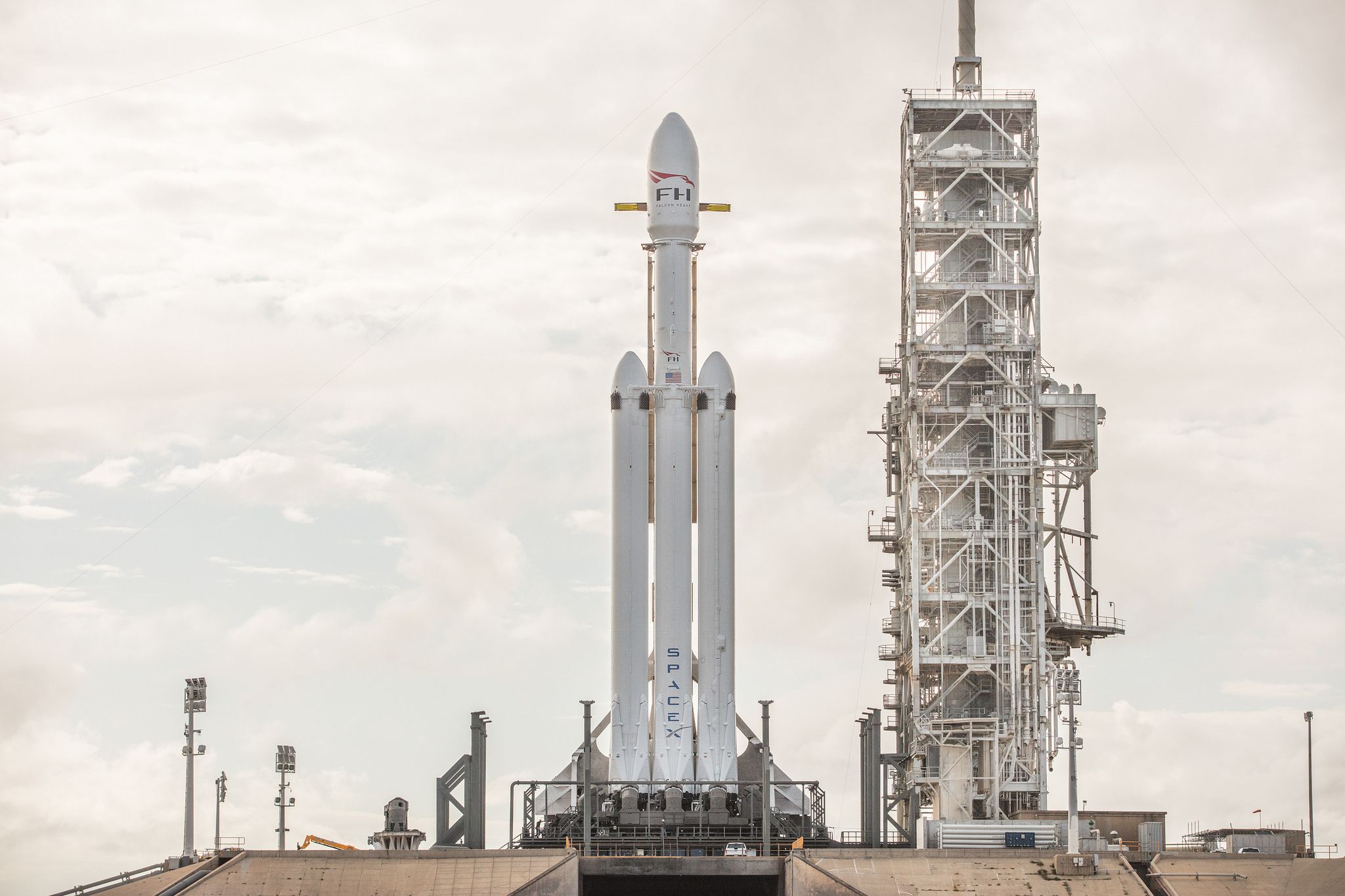 Elon Musk's SpaceX has revealed the long-awaited Falcon Heavy rocket is fit for the launchpad, sharing photos and a video on social media. The rocket—which will be "the most powerful operational rocket in the world"—is set to lift off for the first time later this month.
SpaceX shared the below video of the beastly spacecraft on Twitter and Instagram, commenting: "With more than 5 million pounds of thrust at liftoff—equal to approximately eighteen 747 aircraft at full power—Falcon Heavy will be the most powerful operational rocket in the world by a factor of two."
The incredible power of the Falcon Heavy comes from 27 first-stage Merlin engines, SpaceX reports. This gives it three times as many engines as the company's Falcon 9 rocket, a class which delivers Dragon cargo crafts to the International Space Station.
In fact, the Falcon Heavy is basically three Falcon 9 rockets bound together.
The rocket can ship a massive payload into space. Its huge capacity is the largest since the Apollo lunar program's Saturn V rocket. That behemoth craft could carry a payload of 310,000 pounds to low-Earth orbit, while the Falcon Heavy can carry 140,660 pounds.
The Falcon Heavy will launch from Pad 39-A at the John F. Kennedy Space Center on Merrit Island, Florida. This is part of the same complex which sent the Apollo missions to the moon.
The Kennedy Space Center lists January 2018 as the earliest possible slot for the launch. But don't get too excited just yet: SpaceX has a history of delays.
A Falcon 9 carrying a mysterious U.S. Government payload is due to launch Friday, following months of postponement.
The maiden Falcon Heavy voyage could be particularly risky. Musk commented on the high chance of failure at last year's International Space Station Research and Development conference in Washington, D.C. He said: "I hope it makes it far enough away from the pad that it does not cause pad damage. I would consider even that a win, to be honest."
SpaceX intends the rocket to eventually travel to Mars, taking a payload of up to 37,040 pounds. Musk recently announced the first "passenger" set to orbit the Red Planet is his very own cherry red Tesla Roadster.
If you are tempted to hop on the next flight to the Red Planet, you can charter a Falcon Heavy for a cool $90 million.