'Spider-Man 3': Why Three Different Titles Have Been Revealed
Spider-Man 3 titles are like buses—you wait ages for one to appear and then you get three at once. Writing on his Instagram, Peter Parker star Tom Holland revealed that the upcoming threequel was titled Spider-Man: Phone Home.
One of the first people to comment, however, was his co-star, Euphoria actor Zendaya, who replied "what the hell." She, after all, had just revealed that the title of the Marvel movie would be Spider-Man: Home Slice.
Then, actor Jacob Batalon shared his own title for the movie, Spider-Man: Home-Wrecker. Leading Holland to reply, "Wait what?!?!?!?" and Zendaya to write, "I'm confused."
Of course, this could just be Marvel drumming up some free publicity with some fake titles (if so, mission accomplished, as "Spider-Man" started trending on Twitter across the world). However, these three titles could also confirm a long-standing rumor that fans have been sharing about the upcoming Spider-Man movie, set for release at the end of this year.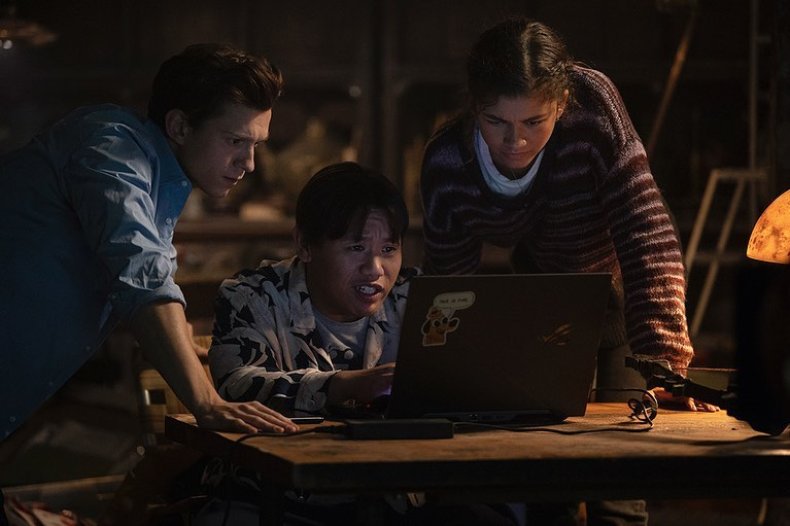 These rumors have it that the upcoming movie will feature three different Peter Parkers: One played by Holland and others played by Andrew Garfield and Tobey Maguire, returning to the roles they last played in 2014 and 2007 respectively.
According to this theory, each of these three titles corresponds to one of the Spider-Mans that will feature in the threequel. Or, as one Twitter user put it: "Hear me out. Home-Slice is referring to the pizza delivery Tobey McGuire Spider-Man. Home-Wrecker is referring to Andrew Garfield Spider-Man wrecking the lives of Gwen Stacy's family. Phone-Home is referencing Tom Holland Spider-Man always calling Tony and Happy. BAM. Multiverse." [sic]
Other Twitter users, meanwhile, had more fun with the title reveal. One, for example, used the meme format of the three animated Spider-Men pointing at each other but with the three titles.
While most of the focus was on the titles themselves and how they may confirm the multiverse theory, another tweet argued that the colors of the three titles were what was really important.
This tweet pointed out that the colors of the three logos were purple, green and silver—the colors of the Green Goblin and his hoverboard.
The Green Goblin, of course, was the villain of the first Spider-Man movie in 2002, where he was played by Willem Dafoe.
Dafoe is one of the many actors from Spider-Man movies prior who are rumored to be returning in the upcoming movie, alongside Kirsten Dunst, Emma Stone, Jamie Foxx, and Alfred Molina. Also rumored to be joining the MCU are Charlie Cox as Daredevil (after three seasons on Netflix) and that show's major villain, Vincent D'Onofrio as Kingpin.
So far, however, the only confirmed images for the movie were released by Holland, Zendaya and Batalon alongside those three titles, and only feature their characters.
Spider-Man 3 will be released on December 17, 2021.