Spin-to-Win TV Game With Prizes Paying Energy Bills Branded 'Dystopian'
A British TV show has been dubbed dystopian by viewers, earning comparisons to Black Mirror and Squid Game after offering paid energy bills as a game show prize, amid worryingly high energy inflation in the U.K.
This Morning hosts Philip Schofield and Holly Willoughby returned to air Monday from their summer break, bringing back the fan-favorite "Spin to Win" segment with them. Callers can dial in and earn the chance to spin the wheel, winning a sought-after prize.
Fans of the show however voiced shock and disappointment online after the show offered money to pay the rest of the year's energy bills as a prize.
"This week we've got our usual cash prizes, but you could also win some extra cash to pay your energy bills until the end of the year. That's four months of energy bills taken care of," said Schofield during the segment.
"Wow, that's very important right now," said host Willoughby.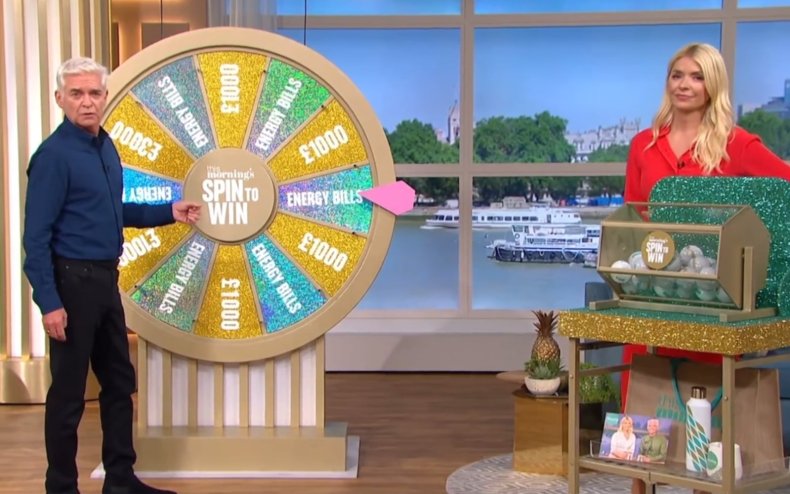 Viewer Alex from North London was the lucky participant who got a spin on the wheel, while on his way back from visiting a 93-year-old relative. The wheel featured spaces to land on, including £1,000 ($1,152) and £3,000 ($3,458) prizes along with the energy bills prize.
Alex shared he was worried about energy bill prices at the moment, describing his prepayment meter as "absolutely murder." He managed to win the energy bills prize, calling it a "relief" and thanking the show.
The segment however left a sour taste in the mouth of some viewers. In the U.K., energy prices are increasing rapidly.
In August, energy regulator Ofgem announced an increased energy cap, rising by a whopping 80 percent in October, and it's expected to rise even more next year. The cap was introduced as a maximum price of each unit of power and gas, to ensure people aren't "ripped off" by their gas provider tariffs. If predictions are correct, the price cap could be up 500 percent from pre-pandemic times by next spring.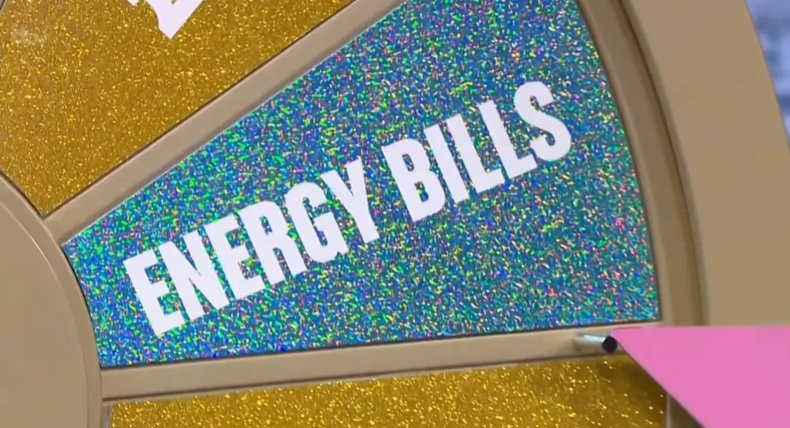 Prices have risen across Europe since last year, thanks to high wholesale gas prices, largely caused by Russia's reduction in oil and natural gas exports.
The gas inflation, which coincides with a predicted recession in the U.K., has left homes and small businesses up and down the nation worried about their bills and how they will manage to pay them.
This Morning viewers cited this worry and fear when reflecting on the "Spin to Win" segment, describing it as like a scene from dystopian TV series Black Mirror.
"This Morning has turned completely dystopian and Black Mirror by offering to pay energy bills as a competition prize," wrote TV critic Scott Bryan on Twitter.
"I don't think I'll ever forget the day 'This Morning' raffled off heating on a spinning wheel. 'Black Mirror' is alive and well in 2022 UK," tweeted a viewer.
"Having 'energy bills' as a prize on their 'Spin To Win' is the most dystopian and sad reflection on society right now. How did we get to this point? Madness," tweeted another disappointed viewer.
This Morning on Tuesday once again hosted the "Spin To Win" game segment, changing the prize from just gas bills to all household bills, including gas, food and mortgage.
"Wonder how much of that they can complain about online?" host Schofield said.
Newsweek has contacted ITV for comment.