Splatoon 3 Splatfest Results: Who Won the October 2022 Splatfest?
Splatoon 3's very first Splatfest has now come and gone, and the winners of the three-way competition have been announced. It all began with a question: What would you bring to a deserted island? After a long weekend pitting Team Gear, Team Grub and Team Fun together, players' hard work has culminated in one long-awaited announcement.
Players all around the world went to work in Turf Wars, with a special Tri-Color variant that's been advertised as a major Splatfest feature since we first learned of Splatoon 3. For the first time in the series, players were able to engage in three-way battles to fight for their side—although, some players have since reported that they were unable to actually queue into any Tri-Color Turf War variants.
But the fight was certainly a massive one, and an intriguing battle that inspired players to create artwork pumping up their side as well as social media pushes for their favorite team to win. If there's one thing Splatoon 3 is great at, it's inspiring fantastic player artwork.
So, who won the first Splatoon 3 Splatfest? We've got all the info you're looking for, as well as who took second and third, throughout the weekend's heated competition and beyond.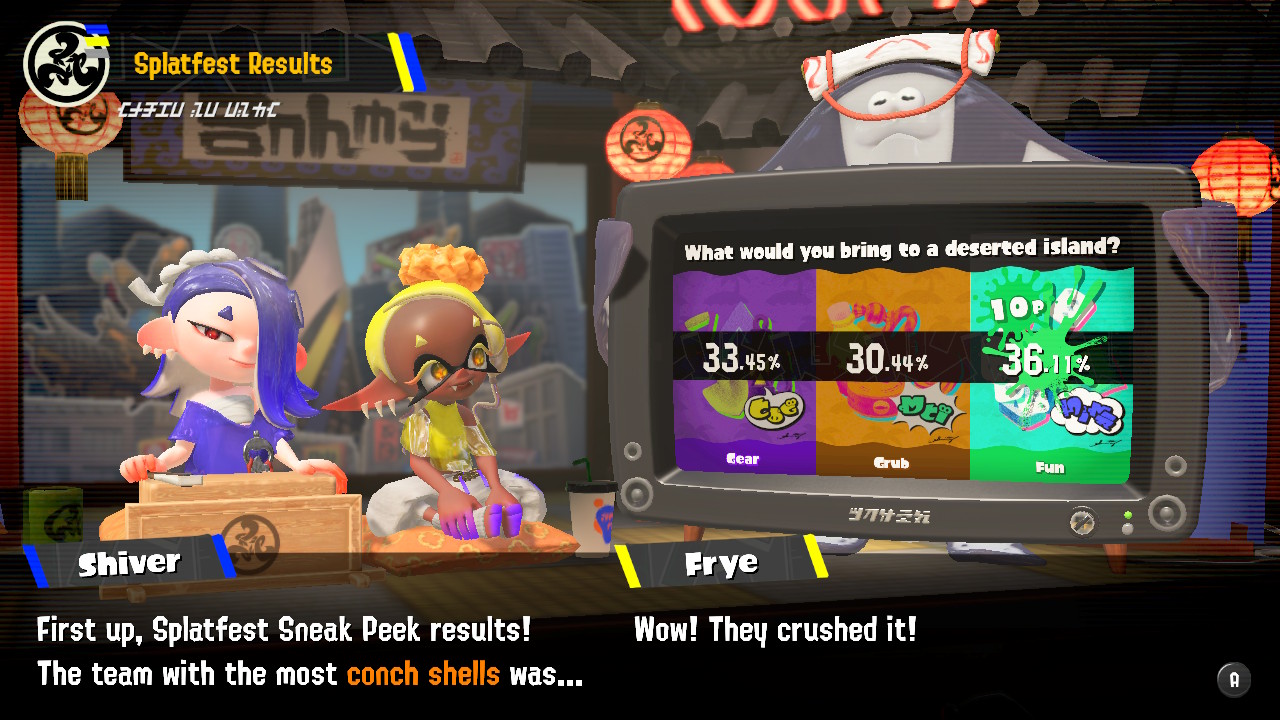 Splatoon 3: Splatfest #1 Results—Team Gear, Team Grub, Team Fun
Here are the final results for the first official Splatfest in Splatoon 3. As you can see, Team Gear took the competition by a long shot, in terms of both performance and votes.
Final Splatfest #1 Results
Team Gear: 25p
Team Fun: 20p
Team Grub: 0p
Votes
Team Gear: 58.28%
Team Fun: 21.02%
Team Grub: 20.70%
Clout (Open)
Team Gear: 35.79%
Team Fun: 33.33%
Team Grub: 31.38%
Clout (Pro)
Team Fun: 36.37%
Team Gear: 33.47%
Team Grub: 30.16%
Winners receive Super Sea Snails, which were distributed following the end of the Splatfest. They may be exchanged to reroll abilities on gear or even open up a new ability slot.
While winners received more Super Sea Snails, everyone who participated in the Splatfest snapped up some as well. If you ended up taking some home, you can now spend them by talking to Murch, who is stationed outside the lobby.
That's all for now, at least until the next Splatfest occurs. Nintendo has yet to set a date for when we can expect it. Until then, we'll be waiting to see when it's time once more to jump in and fight for our side. And getting a bigger locker.
Splatoon 3 is available now exclusively on Nintendo Switch.