Manchester City vs. Arsenal: Alexis Sanchez's Audition Could Halt Pep Guardiola's Rampant Team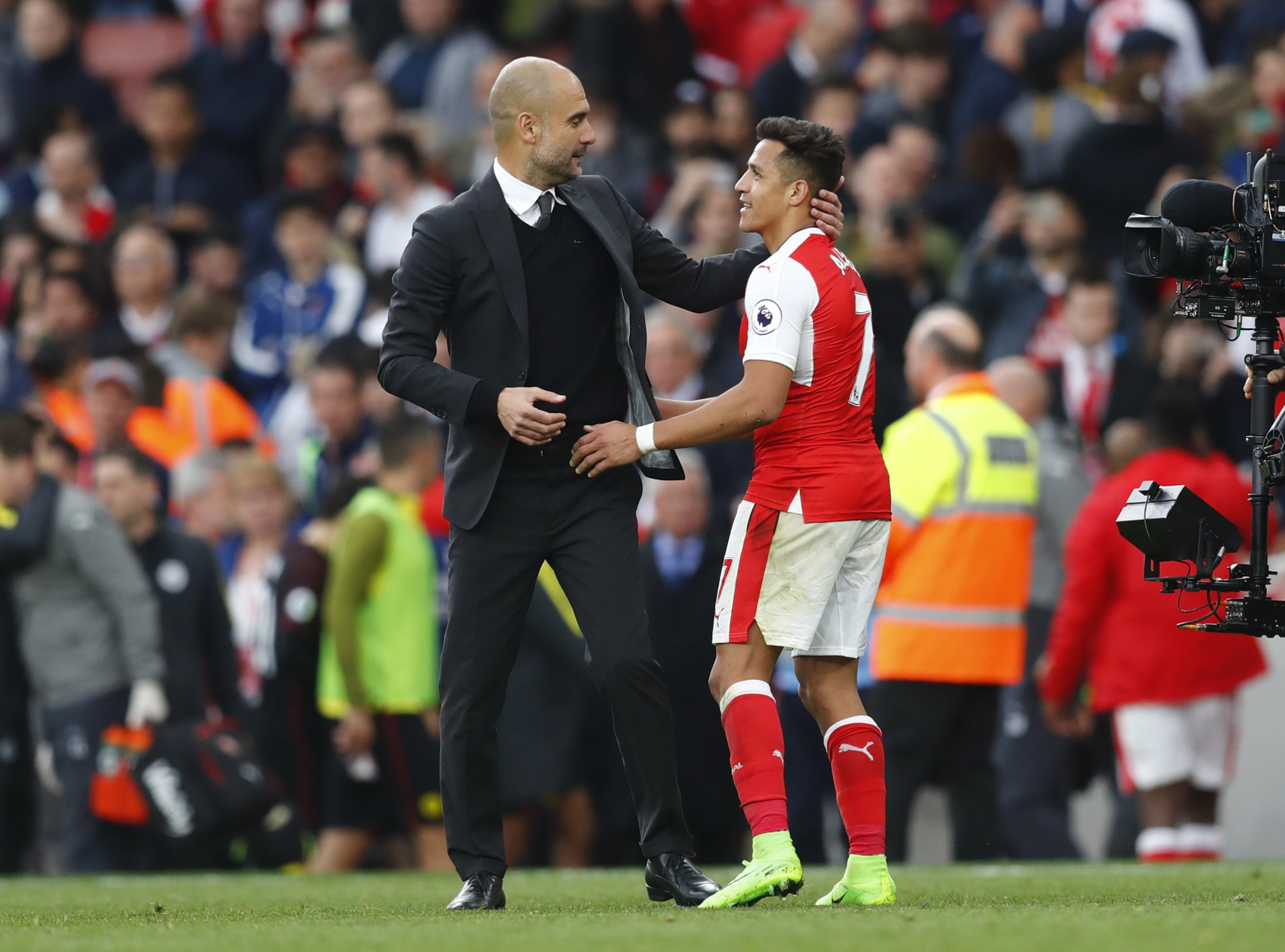 When Alexis Sanchez steps out of the tunnel at the Etihad Stadium on Sunday he will, perhaps, think it is two months too late.
Sanchez was reportedly keen on becoming what would have possibly been the final cog in Pep Guardiola's elegantly rampant machine. Not that Manchester City or Guardiola would have particularly missed him, though. City is on a 13-match winning run with 42 goals scored along the way, and that record doesn't look likely to end any time soon, even with Sanchez and Arsenal traveling to Manchester on Sunday.
Sanchez, reportedly the subject of a deadline day bid from City, will have been watching from north London, a distant admirer wondering what could have been—and maybe what will be. Come January, the Chilean forward will be free to complete pre-contract agreements with any club he wishes as his current deal at Arsenal expires at the end of the season.
So far this season, Arsenal has been clinging on. Shock defeats to Stoke and Watford have dented any hopes Arsene Wenger had of convincing Sanchez to stay, that Arsenal would, once again, be a force again that could compete with the likes of City and Manchester United.
Related: Arsenal and Manchester United will do battle over a Bundesliga star in January
Instead, Arsenal is fifth in the Premier League table, nine points off Guardiola's leaders, and playing Europa League football on a Thursday night. Wenger has called upon Sanchez to help change all that by continuing its impressive record against City in recent years, having lost just once in the last eight meetings and won four times.
He insists Sanchez's potential move to City would not be a distraction. "I am not concerned," the Frenchman said. "Because I am not suspicious of the performances or the desire to win of a football player. When you are a player you have a social contract with the rest of the team and I never question that. Once you don't respect that, it's difficult to say that you play football."
But Sanchez is in some form of a drought this season, having scored just one Premier League goal that came in the final minute of the 5-2 win over Everton last weekend. Arsenal's summer acquisition Alexandre Lacazette and German playmaker Mesut Ozil will be of concern to Guardiola, but he knows the lethal weapons he has at his disposal.
City already has 11 different goalscorers this season, each of whom has benefited from the creativity of Kevin de Bruyne. The Belgian is gliding towards the Player of the Year award already this season, having had six assists in 10 games, and Sanchez may wonder whether his goal tally would be significantly higher had he been playing alongside De Bruyne. The two City forwards, Sergio Aguero and Gabriel Jesus, have 13 goals between them so far this season, with the majority thanks to De Bruyne's presence.
Sunday may be a bit of an audition for Sanchez, a chance to show Guardiola and City that deserves to be in a team that is yet to lose this season and is playing Champions League football. He may step out onto the turf this weekend and think it feels more like home.