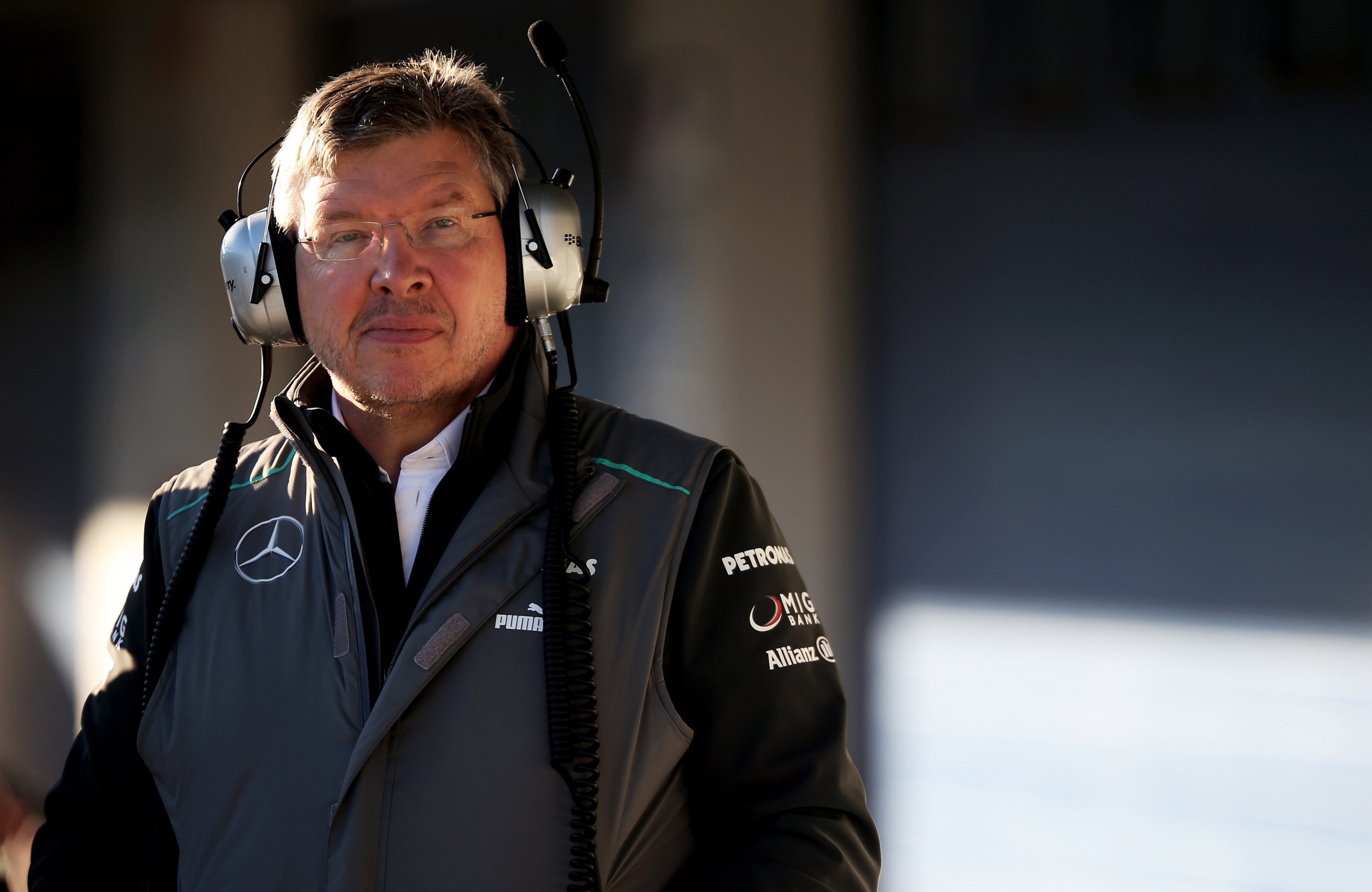 Ross Brawn retired from Formula One as Mercedes boss in 2013 after four decades at the heart of the motorsport.
Brawn, 61, helped lead German Michael Schumacher to seven world titles, formed his own team, Brawn GP, and managed to lure Lewis Hamilton from McLaren to Mercedes in 2012, laying the foundations for the most dominant team in F1 today.
Now, Brawn has detailed the methods and strategies that led him to be so successful in a new book, Total Competition , co-authored with Adam Parr, former CEO and chairman of Williams.
Newsweek sat down with Brawn to discuss the book, his career and what the future holds for both him and Formula One.
Why did you decide to write 'Total Competition'?
It was initiated by Adam Parr, who contacted me and said he had this idea to write a book about strategy in Formula One. I must admit my first response was that it would be a pretty short book because I thought he was talking about race strategy.
He then explained it was more to do with the strategy of putting together a successful campaign and successful teams. He was interested in drawing analogies and comparisons with successful philosophers and cultures, and military strategy.
Adam was very clear he wanted to explore the failures as well as successes to make it more authentic and more interesting. It was cathartic in a way, for me, thinking about the reasons for success and reasons for failure.
You announced your retirement from Mercedes in 2014 after four decades in the sport. What have been the biggest changes in F1 from when you entered to when you left?
The professionalism of the sport and the sheer size. I joined Frank Williams in Reading at the end of 1976. It was a very small organization in those days. He lost that team after being bought out by his sponsor, and when he got going again I rejoined him and was the 11th employee. The teams were tiny by comparison to how they are now.
Even in my period working for Frank Williams, the seven years I was there until the mid-1980s, his team grew up to 200 people, which was a pretty major expansion but is tiny compared to where they are now. Mercedes have more than 800 people on the chassis side and more than 500 people on the engine side. They've got 1,300 people, so the sheer magnitude and professionalism of engineering has come on immensely.
Also, in those early days, it's easy to forget the races weren't televised every week. The British Grand Prix was on the television and Monaco — some of the big races — but not every race was. If you wanted to experience it you had to listen to the radio. Formula One simply didn't have the coverage it has today.
Michael Schumacher dominated the sport during his time with you at Ferrari, making it into the most successful team in F1 history. What was he like to work with?
Michael raised the bar in many ways in terms of commitment and professionalism. In his racing career he was a supremely talented driver but he had levels of fitness and application that probably hadn't been seen before. That's what made him so successful. He was by far the fittest driver in that early era; people recognized they had to up their act. The cars were quite physically challenging and he would finish the race like a spring lamb and the rest were collapsing on the roster.
He was a very, very committed team guy. He loved the team environment, he recognized the strength of a successful team and attitude. He worked very hard in encouraging that team mentality with the sharing of success when it came and the sharing of failures when it came. He just had all the elements. Having Michael Schumacher in your team was such a powerful element and gave you a greater chance of success.
Do you think he should have come out of retirement and how will he be remembered in Formula One history?
I don't think that period out of retirement changed people's perception of him. He's a seven-time world champion, he didn't achieve the success we all hoped he might when he came out but i think he enjoyed himself in those few seasons. There is no doubt in my mind that he contributed to the success that Mercedes enjoys today because he helped with the team to educate the engineers to help establish the approaches.
Nico Rosberg drove next to him and I think Nico learned a lot from Michael. What wasn't probably appreciated at the time was how quick Nico is. Nico was matching and sometimes beating Michael and people underestimated how quick Nico was. The fact Michael wasn't beating Nico every weekend tended to see people thinking Michael wasn't as good as he was, but, in fact, Nico was a lot better than people thought he was.
Another of the big coups of your career was the capture of Lewis Hamilton from McLaren to Mercedes in 2012. How has he changed from when he first came on the circuit?
I didn't know Lewis when he first began his Formula One career, but I have found Lewis a very straightforward guy to deal with and a very enjoyable guy to deal with. Undoubtedly, he wears his heart on his sleeve, he shows his emotions but that's passion, that's sport. When things aren't going as he wants it shows, but I think that's an asset. It adds to the sport, it adds to the fact that the guy is so passionate about his racing and it is to be admired.
We don't want robots in the cars, we want guys with emotions. He definitely shows that. I always enjoyed working with him and probably one of the biggest regrets for me, stopping at the end of 2013 [season], was not being able to work for longer with him, having convinced him to join the team.
What was it like to be in between Hamilton and Rosberg as they fought for the championship?
It was pretty easy, to be honest. There was no vindictiveness between them. Almost by definition, one would succeed and one would fail. The first priority for many drivers is to beat your team-mate, particularly when you've got such a dominant car you are both going to be at the front of the grid. The battles you are having are nearly always to win the race and sometimes that's a different battle to finishing fifth or sixth. You still want to beat your team-mate but the emotion of winning the race is different further back.
I think they've been pretty good considering how much is at stake and for how long. They've been battling each other for race wins since the start of my time and it's continued in the last three years. It's been remarkably civilized considering how much is at stake. If you look historically, I'm not sure I can remember two drivers fighting for the world championship in a team where the relationship has managed to remain intact as it has with Nico and Lewis. I think that's a credit to them as drivers and a credit to the team on how they have managed it.
Is there a nervousness that creeps in watching them vying at the front of the grid?
Yes, particularly when the championship comes down to the wire like this. You know one small mistake can be crucial. It still is critical but when a mistake is made earlier in the season you've got time to try and recover from it and buffer the impact it might have.
I think they both know now one mistake in Brazil or Abu Dhabi could be absolutely crucial. It's definitely a really nervous time for both of them but they've been there before. You have to trust your emotions, instincts and strengths and I think that's what is going to be entertaining for us as viewers on how they control those emotions and how they perform because sometimes people fold under that pressure and sometimes it inspires them.
Who deserves to win this year, and why?
I think they both deserve it. If either one of them wins it, you can't say they didn't deserve it because they've both fought very hard to put themselves in this position where it's gone down to the last two races.
I have a slight emotion — and it's 51 percent against 49 percent — that perhaps Nico would be great to win because he's been so resilient in the last few years. Coming back from being spanked by Lewis two years on the trot, he has shown tremendous resilience and determination and that should be applauded. But it is a tiny difference.
For Lewis to come back from where he was earlier in the year is fabulous as well, so I don't really mind who wins it. Lewis has won two so it might be nice if Nico won one. I was with his dad [Keke Rosberg] when he won his championship in the 1980s so that would be a special thing with a father and son.
The book, you've said, explores the role of politics in Formula One. Could you explain how this works and what you mean by that?
Politics is about putting yourself in the best position to assemble the things you need to achieve success. I never felt that my role in the political side of Formula One was to disadvantage other teams but to try and advantage me and my team. Politics is relationships, convincing people of your arguments, that you've got the correct point of view, convincing sponsors that you're the right team to support and why; it's convincing drivers that you're the right team and why. To me, that's the politics of Formula One, the lobbying and cajoling and convincing that you need to do.
In my view with the FIA, you might be trying to convince them that your argument and interpretation of a regulation is the correct one as opposed to someone else's interpretation. That is down to the quality of your argument and the relationship you build with people over the years.
You've spoken recently about possibly making a return to Formula One in a consultancy role. What changes would you like to see implemented?
I think it would be wrong for me to say we should do this, that or the other. But what I would advocate is a process to identify the ideas and suggestions of all the various stakeholders in Formula One to bring together a collective plan for how Formula One could move forward.
I think it is a constant process. It's not, 'Today we're going to fix Formula One and tomorrow we've done it.' It's rather like a team where you're constantly trying to improve the way you do things.
For me, it would be the same approach, constantly trying to improve the excitement people get from watching Formula One, the strength of the sport in depth, finding ways for broadcasters and promoters to get as much value out of Formula One.
What do you expect the sport to look like in a decade?
The way people watch sport and the way people engage with sport is different now to perhaps how it was when I started. Now, every race is televised throughout the world.
Understanding how people want to interact with Formula One, not just from a viewing point of view. There has been a lot of discussion about people engaging with Formula One on a reality basis, so a lot of enthusiasts can race a virtual reality car at the same time as the race is going on. I think expansions into those areas will be a reality in 10 years' time. The way people engage with Formula One and enjoy Formula One will be quite different.
Total Competition by Ross Brawn & Adam Parr, published by Simon & Schuster. Hardback, £20.00.