Kylian Mbappé: Who is The 18-Year-Old Star Monaco Values at £110 Million?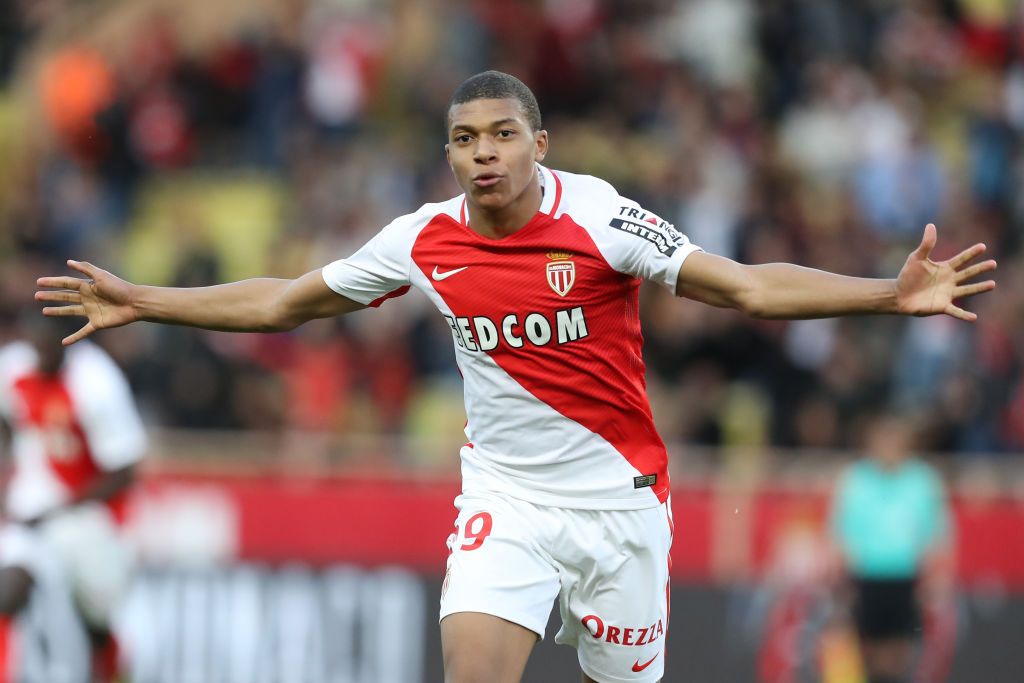 Kylian Mbappé has swiftly become one of the hottest young prospects in European football. At 18, the forward has earned a call-up to the France national team, scored 21 goals for AS Monaco this season, and played a significant role in taking the team to the Champions League semifinals. Now, Monaco faces a fight to keep hold of him.
According to The Times, the Ligue 1 club has looked to fend off any suitors by putting a £110 million ($141 million) price tag on him, a fee that would break the world record by more than £20 million ($26 million). The tactic is believed to have worked with Manchester City but Premier League rival Manchester United is also said to be keen, along with European heavyweights Real Madrid.
Here, Newsweek looks at why there is so much excitement around Mbappé and what he's done so far:
Is he a local Monaco boy?
No, Mbappé was born in a suburb in the northeast of Paris, about 10 kilometers from the city center, called Bondy, on December 20, 1998. France had won the World Cup just six months earlier.
So, when did he begin playing football?
Mbappé's father Wilfried is a coach at AS Bondy, the local regional football team. At the age of six, he joined his dad at the club and trained there for three years. Sport was commonplace in the Mbappé household, with his mother a professional handball player.
And then he got plucked by Monaco?
Not quite yet. In 2011, Mbappé was among the few footballers offered a chance to play at Clairefontaine, a regional center of excellence set up by the French Football Federation. Now 13 years old, he was treading the same path as French greats such as Thierry Henry, Nicolas Anelka and William Gallas, who had all played there.
When Mbappé left the center for professional football, he chose Monaco over a move to European giants such as Real Madrid, Bayern Munich, Chelsea, Liverpool or Manchester City.
How long before he was part of the first team?
It was at Stade Louis II stadium, on December 2, 2015, that Mbappé had his first experience in the red and white of Monaco. He came on as a late substitute for Fabio Coentrao as his side chased a winner against Caen.
He featured the following week against Tottenham Hotspur in the Europa League and was awarded his first start on December 16 in a 3-0 defeat to Bordeaux. Mbappé has been a regular ever since, scoring his first and only goal of last season in a 3-1 win over Troyes in February 2016.
Why is he so well-regarded?
This season, Mbappé has grown into a prolific forward. After a relatively slow start to the season — three goals in 12 matches — Mbappé exploded in the new year. In his last 14 games for Monaco, he has found the back of the net 15 times.
And it is not just the numbers, it's the style. Mbappé possesses pace to terrify defenders but, most importantly, an ability to finish with total calmness. Such skill has drawn comparisons to former Monaco, Juventus, Arsenal, Barcelona and New York Red Bulls forward Henry.
Is he really that good?
Take a look for yourself.
What else has been said about him?
France captain Hugo Lloris said : "He shows great maturity at his young age. It is true that what he does in Monaco is quite impressive. It's a good sign for the future. If he continues to work and get involved for the team, he has all the qualities to make a great career."
Claude Lafargue, his coach at Clairefontaine, told Sport 360 : "He is a mixture of Henry and Neymar. He always had something different.The way he sets himself up to score from almost any position in the box is reminiscent of Henry, but the way he glides past players is what really brings Neymar to mind."
Thierry Henry told French media Canal Plus : "I don't like comparing players. Mbappe has to become Mbappe. And that's all. But my word, he is good. Ooh la la. I met him, and he gave me the impression that he has a good head on his shoulders. l really like watching him play. He thinks."
What now for Mbappé?
First, he is part of a Monaco team fighting on three fronts in the last month of the season. In Ligue 1, his team is top of the table, level with Paris Saint-Germain on 80 points, and with a game in hand. The two teams also face each other in the Coupe de France, French cup, semifinals on Wednesday, April 26.
In Europe, Juventus stands between Mbappé playing in his first Champions League final against either Real Madrid or Atletico Madrid. Then, when the season is over, Monaco will face a fight to keep a hold of his services.
Do we know where he wants to play?
During his time at Clairefontaine, Mbappé's skill and potential was so widely known he was the subject of various profiles. In one interview he was asked about his ambitions and Mbappe spoke of Spanish giant Real Madrid. "It is better to target the Moon. That way, if you fail, you get to the clouds," he said.