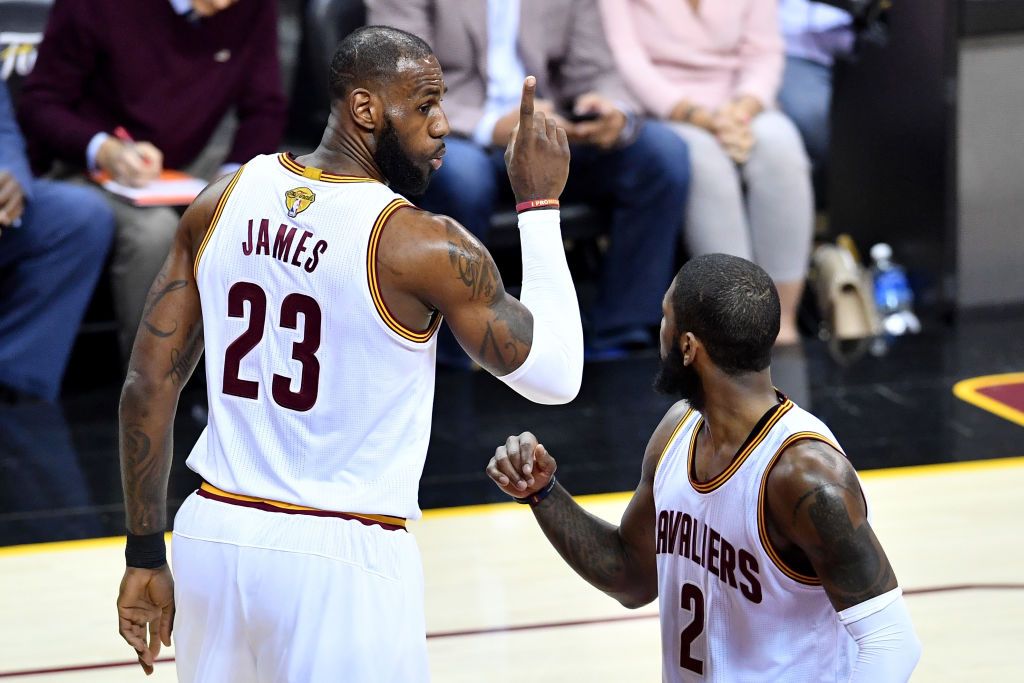 News broke Friday that Kyrie Irving told Cleveland he wanted a move away from the Cavs; the point guard wants to step out of LeBron James's shadow and become the main man elsewhere.
James, the four-time Most Valuable Player in the NBA, won't be passing on his crown just yet after another impressive season, despite reports that he may exercise his right to opt out of his contract at Cleveland next summer.
So Irving, it seems, will be the one to go. But the plot has taken a new twist after reports that Irving believes the story was leaked by James as he fears the Cavs will become weaker by losing Irving.
The San Antonio Spurs, Miami Heat, Minnesota Timberwolves and New York Knicks are among the teams that Irving reportedly could join, but the leaking of the trade request will make any move more complicated.
"According to my sources, they believe LeBron James had everything to do with news getting out that Kyrie Irving wants to be traded, because Kyrie Irving and his representation and others met with the Cavaliers a couple weeks ago, and not a word got out until recently," ESPN's Stephen A. Smith said.
"They believe that LeBron James got word of it and was put off by it and leaked it. I'm not going to accuse LeBron of such a thing. I don't know that to be true at all. But I know that's what Kyrie Irving believes."
Related: Houston Rockets' key to capturing LeBron James next summer
Irving is a four-time NBA All-Star and was part of the Cavs team, along with James, that took Cleveland to three successive NBA Finals, winning the championship in 2016.
But Irving could end up remaining with the Cavs and still become its star, as there are also reports that James has grown unsettled at Cleveland this summer.
After losing the NBA Finals, James saw general manager David Griffin fired by chairman Dan Gilbert, a decision the 32-year-old was wholly against.
Related: LeBron James's agent to the Lakers: 'Let's talk'
The Cavs' sluggish offseason, in which it has completed little business, has reportedly made James more frustrated. The team has new additions with veteran point guard José Calderón and wing Jeff Green, but has watched as Gordon Hayward signed with Boston to boost the Celtics.
James has been linked with a move to the Heat, the Lakers and the Houston Rockets. Whatever happens, Cleveland looks set to lose at least one of its strongest assets.
Uncommon Knowledge
Newsweek is committed to challenging conventional wisdom and finding connections in the search for common ground.
Newsweek is committed to challenging conventional wisdom and finding connections in the search for common ground.