Spotify Says Joe Rogan Not to Blame as It Loses 1.5 Million Subscribers
Streaming giant Spotify is bracing for a loss of about 1.5 million paying subscribers in the first quarter of 2022, and it said that Joe Rogan isn't to blame.
Rogan has faced a backlash over the past several weeks amid accusations of spreading COVID vaccine misinformation on his podcast, The Joe Rogan Experience. Several musicians also pulled their work from Spotify, protesting the platform's decision to stand by him.
While the embattled comedian had faced what appeared to be a tide of detractors vowing to pull their Spotify subscriptions, the company revealed that its decision to suspend its premium service in Russia, amid its invasion of Ukraine, has had more of an impact.
According to Variety, the information was shared by Spotify CFO Paul Vogel, as he spoke at Morgan Stanley's 2022 Technology, Media and Telecom Conference on Wednesday.
Though he didn't directly name former Fear Factor host Rogan, Vogel did allude to the furor sparked by the media personality's podcast, as he said: "Going through a little bit of controversy, there's always going to be some impact."
However, the true impact on the numbers appears to have come from its suspension of services in Russia, with Vogel stating that Spotify was previously trending toward adding 8 million total users, including 3 million paying subscribers, in the first quarter of 2022.
After Russia's military attacks on Ukraine started late last month, Spotify closed its offices in Russia and pulled content from the country's media outlets RT and Sputnik. According to Spotify, Russia represents less than 1 percent of the company's total revenue.
While Vogel said that Spotify is no longer collecting premium subscription revenue, the company revealed that it is continuing to permit access to its service in Russia "to allow for the global flow of information."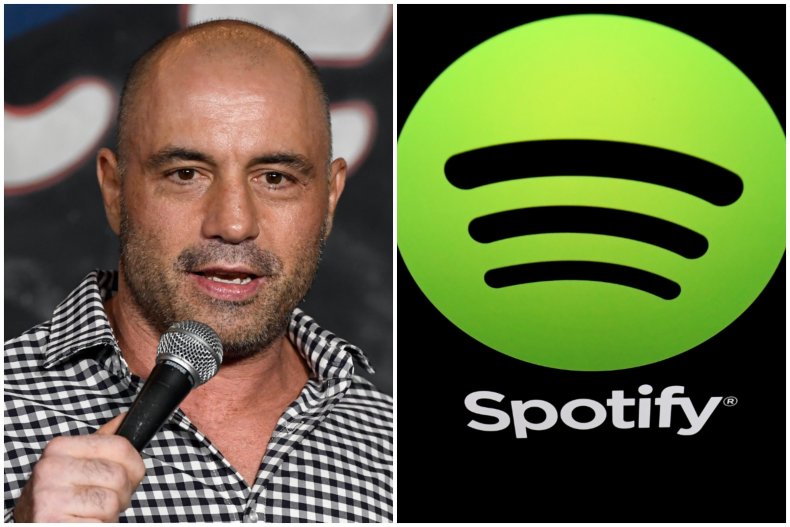 Spotify reported 406 million total monthly active users—including 180 million paying subscribers—as of the end of 2021. The company is projecting those numbers will increase to 418 million and 183 million, respectively, by the end of the first quarter.
In protest at Rogan's podcast remaining on Spotify—where he has the most popular podcast—Neil Young, Joni Mitchell, Nils Lofgren and the members of Crosby, Stills, Nash & Young were among those who announced plans to remove their music from the platform. They spoke out against his stance on the COVID pandemic.
Grammy-winning singer India.Arie also revealed that she would be removing her music from Spotify because of Rogan, sharing a video of him using the N-word several times over various episodes.
Issuing an apology over his use of the racial slur, Rogan said that it was "the most regretful and shameful thing that I've ever had to talk about publicly," though he added that the clips had been "taken out of context."
While Spotify has stood by Rogan amid the storm of criticism, it has introduced a new policy of adding advisory warnings to shows in which the pandemic is discussed.
It has been reported that dozens of episodes of Rogan's podcast were quietly pulled from Spotify amid heightened scrutiny of the show's content.