The Joe Rogan versus Neil Young argument has seen dozens of people delete (or claim to delete) their Spotify accounts as the streamer has decided to side with the controversial podcast host.
The "Harvest Moon" singer ignited a spat with the streaming giant and its golden child podcast this week when he gave the company an ultimatum—choose between him or the insanely popular podcast The Joe Rogan Experience.
Rogan is accused of spreading COVID-19-related misinformation on his show that reaches an estimated 11 million listeners per episode. Spotify signed an exclusive $100 million deal with him in 2020.
"We want all the world's music and audio content to be available to Spotify users. With that comes great responsibility in balancing both safety for listeners and freedom for creators. We have detailed content policies in place and we've removed over 20,000 podcast episodes related to COVID since the start of the pandemic," a Spotify spokesperson told The Hollywood Reporter on Wednesday.
"We regret Neil's decision to remove his music from Spotify, but hope to welcome him back soon."
In a follow-up statement, Young, 76, called Spotify "the home of life-threatening COVID misinformation," adding: "Lies being sold for money."
Young also thanked his record label, Warner Brothers-owned Reprise Records, for supporting his decision, and said that around 60 percent of all of his streamed music comes from Spotify listeners.
"Thank you Warner Brothers for standing with me and taking the hit—losing 60 percent of my worldwide streaming income in the name of Truth," he wrote.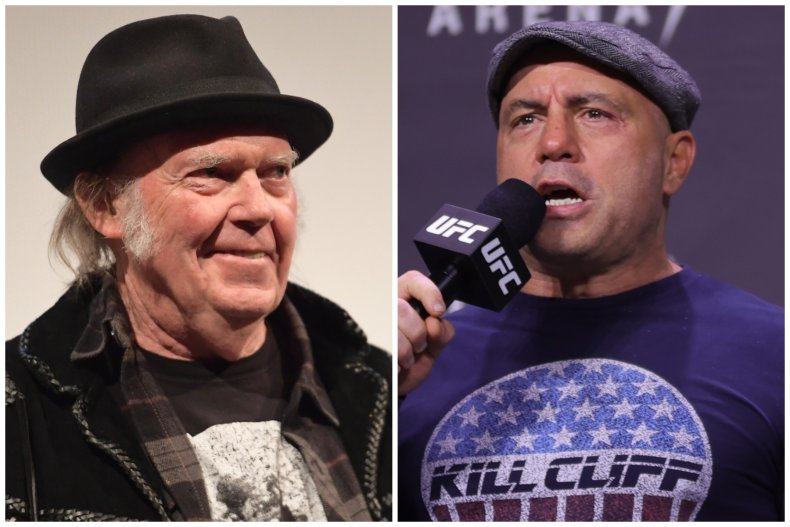 While many conservatives are celebrating Rogan's apparent victory over Young, there are hundreds of people tweeting their support for the aging rocker and celebrating his defiant stance against misinformation.
So far, dozens of Twitter users have said they have deleted or are planning to delete their Spotify accounts to protest the company's championing of Rogan, and to support Young.
"Wow @Spotify really???? Well, in that case, I don't think I will be paying for your service next month....#Cancel," reads one tweet.
Another added: "I deleted @Spotify—my dad died from #covid they can have @joerogan or my money not both."
Journalist Tariq Panja shared a screenshot of him deleting the Spotify app.
"Now deleting @SpotifyUSA. More of a physical media guy anyway. #DeleteSpotify, " said writer Dennis Perkins.
Another user wrote: "Thank you Neil Young, I know @spotify doesn't care what I do but I hope many people will be mindful of the damage being done on their platform. #DeleteSpotify."
Meanwhile, the hashtag #DeleteSpotify is gaining traction and has been tweeted 185 times in the past week, per BrandMentions.