Spouse Urged to Leave Husband After Finding String of 'Unusual' Payments
A Mumsnet user shared their concern online after finding out that their husband has been sending money to women they did not recognize from their bank account.
In a post on the London-based discussion site Mumsnet, user Toryjane shared their concern with the internet in a post titled "unusual bank withdrawals all to girls' names."
They wrote: "My husband does our online banking, he was away last week and we had an issue with our bank so I logged in. I have found lots of withdrawals I know nothing of, and they mostly have single girls' names beside them."
The series of pictures attached included sums like £20 ($24 USD), £100 ($121), and £300 ($363) to Maria, Daniela and Mia.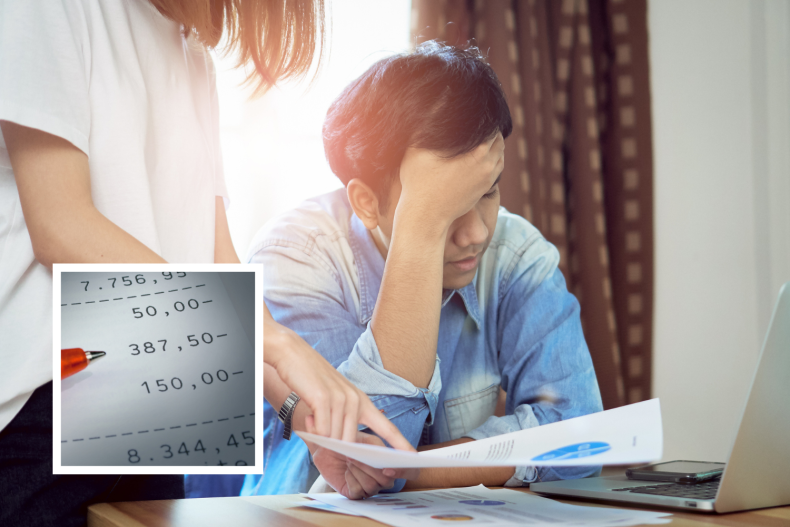 "Does anyone have any idea what they are?" the concerned spouse asked their fellow Mumsnet users. "My mind is racing thinking my husband has been cheating. I can't find anything online. I've posted a few examples but there [are] at least ten other girls' names showing similar withdrawals."
Relationship coach Ceza Ouzounian told Newsweek: "I think it is really common for financial issues to come up between couples. We all have different spending/saving habits, different priorities, and different incomes and that will lead to issues. These issues can be small or big issues, but at some point, they will come up."
The poster explained: "He already says I'm paranoid but I have caught him on dating sites, messaging escorts in the past. I thought this behavior was behind [us] until I found these."
On Mumsnet, users were quick to share their thoughts and theories on the reason for the unusual transitions.
"Honesty I'd assume cam girls or escorts," said one commenter. While another wrote: "I'm so sorry but that really does not look good, If I wasn't suspicious before I looked at the bank account I certainly would be now."
While it may not be comforting to hear, an exclusive poll for Newsweek by Redfield & Wilton Strategies in October 2022 revealed that one-fifth of Americans admit to cheating on their partner.
The reasons people might cheat are complex. Relationship therapist James Earl revealed some of these reasons including people seeking to bring back a sense of themselves or change things up when their own relationship has fallen flat.
Some Mumsnet commenters suggested the husband could be involved in drugs or gambling, but the majority were convinced that the husband was cheating.
"I would most definitely say cam girls," said another. "That's a lot of money well spent. I would be absolutely FUMING."
"For this person in this situation, I would say take screenshots and speak to [their] partner when he is home," suggested Ouzounian. "It does look suspicious, especially as they said there have been episodes in the past of him on dating sites and messaging escorts. It could be innocent and that he has been hacked. Either way, they need to confront him."
But she also cautioned that the poster should be prepared for a difficult conversation with their husband: "They need to be prepared for him turning this on them, or making out they are paranoid, or anything like that. They have to be strong and firm in this conversation. If he has been hacked, fine, contact the bank and deal with it. If that isn't the issue, he needs to be honest and come clean, and they need to make sure he doesn't walk away from this conversation or make up excuses.
"Then they need to decide what they are going to do. It might be marriage counseling is the way forward, it might be leaving him. Whatever the spouse decides, they have to confront him first, get to the truth," she added.
Newsweek was not able to verify the details of this case.
Has infidelity broken your trust in your partner? Let us know via life@newsweek.com. We can ask experts for advice, and your story could be featured on Newsweek.