Strong storms and an EF-3 tornado caused extensive damage, power outages and several injuries in Arkansas early Wednesday morning.
The tornado touched down shortly after 4 a.m. in Springdale, Arkansas, about 145 miles northwest of Little Rock. At least seven people were injured and taken to nearby hospitals, with two reported in critical condition, Mayor Doug Sprouse said in a statement on Facebook. There are no reported deaths but the damage was extensive, including an elementary school, a warehouse, several homes and businesses.
Photos and videos posted on Twitter show the trail of damage left by the tornado. The George Elementary School gym completely collapsed, a photo posted by local meteorologist Dan Skoff showed. Half of the Nilfisk warehouse was destroyed, with debris thrown around the parking lot, according to a video shared by meteorologist Darby Bybee.
The National Weather Service (NWS) initially categorized the tornado as an EF-2, but after finding that winds peaked at about 145 mph, the twister was increased to an EF-3. The NWS said the tornado was 350 yards wide and traveled 5.2 miles in the eight minutes it was on the ground, according to the report.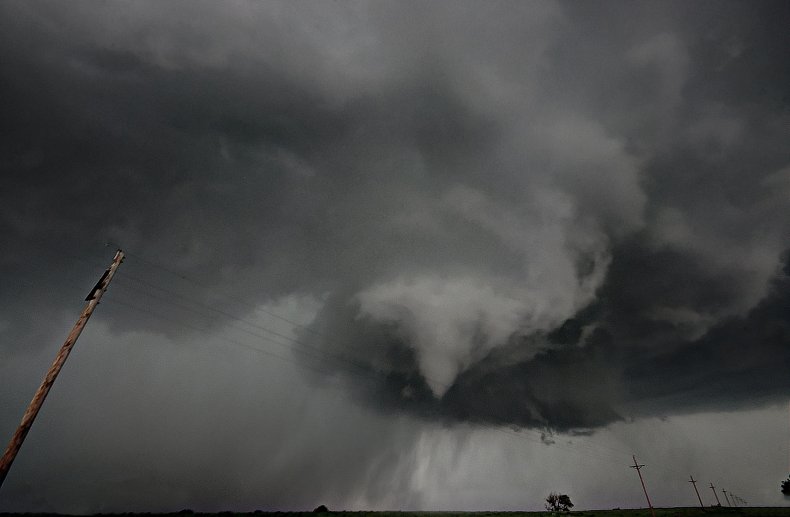 The NWS's Storm Prediction Center (SPC) issued a tornado watch Wednesday morning for portions of Arkansas, northern Louisiana, southern Missouri, southern Oklahoma and parts of Texas lasting until 1 p.m. CT. The main concern was damaging winds with isolated gusts reaching 80 mph and a possibility of a couple of "intense" tornadoes.
Additionally, there is a moderate risk of severe weather in parts of Louisiana, Arkansas, Tennessee and most of Alabama on Wednesday. The center warned of possible hurricane-force wind gusts and strong tornadoes possibly higher than an EF-2 rating, which has estimated wind speeds between 113 and 157 mph.
"It is likely that the severe thunderstorms move eastward at a swift pace Wednesday night and could be racing along at 50 mph or more," AccuWeather meteorologist Ryan Adamson said. "This fast motion may not allow people in the path of the storms much time to react and take shelter."
Some 55 million people are at some kind of risk for severe weather on Wednesday. More than 4.3 million people live in the moderate risk zones, which is the second-highest risk category issued by SPC for thunderstorms, AccuWeather reported.
Arkansas has already seen several tornadoes this month. A massive storm cell pushed through the region on March 6, triggering five EF-1 tornadoes and a stronger EF-2 tornado near Izard County, according to the NWS.
Another notable tornado occurred in Louisiana last week. A "large and extremely dangerous tornado" touched down in New Orleans, classified by the NWS as an EF-3 with wind speeds estimated at about 160 mph.
Update 3/31/22, 1:07 p.m. ET: This story has been updated with the tornado that hit Springdale, Arkansas, increasing to an EF-3.