'Squid Game's' Wi Ha-jun Doesn't Rule Out Return of Detective Hwang Jun-ho In Season 2
Although it is impossible to pinpoint the single most dramatic moment in Netflix's Squid Game, one scene that was undoubtedly pulse-racing was that in which detective Hwang Jun-ho was chased by the guards and the enigmatic Front Man.
Despite infiltrating the games and collecting damning evidence of old man Oh Il-nam's sadistic human experiment, Jun-ho was ultimately caught by his henchman and, in a shocking turn of events, the Front Man revealed himself to be his long-lost brother—before shooting his younger sibling, plunging him of a cliff.
Speaking about his character's fate, actor Wi Ha-jun told Newsweek in his first interview with a major U.S. publication: "I believe the detective was not fatally wounded," since he was shot in the arm.
However, Wi added, "I'm still not really sure" whether Jun-ho is alive.
Wi also said it seems "highly likely" that the files the detective gathered about the game facility, which he frantically attempted to send to his superior while running from staff members, did not make it through.
The actor explained: "The mobile reception was unstable and there wasn't much battery power left on the phone, so it seems highly likely that the messages weren't properly delivered.
"But perhaps only really the director [Hwang Dong-hyuk] knows the answers to all of this," he said.
When asked if he believed the Front Man's motives were evil, Wi noted that he clearly "has a deep affection for his younger brother" and that he's also a "very capable policeman," (as seen in the players' records that Jun-ho came across in the Front Man's private quarters).
"So I believe there must be a reason why he became the Front Man. It's difficult to define him simply as a villain or not," he said.
The brotherly bond between the Front Man and Jun-ho was among the traits Wi related to in the detective's character. He was drawn to Jun-ho's role because he has a unique overview on the goings-on on the island.
Wi said: "I was attracted to playing Jun-ho because he is the only character with a third-person perspective on the competition, who tracks all the irrational activities taking place inside."
He also feels that he has a similar "sense of justice" and "honest personality" to his character.
There has not been any official word about a second season yet, but director Hwang Dong-hyuk and fans are certainly keen for more, and the open-ended conclusion of the first season paves way for a follow-up.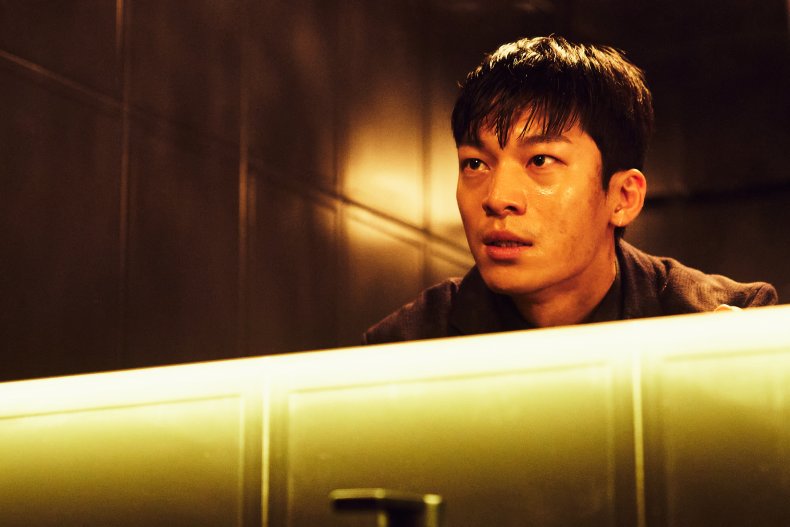 Unpicking the K-drama's phenomenal success, Wi said the idea and storyline for Squid Game felt "unique and fresh" and that the script had a "completely engrossing power" when it first came to him, enough to read it in one go. He was also very keen to work with Hwang, so was very excited to join the project.
If there were to be a second season, Wi would like to see the "various questions around the story of Jun-ho and the Front Man be answered."
Wi explained: "I wonder why he became the Front Man and why he had to point the gun at his younger brother."
The actor also hopes to see all of the "absurd truths" he uncovers about the game facility through his infiltration be further investigated and see justice served to those behind those activities.
Since its release in September, Squid Game has been topping the streamer's global rankings for weeks in at least 94 countries, including in the U.S. The show has held the top ranking in the U.S. for at least 21 consecutive days, setting a new record for any non-English language series.
The transfixing show has been viewed by at least 111 million subscribers, making it Netflix's biggest-ever series at launch, as well as the streamer's first series to reach over 100 million subscribers when it premiered, Netflix previously told Newsweek.
The Korean actor also shot to international fame following the series, most recently charming the U.S. audience on The Tonight Show Starring Jimmy Fallon with his Squid Game castmates.
Fans on social media have been swooning over the rising global heartthrob for his Squid Game character (as well as his built body, showcased most recently in a cover feature for the October 2021 edition of Men's Health Korea).
Dubbed a "scene stealer" in the series, South Korea's Newsen previously reported that by October 3, his follower count on Instagram had exploded to over 5.1 million. He currently has over 8 million followers on Instagram.
Squid Game is available to stream on Netflix.