'Squid Game' Season 2: What Director Hwang Dong-hyuk Has Said About Netflix's K-Drama
The gripping K-drama Squid Game—an original Netflix series about a deadly survival game—has taken the world by storm, becoming the first Korean drama to top the streamer's global rankings.
The mystery thriller, which premiered on September 17, shows 456 cash-strapped people each being given a business card inviting them to participate in a series of games—with fatal consequences—for the chance to win 46.5 billion Korean won ($40 million).
Fans have been gagging for more episodes following the captivating first season. Could there be a Season 2 in the cards for Squid Game?
South Korea's JTBC News channel reported on September 27 that the series had claimed the No 1 spot in Netflix's list of the top TV shows worldwide, according to FlixPatrol.
The show has continued to top the ranking in 83 countries, including the U.S.
Squid Game could become Netflix's most-viewed show of all time, according to the streamer's co-CEO and chief content officer, Ted Sarandos, who shared never-before-seen viewership data at Vox Media's annual Code Conference on September 27.
Pointing out that Squid Game has ranked No 1 "like, everywhere in the world," Sarandos told the conference: "It's only been out for nine days, and it's a very good chance it's going to be our biggest show ever."
Squid Game is named after a real-life street game played by Korean children, including the show's director Hwang Dong-hyuk.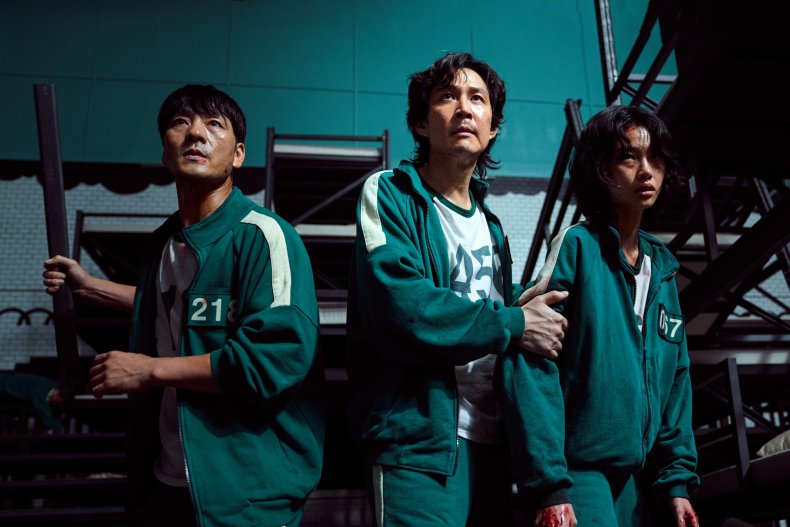 At a press conference on September 15, the director said it was the most competitive of the games he'd played as a child and is most symbolic of the "modern competitive society" we live in, reported South Korea's Dong-A Ilbo.
The director also explained the survival game concept points to the "irony that the capitalist society we all live in, which was created to allow us all to eat well and live well, rather destroys the essence and humanity of human beings," according to Hankook Ilbo.
With Squid Game fever rising, viewers are dying to know if more is to come, especially after the open-ended final scene of the first season.
The ending—spoiler alert—shows Gi-hun (one of the main characters, Contestant No 456, played by South Korean actor Lee Jung-jae) en route to board a plane to visit his daughter when he spots another person being recruited for the game.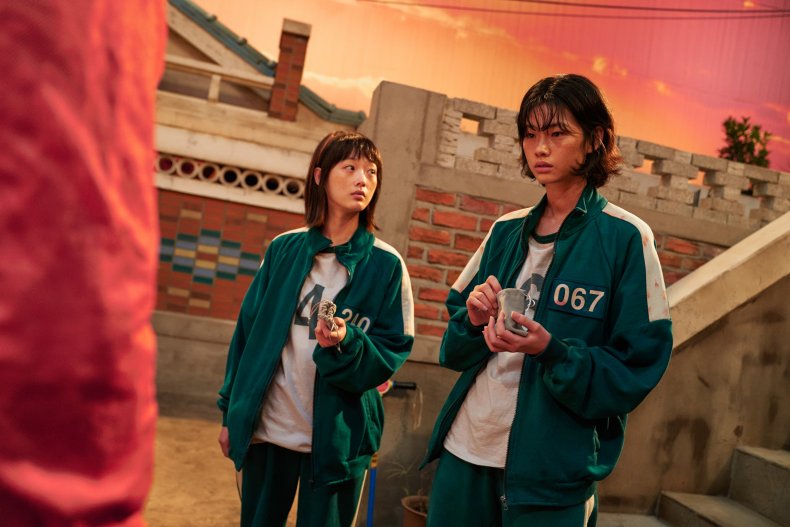 Warning the person not to join the game, Gi-hun grabs the business card and calls the number on the back of it. The voice on the other end of the line tells Gi-hun to board the plane but he instead walks away from the flight—perhaps determined to put an end to the game once and for all…
Fans on Twitter have been crying out for a second season of the K-drama to explore these themes.
User @cheeseismyacid wrote: "Squid Game is one of the best thing I've watched on Netflix. I want a season 2," in a post sharing a collage of stills from the series. The tweet had over 7,800 likes at the time of writing.
Sharing a collage of poster images from three Netflix dramas, including Squid Game, user @alifaaaahy tweeted: "waiting for alice in borderland [Japanese drama series], sweet home [Korean drama], squid game season 2." This post had over 65,000 likes.
User @Mingi_Supremacy tweeted: "I just finished Squid Game and all I need is season 2 also Ali, Sae Byeok (my absolute favorite from the show) and Ji Yeong deserve the best thank u for listening."
Squid Game director Hwang recently said thinking about the challenges of producing a second season for the series is daunting.
He told CNN on October 8: "Writing, producing and directing a series alone was really such a big task. When I think about doing the same for season two, I'm personally kind of worried."
The director previously revealed he lost six of his teeth due to the stress of shooting and editing the series, according to South Korean media.
In an interview with Variety in late September, he said the thought of creating a second season was "quite tiring" and that he didn't have "well-developed plans for Squid Game 2."
However, following the unprecedented worldwide success of Squid Game, Hwang told CNN last week: "There's nothing confirmed at the moment [for Squid Game season 2], but so many people are enthusiastic that I'm really contemplating it."
The director revealed there were "some corners left open" in Season 1 that he'd want to explore if there were to be a second season.
They include "the Front Man's [played by Lee Byung-hun] unexplained past and Jun-ho's [the policeman, played by Wi Ha-jun] story" and the story of the Salesman, played by Gong Yoo (the actor from Train to Busan and various other Korean films and K-dramas), who recruits the contestants via a game of ddakji, another traditional Korean children's game.
"These are the elements I didn't explain in Season 1 and I'd like to unravel in Season 2," Hwang told the publication.
Netflix has yet to officially confirm the green light for Squid Game Season 2. However, Bela Bajaria, Netflix's global TV chief, previously told Vulture on September 30 that as Hwang "has a film and other things he's working on," Netflix is "trying to figure out the right structure for him."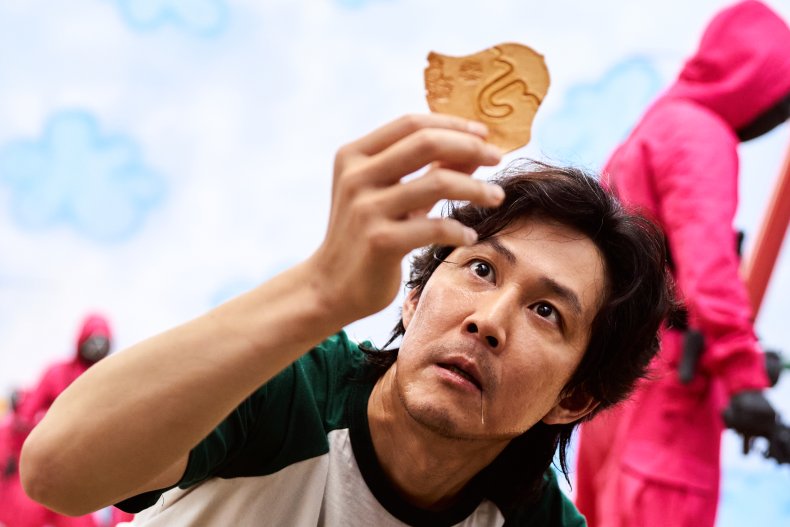 In his September 24 interview with Variety, the director said that if he were to do a second season, he would "certainly not do it alone."
Hwang said at the time: "I'd consider using a writers' room and would want multiple experienced directors."
The director said he would be returning to the big screen with a new feature film before considering any sequel to Squid Game.
Hwang, who is known for films including The Fortress (2017), Silenced (2011) and Miracle Mile (2004), is currently at work on a draft of a movie about inter-generational war. It is tentatively titled KO Club, short for "Killing Old Men Club."
In an interview with the Chosun Ilbo on September 29, Lee Jung-jae said he would be on board for a sequel to Squid Game.
Asked about his Squid Game co-star Lee Byung-hun, who has appeared in Hollywood movies including The Magnificent Seven and the G.I. Joe series, Lee told the newspaper: "If there is a Squid Game sequel, I would of course like to work further with Lee [Byung-hun] and do the show."
Squid Game marks the first time the two actors have worked together. "Even if I were not to appear in the sequel, I'd love to work with Lee [Byung-hun] on another project," he added.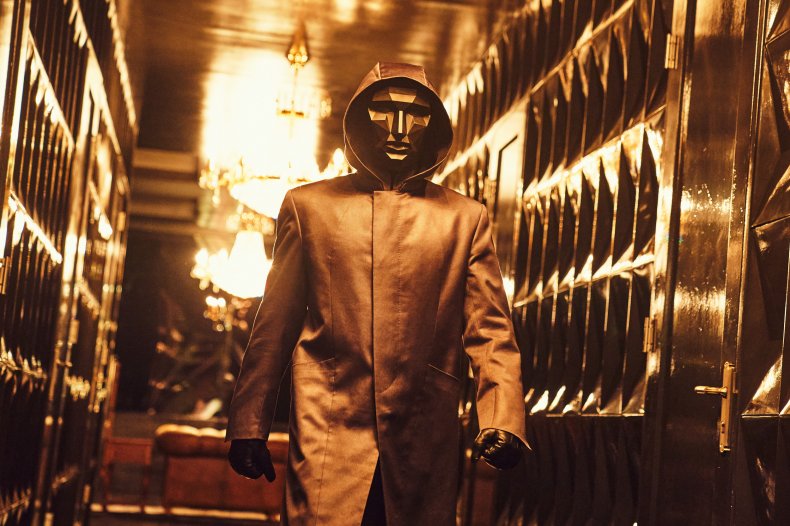 Hwang attributes the global success of Squid Game to the show's easily relatable characters.
The director told Variety: "As a survival game it is entertainment and human drama. The games portrayed are extremely simple and easy to understand. That allows viewers to focus on the characters, rather than being distracted by trying to interpret the rules."
Squid Game Season 1 is available to stream on Netflix now.
Update 10/11/21, 10:32 a.m. ET: This article was updated with comments from Netflix and Hwang Dong-hyuk.
Update 9/29/21, 5:00 a.m. ET: This article was updated with comments from Netflix and Lee Jung-jae.