Squirrel Caught Stealing Amazon Parcel From Doorstep
A squirrel has been filmed taking an Amazon parcel from the doorway of a Chicago home and scaling the two-story building with the package in its teeth.
The white envelope, which was roughly the same size as the animal, was grabbed from a property in the northwest of the city on Sunday. It was not clear what was inside.
The clip, filmed near Roscoe and Central Park Avenue in Avondale, was shared on social media by a woman who gave her name as Kailey G.
Squirrels are known for their ingenuity and this is not the first time one of the creatures has been filmed stealing mail.
Security camera footage showed a squirrel stealing an Amazon package from the front door of a home in the San Pedro neighborhood of Los Angeles in 2019.
ABC 7 reported that a witness had seen the squirrel running with the package and returned it to the owner.
He said he frequently found parcels abandoned in bushes around the apartment complex, suggesting the squirrel was a repeat offender.
A year earlier, a squirrel was filmed stealing a doughnut from a police officer in Anchorage, Alaska. The animal was seen running down the street with the glazed treat in its mouth.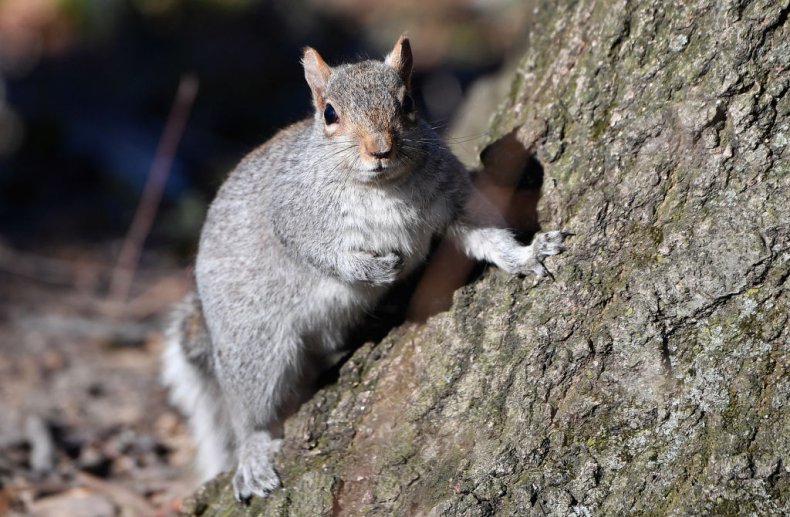 Squirrels are not the only culprits. In Oklahoma, a dog was filmed by a doorbell camera stealing a Christmas gift that had been left on a porch.
Debbie Goines checked footage from the front of her property after a present sent by her sister in California went missing.
The camera reel showed a large white dog belonging to one of her neighbors making off with the package, which contained jerky and other snacks.
Also in 2019, a Labrador retriever named Max was found behind the wheel of a car in Port St. Lucie, Florida. Max spent an hour driving the 2003 Mercury Sable in reverse around a cul-de-sac, until police arrived.
The Treasure Coast Palm reported that Max's owner had made a wrong turn into the cul-de-sac and got out to ask for directions, leaving the engine running.
Max jumped into the front seat and hit the gearshift, causing the transmission to shift into reverse. That also locked the car's doors. The Sable began turning in circles with the dog trapped inside.
Residents called police and the fire department after the car smashed into a mailbox and some garbage cans, but continued to move. When responders arrived, the driver gave them a wireless key fob to unlock the door, but its batteries were dead.
Officers approached the moving car and entered the unlock code into the driver's side keypad, freeing Max and shifting the car into park. The car sustained minor damage, but Max was unharmed.