Stacey Abrams' Chances of Beating Kemp With 100 Days to Midterm: Polls
Democratic gubernatorial candidate Stacey Abrams aims to defeat Georgia's incumbent GOP Governor Brian Kemp in a closely-watched rematch election, but with 100 days until the November midterm, polls show the liberal challenger in an uphill battle.
Abrams previously served as the minority leader of Georgia's House of Representatives, and in 2018 she faced off against Kemp, the state's former secretary of state, in a close gubernatorial contest. The Republican ultimately won with about 50.2 percent of the vote, compared with the 48.8 percent won by Abrams. The Democrat lost by a margin of just under 55,000 votes.
Following that defeat, Abrams campaigned with liberal organizations and activists to register new Democratic voters in Georgia. This effort has been lauded as a key factor behind President Joe Biden's narrow victory there in 2020, as well as Democrats' success in flipping the state's two Senate seats blue in the January 2021 runoffs.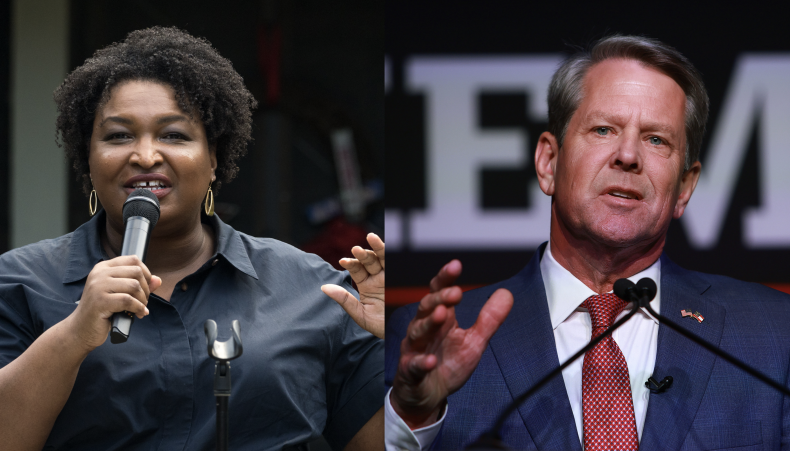 Despite Democrats' big win in the state in the last presidential and Senate races, recent polls suggest Kemp is favored to win reelection over Abrams. The current Real Clear Politics average of Georgia polls shows the incumbent GOP governor leading by about 4.2 points. On average, Kemp is backed by 48.2 percent and Abrams is supported by 44 percent.
Polling by Fox News from July 22 to 26 showed Abrams down by 3 points. The Democratic challenger had the support of 44 percent of registered voters compared to 47 percent who backed Kemp. The survey included 901 registered voters with a margin of error of plus or minus 3 percent.
Another recent poll carried out by WXIA-TV/SurveyUSA from July 21 to 24 showed the two candidates statistically tied. Abrams had the backing of 44 percent of likely voters and Kemp was supported by 45 percent—a 1 point lead for the Republican incumbent. However, that was well within the surveys margin of error of plus or minus 5.3 points among 604 likely voters.
Survey results from July 14 to 22 by The Atlanta Journal-Constitution showed Kemp up 5 points over his Democratic opponent. The current Georgia governor had support from 48 percent of likely voters and Abrams was backed by only 43 percent. The poll included 902 likely voters with a margin of error of plus or minus 3.3 points.
If Abrams manages to beat Kemp, the margin is expected to be tight. Biden narrowly won against former President Donald Trump in Georgia in 2020 by a little more than 12,000 votes—or about 0.2 percent of the total ballots cast. That made him the first Democrat to win a presidential election in the state since 1992. Georgia's last Democratic governor left office nearly two decades ago, in 2003.