Stacey Abrams' Chances of Beating Kemp With 4 Months Until Election: Polls
Democratic gubernatorial candidate Stacey Abrams hopes to build on her party's 2020 success and flip Georgia's governor's mansion blue in the upcoming midterm election. But with just about four months until November 8's election, polls show her in an uphill battle against Republican Governor Brian Kemp.
In 2018, Abrams, the former minority leader of Georgia's House of Representatives, faced off against Kemp, the state's former secretary of state, in a close gubernatorial race. The Republican ultimately won with about 50.2 percent of the vote, compared with Abrams' 48.8 percent—a margin of just under 55,000 votes.
Following that defeat, Abrams campaigned with other organizations and activists to register new Democratic voters in Georgia. This effort has been lauded as a key factor behind President Joe Biden's narrow victory there in 2020, as well as Democrats' success in flipping the state's two Senate seats blue in January 2021 runoffs. While the state appeared to be trending Democratic, recent polls mostly show Kemp with an advantage against Abrams.
An average of recent Georgia polls compiled by Real Clear Politics has the governor up by about 4.8 points. FiveThirtyEight's average, which takes into account the poll's quality, sample size, recency and partisan lean, has Kemp up by about 5.1 points.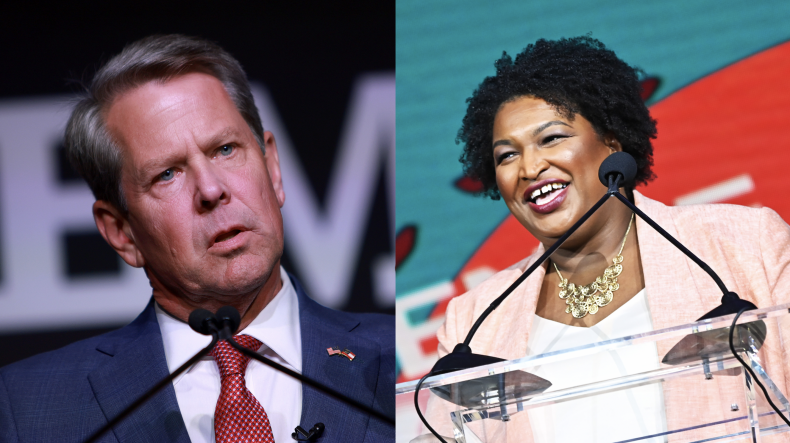 Meanwhile, the most recent public poll for the race shows the GOP incumbent and his Democratic opponent tied. The polling, conducted by Quinnipiac University from June 23 to 27, had both candidates at 48 percent. It surveyed 1,497 registered voters and has a margin of error of plus or minus 2.5 points.
Abrams was also ahead of Kemp by double digits among independents in Georgia. The Democrat was backed by 52 percent of independent voters, while the GOP governor was supported by just 42 percent—a lead of 10 points in Abrams' favor.
Slightly more voters viewed Abrams as honest and believed that she cares about average Georgians, compared with Kemp. When it comes to honesty, 49 percent said the Democrat was honest, while 47 percent said the same about the Republican. As for caring about the average Georgian, 54 percent believed Abrams possessed this trait, compared with 51 percent who said the same of Kemp.
Meanwhile, the governor led his Democratic rival when it comes to leadership skills. Fifty-six percent of respondents said Kemp has good leadership skills, while only 52 percent said the same of Abrams.
Before the Quinnipiac poll, an East Carolina University survey from June 6 to 9 showed Kemp in a more comfortable position. That poll had the incumbent 5 points ahead, with 50 percent, compared with Abrams' 45 percent. The poll surveyed 868 registered voters and has a margin of error of plus or minus 3.9 points.
Polling by Moore Information, which was sponsored by GOP Senate candidate Herschel Walker's campaign, had Abrams trailing by 7 points. The survey, which was carried out from June 11 to 16, showed Kemp at 51 percent among likely voters and his Democratic challenger at just 44 percent. Eight hundred people were interviewed, and the poll had a margin of error of plus or minus 3 percent.
If Abrams can pull off a win against Kemp, the margin is expected to be close. In 2020, Biden narrowly beat former President Donald Trump in Georgia by under 12,000 votes—or about 0.2 percent. That made him the first Democrat to win a presidential election in the state since 1992. Georgia's last Democratic governor left office nearly two decades ago, in 2003.
Notably, Trump previously said that he thought Abrams might make a better governor than Kemp. The Georgia governor drew Trump's wrath after he declined to support the former president's efforts to overturn the 2020 election results in his state.
"Of course, having her [Abrams] I think might be better than having your existing governor, if you want to know the truth," Trump told supporters at a Perry, Georgia, rally last September. "Might very well be better."
"Stacey, would you like to take his place?" the former Republican president asked. "It's OK with me."
Trump unsuccessfully endorsed former Georgia Senator David Perdue to challenge the governor in the May GOP primary. Kemp handily won with nearly three-quarters of the vote, calling into question how much influence Trump has over GOP voters in the state. At the same time, in a close race even relatively small numbers of voters can make the difference between winning and losing.