Stacey Abrams' Organization Tells Hollywood To 'Stay and Fight' in Georgia
Stacey Abrams' organization Fair Fight has called on Hollywood to "stay and fight" in Georgia after restrictive voting laws passed in the state.
The specter of a Hollywood boycott is once again looming, with Will Smith's upcoming film Emancipation the first to pull its production from the state this week.
"We cannot in good conscience provide economic support to a government that enacts regressive voting laws that are designed to restrict voter access," Smith said in a statement along with director Antoine Fuqua. "The new Georgia voting laws are reminiscent of voting impediments that were passed at the end of Reconstruction to prevent many Americans from voting. Regrettably, we feel compelled to move our film production work from Georgia to another state."
Georgia's new election law imposes tough new voter ID requirements, restricts ballot drop boxes, and limits absentee ballots and early voting
It also allows for the Republican-controlled State Election Board to take over any county election boards that it considers problematic.
Georgia boats extensive production infrastructure and has been home to a number of major Hollywood productions over the past few years, but a boycott was threatened from movie and TV giants like Disney and Netflix back in 2019 over the restrictive "heartbeat" anti-abortion legislation.
However, the Georgia-based national voting rights organization Fair Fight has urged such companies to stay and support the communities that have made the state's film industry thrive.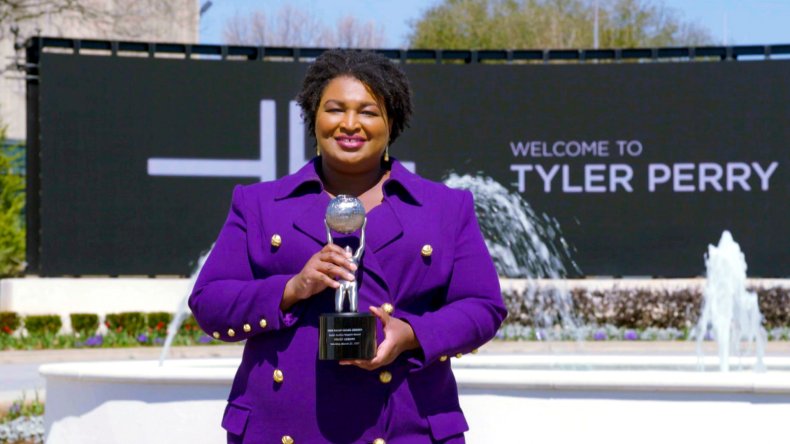 "Brian Kemp and Georgia Republican lawmakers are singularly responsible for any job that is lost and any dollar that goes out of Georgia, because they prioritized suppressing voters of color over the economic well-being of all Georgians," Seth Bringman, spokesman for Fair Fight Action, the voting rights organization founded by Stacey Abrams told Newsweek.
They added: "We urge events, productions, and businesses to come to Georgia and support the very communities that will whose access to the ballot will be hurt by Senate Bill 202. Come to Georgia and speak out against voter suppression. Stay and fight."
Newsweek has reached out to Gov. Kemp's office for comment.
Meanwhile, Tyler Perry, who owns the massive Tyler Perry Studios in Atlanta, has said that the new voting laws "harken back to the Jim Crowe era"—but urged people to remember that Georgia turned blue last election.
"As a Georgia resident and business owner I've been here a few times with the anti-abortion bill and the LGBTQ discrimination bill," Perry said in a statement provided to Newsweek.
"They all sent a shockwave through Georgia and the nation but none of them managed to succeed. I'm resting my hope in the DOJ taking a hard look at this unconstitutional voter suppression law that harkens to the Jim Crow era. As some consider boycotting, please remember that we did turn Georgia blue and there is a gubernatorial race on the horizon—that's the beauty of a democracy."