Voting rights champion Stacey Abrams has accused three Republican-led state legislatures of a "coordinated attack" on voting rights, with people of color and the young being particularly affected.
Abrams, who founded the voter rights organization Fair Fight Action, had vehemently opposed the SB 241 bill which the Georgia House of Representatives passed on Monday that would get rid of no-excuse absentee voting and limit those who can apply to vote by mail.
The legislation, which moves to the Georgia House, would curtail the criteria for absentee voting to those aged over 65, the physically disabled and military or overseas voters, as well as put in place other restrictions.
No-excuse voting was introduced by Republicans in the Peach State in 2005 but its repeal has been viewed by Democrats as a way to counter its victories in the last presidential election, and the Senate run-off ballots, which saw mass mail-in voting.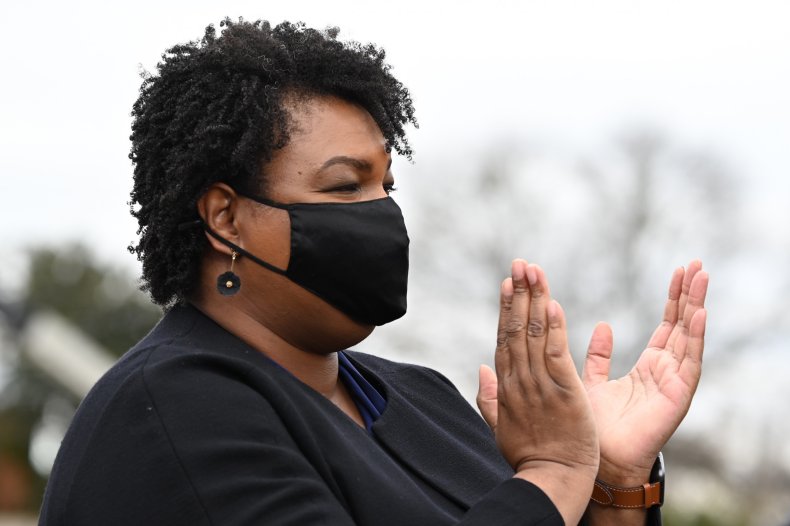 In a series of tweets, Abrams, a former Georgia house of representatives minority leader who ran for state governor in 2018, described the legislation "as one of the worst VBM (vote by mail) bills in the nation & part of the largest push to restrict voting rights since Jim Crow."
She then outlined her fears that moves to restrict voting in Georgia were being carried out in Arizona and New Hampshire as part of a GOP-led effort to disenfranchise minorities who would typically vote Democrat.
"Like GA, voters of color drove record turnout in AZ. Last week, the AZ Senate voted to approve SB 1485 to purge the highly-popular Permanent Early Vote List. Advocates estimate this could purge up to 200,000 voters—including 50,000 Latinx voters," she wrote.
Republicans who back the bill that would remove voters who did not vote early in four consecutive primary and general elections, say the move would ensure the list is up-to-date and accurate, Arizona Republic reported.
Abrams also took aim at the GOP-controlled New Hampshire legislature for looking at legislation that would curtail student voters—including placing restrictions on what ID they can use and prohibiting out-of-state students from registering their campus as their legal address.
"There's no question about what Republicans in GA, AZ and NH are doing: targeting vulnerable voters who may prevent them from winning & using taxpayers' dollars to do so—at the expense of working families, small biz + others. Making it hard for us to make it easy for them," Abrams tweeted.
She urged people in Georgia and Arizona to contact their state legislators to register their disapproval. Abrams also appealed to those in New Hampshire to sign up to the New Hampshire Coalition for Voting Rights petition urging its legislature to reject "anti-voter bills," which in her view "do more than restrict voting."
"They also aim to steal power from local boards and state elections officials who did their lawful jobs and instead consolidate power in partisan state legislatures that supported the Big Lie," she added, referring to the false claims made by allies of former President Donald Trump that the 2020 election was marred by fraud.
Newsweek has contacted the Republican Party in Georgia, Arizona and New Hampshire for comment.
Meanwhile Democrats, as well as Abrams, are optimistic that the John Lewis Voting Rights Act, passed by the U.S. House of Representatives last week, can be a countermeasure to the latest moves by certain state legislatures.
President Joe Biden has supported the measure which if passed by the Senate, would give the federal government more power to reject restrictions imposed by state governments on voting rights.