Trump Requests Mail Ballot for Third Time After Pushing Election Fraud Claims About Voting Process
Despite his unsubstantiated claims about mail-in voting during the 2020 election, former President Donald Trump requested a mail ballot for the third time on Friday.
In one of his first civic duties as a private citizen since leaving office in January, Trump requested a ballot to vote in Palm Beach's municipal election. According to the Palm Beach Post, his request was made nearly a week after the deadline to have a ballot sent to a voter by mail. Ballots are still available for pickup.
As of noon Monday, his ballot has not yet been recorded. Records show that former first lady Melania Trump has not requested a mail ballot, but she voted in person last November at the Morton and Barbara Mandel Recreation Center in Palm Beach, Florida, the city where the couple now resides.
The former president also voted by mail as a Florida resident in the presidential primary last March and in the August primary.
Throughout both the 2020 election cycle and his efforts to overturn the results of the election, Trump slammed universal vote-by-mail, alleging that mail-in ballots led to widespread voter fraud—a claim widely disputed by election officials and experts.
However as the general election neared and fears surrounding the coronavirus pandemic persisted, Trump began advising his supporters to trust the mail-in voting systems in certain Republican states like Florida and Arizona.
In August, the former president tweeted, "Whether you call it Vote by Mail or Absentee Voting, in Florida the election system is Safe and Secure, Tried and True. Florida's Voting system has been cleaned up (we defeated Democrats attempts at change), so in Florida I encourage all to request a Ballot & Vote by Mail!"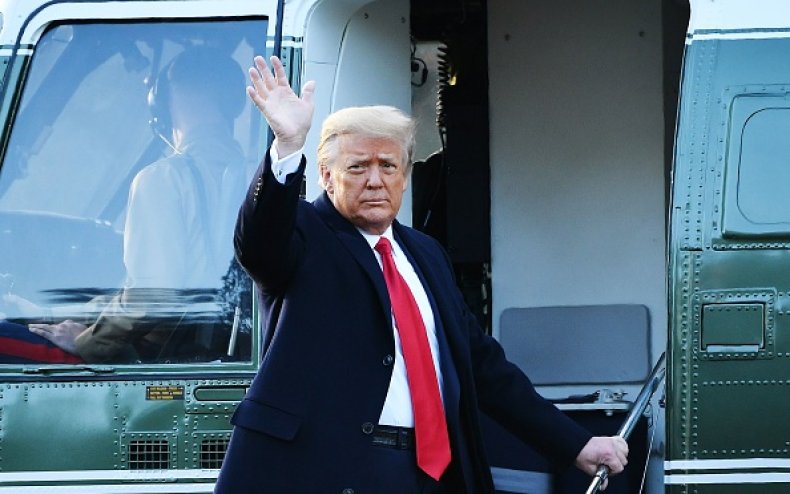 Since moving from New York City to Palm Beach in 2019, Trump has only cast his vote in person once, at the Summit Boulevard library, located across from his Mar-A-Lago golf club, during the early voting period of the 2020 presidential election. He was the first incumbent president to vote in person as a Florida resident.
After voting, he continued to assert that voting in person was safer than doing so by mail.
"It was very secure, much more secure than when you send in a ballot," Trump told reporters after voting on October 24.
"When you send in your ballot, it could never be like that," he added.
The only-in person voting available for the upcoming election in Palm Beach is on Tuesday. Mail ballots must be returned to the West Palm Beach elections office by 7 p.m. Tuesday, or 5 p.m. at the elections offices in Palm Beach Gardens, Delray Beach or Belle Glade.
As of Monday afternoon, more than 41,000 voters in the 19 municipalities across Palm Beach County had already cast their mail ballots for the Tuesday election.
Newsweek reached out to Trump's office for comment but did not hear back before publication.