Stacey Abrams Says It's 'Absolutely' Her Ambition to Become U.S. President
Democratic activist Stacey Abrams asserted that she "absolutely" has the ambition to become the president of the U.S. in the future.
Abrams previously served as the Democratic Minority Leader in the Georgia House of Representatives before running to become the southern state's governor in 2018. Although the Democratic politician lost to Republican Governor Brian Kemp, she continued her activism against voter suppression and has been widely credited with being instrumental to flipping Georgia blue for President Joe Biden in the 2020 presidential election, as well as helping Democrats win both of the state's Senate seats in a January run-off.
Prior to Biden selecting now-Vice President Kamala Harris as his running mate, Abrams was vocal about her interest in being considered to join the 2020 Democratic ticket. The activist has previously suggested she is interested in running for president someday as well.
In an interview that aired CBS' Sunday Morning program, Abrams reaffirmed her interest in seeking the nation's highest office.
"Do I hold it as an ambition? Absolutely," Abrams said in the interview when she was asked about a potential future presidential run.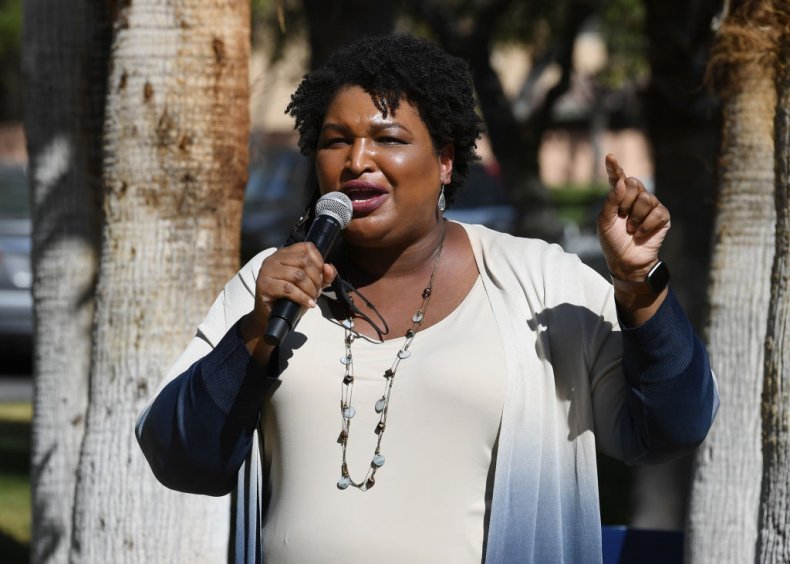 "And even more importantly, when someone asks me if that's my ambition, I have a responsibility to say yes, for every young woman, every person of color, every young person of color, who sees me and decides what they're capable of based on what I think I am capable of. Again, it's about you cannot have those things you refuse to dream of," the Georgia Democrat said.
Last April, Abrams told CNN that she was public with her interest in serving as Biden's vice president because she believes otherwise she could be overlooked.
"As a young Black woman growing up in Mississippi, I learned that if you don't raise your hand, people won't see you and they won't give you attention," she said at the time.
Abrams is currently seen as a likely contender and frontrunner for the Democratic Party's 2022 gubernatorial nomination in Georgia. Wendy Davis, a Democratic National Committee member who is on the executive committee of the Georgia Democratic Party, told The Daily Beast in November that Abrams would run again in the upcoming election.
"Stacey Abrams intends to run for governor again," Davis said at the time. "I think that is a secret to no one."
The Democratic politician has championed fighting against voter suppression and pushing for greater access to the ballot box in Georgia and across the country. Abrams' organization Fair Fight, as well as numerous other allied groups in Georgia, are credited with narrowly flipping traditionally conservative Georgia in favor of Biden and Democratic Senators Raphael Warnock and Jon Ossoff. Her organization worked to register thousands of voters in the state, largely focusing their efforts on communities of color that had long been overlooked.
Newsweek reached out to Abram's organization Fair Fight for further comment.